Roy Rose argues that the recognition barebow archers get doesn't correlate to the skill required for this division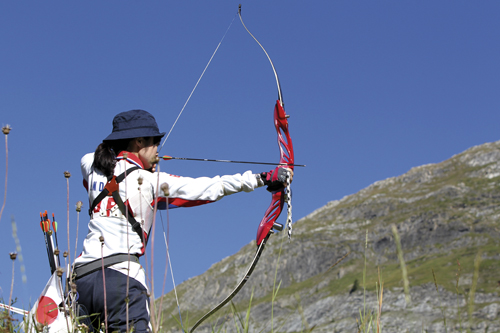 A number of the world's finest archers continue to achieve superlative results with very little recognition, and without enjoying the profile of our Olympic aspirants and our leading professional compounders. These are the unheralded barebow recurvers, who only really come to notice when the FITA World Field Championships roll around every couple of years. Dominated in the men's division by the Scandinavians and the Italians, and in the women's class by a wider cross-section of European shooters, these archers exhibit amazing accuracy with a bow devoid of sights, clickers, and conventional stabilisers.
Names such as Jonsson, Larsson, Cassiani, Seimandi, Strobbe, Jentges, and Gauthe are revered by their peers, yet seldom get more than a passing mention as part of the overall archery picture. Their use of various anchors, and the technique of string walking – which facilitates on-target aiming at all distances – is done to an astonishing degree of accuracy with a basic bare recurve bow, and surely ranks them with any achiever in the more recognised disciplines.
My own continued interest in this talented division stems from my first experiences in the sport we all love. A tourist attraction on the famed Gold Coast of Australia was run by a famed barebow shooter and his wife, and was where I first launched an arrow as an adult.
My first competitive events were in the barebow class, then incorporating the NFAA 24 target rounds, and which had concessions to stabilisation and an under-the-shelf clicker system, which were both legal in those days. Using a corner of the mouth anchor, and a three-finger under hold, used by the then leading American Cliff Necessary, I quickly became a leading contender, though it was in admittedly a sparsely populated division.
This was in the sixties and in that period the Americans dominated archery worldwide, with Pace and McKinney, following on from Rogers and Ward, in the Olympic recurve division, and the world's best barebowers also aligned with the stars and stripes. My scores, although up with the best in the nation, were meager by comparison. They were reasonable on my home course, where I had identified land marks to aim the point of the arrow at, but were less impressive on other courses, where guesswork became my prime ally.
Then came a major revelation! The latest copy of my NFAA magazine contained the national results from the USA, and an archer named Frank Gandy from Florida had shot well over 500 for a 28-target field, and an unbelievable perfect hunter round. This defied belief!
Being young, and highly motivated to succeed, I immediately sent off a letter to Mr Gandy (I had no real address or postcode, just Orlando, Florida, USA) in the vain hope that it would reach him, and in the even more unlikely eventuation that he would reply with some advice, as barebowers carefully guarded their aiming procedures in those days.
Miraculously, some four weeks later, a 13-page letter arrived from Frank and his wife Margaret, revealing the magic of these anchors, and walking the string, which meant this great archer could travel to any course and aim the point of his arrow on the target at every distance.
Of course, this revelation was exciting, but mastering it to anything like the level Frank had achieved was another challenge
altogether. No sooner had my scores rocketed than Australia switched to FITA, and the new barebow rules meant no rods and no clicker. It was time to switch to the Olympic division, but my friendship with Frank endured, and to readers not aware of his exploits, he too joined the sighted brigade, became the Professional Archers Association indoor and outdoor champion, and was the leading recurve pro shooter for almost a decade. He also assisted with coaching advice for Olympic squads, and in his later years became a national compound field champion. Now in his seventies, he continues to shoot wonderful scores and head up veteran division competition. He has also recently been inducted into the American Archery Hall of Fame. His exploits over half a century as a barebow archer, then recurve sighted shooter and now a compounder surely rank him as perhaps the finest all-round archery exponent of all time.
My own experience of shooting in all three divisions has left me with no doubt that today's elite barebowers are deserving of more recognition than they currently get. I've seen barebow archers repeatedly shoot scores that even very competent compounders would be proud of. They have refined the arts of multiple anchors and string walking, (where the archer moves their three -finger hold down from to where the arrow is nocked on the string), thus allowing aiming on the target face to be retained at every distance.
The mental aspect of barebow shooting at the highest level is a critical element. Without the aid of a triggering function such as the clicker for a recurver or the release aid the compounder employs, these archers need supreme composure to anchor, aim, and execute, under the pressure of a world event.
So now in my seventh decade, having finally progressed (perhaps digressed, in the assessment of others!) to the compound ranks, my admiration for the barebow shooter remains as strong as ever, and with the FITA World Championships becoming a bigger world fixture than ever, I feel we should all take a little time to admire the genius of the elite in this division.