James Woodgate
Riser: Wiawis ATF-X. "It's a good, solid, all-round riser I feel I can trust. I love the limb alignment adjustability – much better than shims."
Limbs: Wiawis MXT-10s in long; 42lb, drawing 47lb on the fingers.
Sight: Axcel Achieve XP with stock Shibuya sight pin. "I've tried multiple and keep coming back to this simple, relatively small aperture – though I have brought my sight in two notches on the bar to make it appear slightly larger."
Button: Win & Win Mighty Button in black. "It's just as adjustable and smooth as a Beiter in a more compact format – I don't have to take it off for it to fit in my SKB case."
Stabilisers: Wiawis ACS-15 – 30in long rod, with three regular weights plus end weights (however much that is) on a Fivics V-Zero damper; 12in short rods with two regular weights, set to 40-degrees flat – plus a bottom weight. "A fixed V-bar just works no matter what, and I can adjust the height of the centre of mass enough for my liking with weight and dampers on the riser."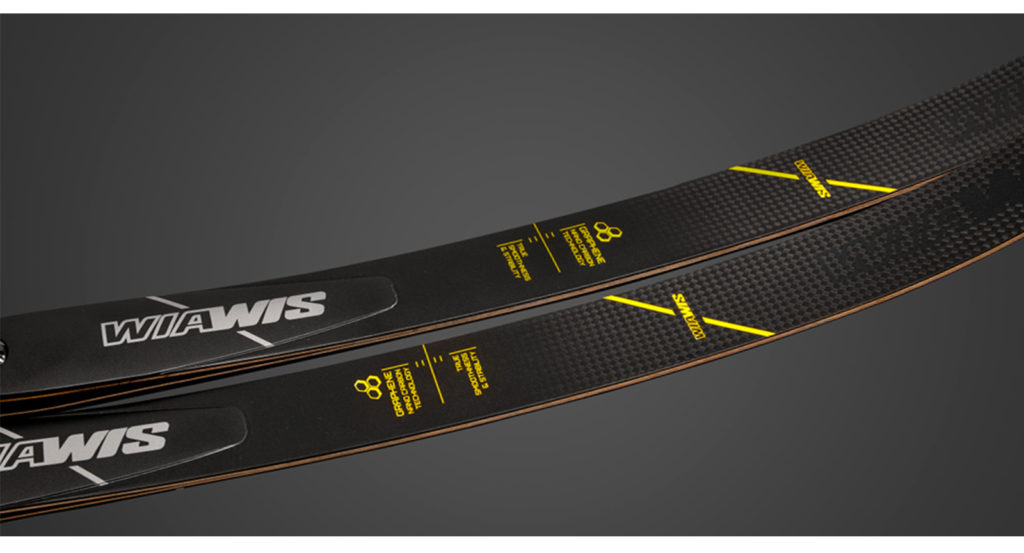 Grip: Win & Win. "Modified for some sharper edges and a bit more of an angle in various directions."
Clicker: Wiawis Arc clicker.
String: 18 strands in BCY 8125 string material, made by Podium Bowstrings.
Tab: Fivics Saker 3. "The leather is cut shorter on the top finger and the anchor shelf is ground down to be thinner so it doesn't cut into my neck when I make a good shot."
Arrows: Easton X10, 380 spine; 2in spin wings; 120gn Easton points; large Easton pin nocks.
Patrick Huston
RISER: Hoyt Formula XI. "I'm keen to build on the success I had with the championship red Formula Faktor, which I shot for many years."
LIMBs: Hoyt Velos Formula in long; 46lb, 50lb on the fingers. "These extra-slim limbs are far more tortionally stable than the last skinny limb from Hoyt, the F7. I get great speed and reliable performance from these limbs."
Sight: Axcel Achieve with a Spigarelli dot sight pin – cross-hairs with an orange dot, Tippexed white then coloured black. "I change regularly from an open ring of the same size to a dot. I prefer the accuracy of aiming that the dot gives you."
Button: Beiter Plunger in red.
Stabilisers: 29in Doinker Platinum, 10oz, and an A-Bomb; 15in side rods with 5oz each, angled medium down with a 3in solid aluminium extender. "This stabiliser set-up matches my poundage and gives a little assistance in direction towards the target. During lockdown, I tried a swinging V-bar set-up, which was very interesting and enjoyable to shoot. Unfortunately, it didn't quite hold up to the 58# I was shooting at the time."
Grip: Ye0-Go custom grip from RCore. "This model is a development of the Ye0-Lo grip I designed with my coach, Richard Priestman. The Ye0-Lo trains the wrist to relax with special curvature to enhance the hand's relationship with the bow. The Ye0-Go takes this unique shape and increases the angle to improve connection with the push through the aerates anterior and front shoulder unit, creating an easy, flowing execution. Check out the RCore website – rcore.co – for more information."
Clicker: "An angled/step clicker designed by Richard Priestman to give a visual cue of where the clicker is sitting on the arrow."
String: BCY X string in fluorescent yellow by Reign Bowstrings. "Paper nose button glued in place."
Tab: Fairweather tab with a cordovan face on the front and a Scholl gel insole for backing.
Arrows: 450 Carbon Express Nano Pro Extreme, 120gn in the front. Beiter over nocks, Eli Vanes and XS Wings.
Tom Hall
Riser: Fivics Argon-X. "I switched from my trusty Titan EX in 2020. It's had a bit more weight moved to the front and bottom of the bow, which makes it easier to balance, and it is really calm to shoot – it eats up the vibration post-shot better than anything else I've used. It is almost exactly the same geometry and weight as the previous riser, so my set-ups tune similarly."
Limbs: Fivics Titan EX wood core limbs; 38lb in long, 46lb to 47lb on the fingers. "These are what I've been using since 2018, and they've been very reliable. The first time I shot them, I set the bow up at 49lb by accident instead of 46lb and didn't even realise until I weighed them up."
Sight: Shibuya Ultima RC Pro with a Beiter 12mm open ring and a 7mm insert. "I have the 'normal' version, 5in track with single mounting point, so I can use the same sight for indoors, field and target. The big open ring I have been using since 2012; I can concentrate better by just looking through it at the target instead of trying to hold a dot/pin/fibre on the middle. I also know what it looks like at the different size targets for WA field so I can gauge without doing any maths, and every time I've tried anything else, I always come back to this!"
Button: Fivics SM540 in black – "because then it can go on any of my bows, and they don't make a gold one. It's fairly compact for a click adjustable button which is nice for keeping it in when transporting the bow around, otherwise it just works well. Mainly I forget it's there because the button is one of the last things I go to for adjusting tuning."
Stabilisers: Gillo GS8 – "they are an ideal all-rounder" – 30in long rod with about 9oz on the front, in disc weights so it doesn't get too long. Flat V-bar, 45-degrees. 12in side rods with about 6oz on each. "I play with weights all the time. I prefer a front-heavy set-up to get more direction from the bow. There's a minimum amount I need to make the damper work and control the limb reaction, but beyond that I add as much as is needed based on the bow reaction and grouping. At the moment its about 9oz on the front of a 30" rod for me, which is towards the heavier end of what I've used before, so I've switched onto disc weights to stop the stack growing too long. I hate wrestling with adjustable V bars, even the most solid ones get knocked loose at some point. A solid v-bar can't go wrong, and besides I've always found the classic flat setup to work nicely for me. It gets more weight out to the extreme front and sides so allows me to get the stabilistation I want without needing to make the bow super heavy."
Grip: Stock wood Fivics grip but heavily customised with a power sander. "Due to a chronic wrist injury, I now hold the bow with the hand nearly vertical – like a compound – so have cut away a big section of the grip from the lower left corner to allow me to do that."
Clicker: Ten Archery CX1. "I've recently been able to test the new CX1 clicker (steel blade), which I'm getting on really well with. I've always used a beiter clicker, with a bit of a bend in it and the thumb screw replaced with a straight bolt onto the riser. But now I really like being able to quickly make a small adjustment in or out on the clicker without worrying about moving it too far or working it loose. And for big adjustments it self levels, so going from fully in on the riser to out at the edge of the plate doesn't require changing the mounting point on the riser, which is another big bonus for me as I sometimes shoot different limbs with different length arrows off the same riser for exercises. "
String: Podium Bowstrings, X99, 28 strands. "I picked out the material at vegas one year, Sonnie made me a string from it to test, and I was happy enough with it that he started stocking it as standard! I tested a few string materials a few years ago and found some of the softer ones like fast flight took as many as 18-24 shots before the bracing height settled. These ones are set within one end of shooting so that makes me much happier, and the performance is good too."
Tab: Fivics Saker 2. "I swapped the stock silicone finger spacer for the white plastic one, which is a bit thinner and fits my hand better."
Arrows: Fivics Five-X, 500 spine; Eli Vanes P3s; 120gn Fivics points; Fivics pin nocks, in fluorescent green for maximum visibility. "The points are made to ludicrously good tolerances, so I don't have to worry about weight matching them and can replace the points easily when I need to. "
Sarah Bettles
Riser: Fivics Argon-X. "I like the weight distribution. I don't need to add an additional weight at the bottom to get the balance I like. It has a really nice solid, stable feel at full draw and minimises vibration on execution. I changed from shooting the Fivics Titan EX riser; both bows weigh the same but with the Argon-X being slightly more weighted at the bottom, it allowed me to rearrange my additional weights to all sit behind the grip, meaning the Argon-X feels more stable at full draw but I could still achieve the same feeling on execution."
Limbs: Fivics Titan EX, long, 40lb, 44.5lb on the fingers. "I choose to shoot these as they are quite a stiff limb, which increases the stability of the limb on execution, making them more forgiving but retaining speed."
Sight: Axcel Achieve XP with simple square sight pin with a single pin dot in the middle. "I like the square style of sight pins as, if I'm ever unsure if I'm canting the bow, I can line the square pin up with the square of the target."
Button: Fivics SM540, black. "It's a really compact, smooth pressure button with easy microadjust clicks."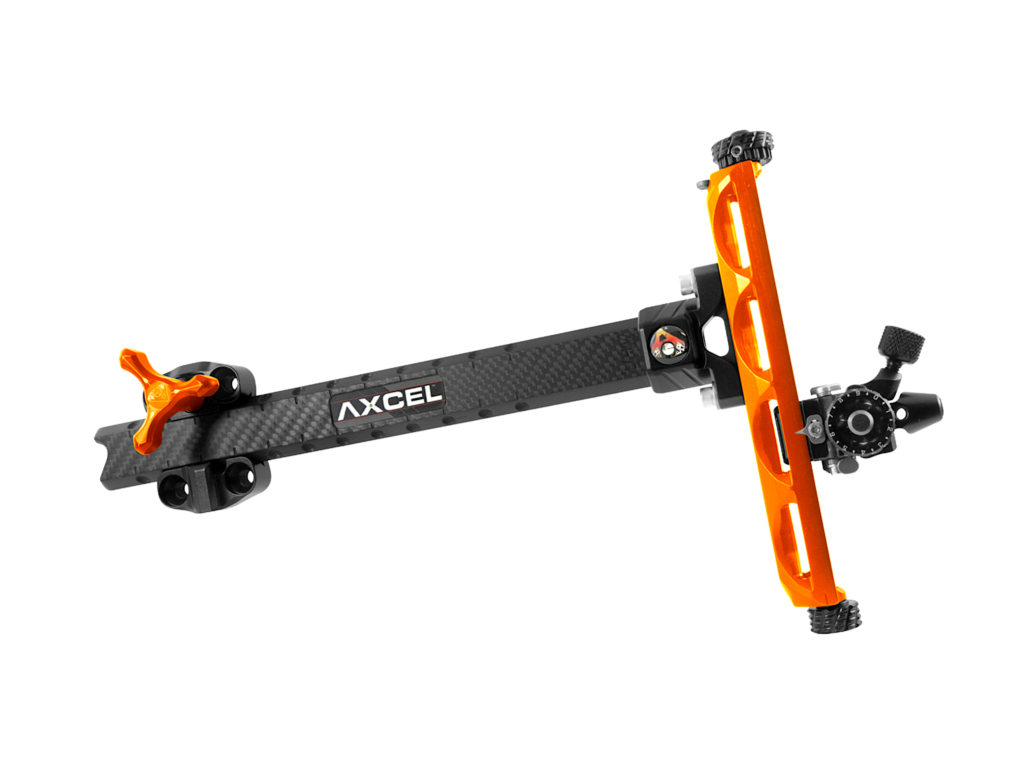 Stabilisers: Gillo GS8. 30in long rod with 6oz on the end, 12in side rods with 3oz on each. 45-degree V-bar, horizontal. "I've played around with more or less weight but always come back to this set-up because the balance seems to work well for me. It gives the feeling of the bow diving towards the target before it starts to spin."
Grips: Modified Fivics stock. "I've added a slightly sharper edge to give better feeling along the inside of the hand. I've also added a small square of skateboard tape to the grip for an extra feeling of security, knowing the bow won't slip if my hand is wet."
Clicker: Spigarelli.
String: BCY 8125, 18 strands, made by Podium Bowstrings.
Tab: Fivics Saker 2. "I wrap a hair tie around the tab and my hand to make it feel more secure."
Arrows: Easton x10, 450 spine; Eli Vanes P3; 110gn Fivics tungsten points; Easton pin nocks.
Naomi Folkard
Riser: Win & Win Inno CXT. "It's the lightest W&W riser. I feel in control of it and I get good results with it, so I continue to use it."
Limbs: W&W Wiawis NS Extreme Wood Core, 42lb in short, 40.4lb on the fingers. "I know W&W limbs will be straight, stable, smooth and reliable. This particular model is no longer in production, but I didn't want to change to the new limb only a few months before Tokyo."
Sight: Axcel Achieve XP with Spigarelli pin. "A solid sight without waggle that I know I can depend upon. The pin is the one I've always used since I was a junior. I am currently using one with a dot; sometimes I go through phases of shooting without a dot if I need to shoot with a bit more movement and freedom."
Button: Beiter Plunger in purple.
Stabilisers: Doinker Estremo with A-Bombs. 30in long rod with 4oz, 12in side rods with 4oz each side. MyBo adjustable V-bar. "I set it open about 45 degrees and down a bit – sorry, I can't be more exact. In 2019 I used a 32" rod which was I enjoyed, but I'm not using that now as I need to look after my shoulder. Back in 2014 I had 8 oz on each rod and 4 oz under the grip, I can't believe I shot that many now, but I remember loving all of that weight on the W&W Inno Max."

"A flat v-bar setting has never worked for me, even when I was a junior I had an angled v-bar. At the end of last summer when I was able to put a v-bar on I had to choose the lightest one I could find which was set flat, the bow reaction was just not the same, when I was strong/pain-free enough to eventually upgrade to an adjustable v-bar the shot and follow through suddenly felt better, more like me."
Grip: Win & Win standard plastic grip, unmodified. "This grip is no longer standard on its bows. I'm not sure which bow it came off; I suspect the early CXT. I shoot this particular grip because it is really low and I can push through the thumb and feel the bone for an attacking shot and good feedback."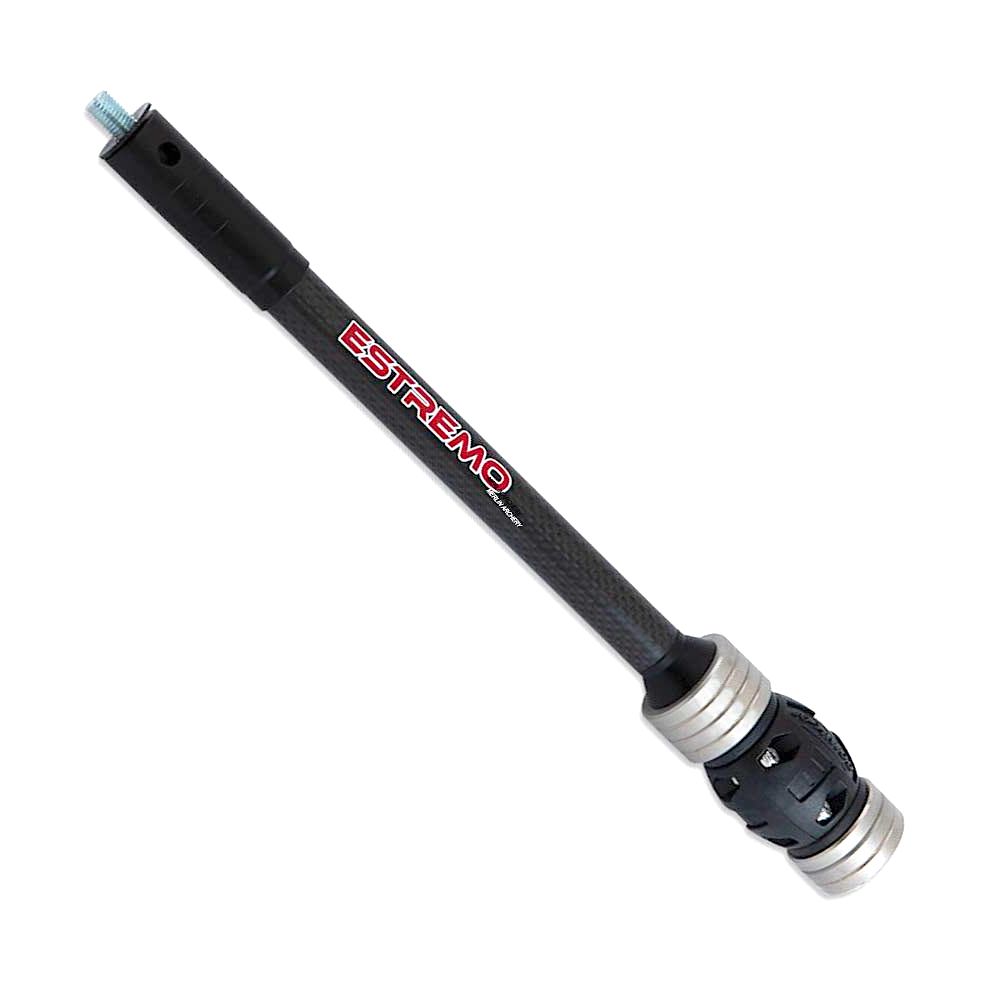 Clicker: Beiter. "Another product that I have used for a long time, in this case more than 20 years. I couldn't use anything else. The plastic shoulder eliminates any feelings from the machining groves in points so I am able to feel smooth during the expansion through the clicker to execution. Anything else is too sensitive and I would be able to feel through my string fingers causing twitching. It is a straight clicker so my arrows need to be on the short side to avoid any downward pressure on the point which can cause the arrow to jump."
String: Greg Hill, Fast Flight Plus, 18 strand in dark purple. "Greg Hill has made my strings for about 15 years. I am very lucky to have such a great string maker, the loops lie flat without wanting twist at the V, this is very important to me. I like to do my own centre serving, with Angel Majesty. I use the same material to make my nockpoint which is basically the start and end of a serving. I also make a 'Bettles Buffer' by winding 2mm wide masking underneath the nock position, I had huge problems in 2018 of my fingers sliding up the string and pinching the arrow, no idea why to this day, but Sarah had the bright idea of making this buffer to butt the leather of my tab against to prevent any slippage."
Tab: Win & Win EZR large tab. "The loop where the little finger hook attaches is cut off and without a platform. I use a large because my top finger misses the leather altogether on smaller sizes – I must position it differently to most people – and it only just gets enough protection from the large tab, but this means that I have to trim the leather to length and cut off quite a lot of leather from below my bottom finger position."
Arrows: Easton X10, 650 spine; KSL Jet 6 1¾in vanes, steel 110gn points; Beiter pin over nocks without the pin. "The way the concave fletching fits the convex arrow makes sense to me. Two convex surfaces does not make sense to me and annoyed me for years, so when K&K launched this product in 2017, I was so happy. I previously used traditional spin wings, but I was having to refletch the whole set every week. Now it's a monthly affair, saving me a lot of time."
"I prefer the feel of steel through the clicker, I believe that tungsten points were brought out to stop arrows breaking in straw targets, which isn't a problem now that foam targets are standard, although no one talks about the environmental aspect (microplastics) of foam targets and waterproof target faces, so the target material needs to change to something more environmentally friendly."
NOTES:
"I had to make lots of changes when I started shooting again last August after 3 months of rehabilitation from my front shoulder problem, which was non-specific pain and inflammation all around the shoulder, I couldn't move it in any direction away from down by my side and it couldn't take any weight, similar perhaps to frozen shoulder.
When I started back shooting at 30 arrows twice a week, I had a 25" Doinker Advance long rod with no extender, v-bar etc, and poundage about 34lbs. I weighed every part of the bow and every 2 weeks or so I added another 40-60 grams, by the addition of a bolt as an extender, a v-bar, a weight on the long rod, etc. at the same time I built up the poundage and the arrow volume carefully monitoring the increases to ensure a gradual increase in load. I had to do a sharp increase in bow weight before the national tour final last year, so I made up for this with a plateau after it for about a month, before I continued the progressions. Eventually by December/January I was back up to a competitive set up and was able to do my nock tuning and arrow selection for Tokyo before the birth of Emily.

Also, my quiver is very special to me, made by the talented Les Newsome for London. It has the Olympic rings down and Pride the lion etched into it and painted. "
Bryony Pitman
Riser: Hoyt Formula XI. "I've been trying the Xceed, but for me the Formula XI feels a lot smoother to draw, especially the last bit to pull through the clicker, so that's what I'll be sticking with."
Limbs: Hoyt Velos; 46lb in medium, 43lb on the fingers. "The Velos limbs are really smooth to shoot but also fast, and the Formula version seems to stack less than the ILF version for me."
Sight: Axcel Achieve XP with a Shrewd Flex recurve scope and Clear Targets lens – green halo for target and orange halo for field. "The Shrewd scope lets me see much more of the target, which helps me relax and not over-aim. I shoot the Clear Targets lens with a halo because I don't get on with dots. With a halo, I can focus all my attention on the spot where I'm aiming. It also gives me a second reference to subconsciously line the circle up with the target face. I have two different size halos I can switch between depending on distance, face size, need to aim off and so on."
Button: Wifler Industries MP One Pro (purple, blue and silver). "I really love this button. It's so easy to use and I like the idea of magnets rather than springs. It doesn't wear down my arrows at all but also doesn't get worn down itself, so I don't have to keep replacing anything on it."
Stabilisers: Shrewd Revel stabilisers with a 3in REX extender, and a Riot V-bar, 40 degrees out and 10 degrees down. 28in long rod with a Doinker A-Bomb and 5.5oz, 12in short rods with a Doinker A-Bomb and 4.5oz each. "The angle down helps me get the balance right without having to add more weight on the back. I had an elbow injury a few years ago, so I don't like shooting with too much weight in case it flares up again. I have played around with slightly more weight in the past, but I've had problems where I draw up below the target and have to pull the sight up onto the middle and more front heavy just made that worse. Also, I don't like the bow tipping around crazily fast. I have tried slightly heavier on the back but then the bow reacted too slowly. My current set up feels like it's balanced really nicely, and I found a comfortable set up that allows me to aim steady but also the bow reacts really nicely on the follow through."
Grip: RCore YE0 grip. "I never got on with standard grips because my hands are quite small and the angles were always wrong, which created a lot of tension in my bow hand. The YE0 grip is perfect for me. The angle of the grip allows me to get my hand (and bow arm) into a really strong position so I can put pressure through the centre of the grip rather than torqueing it. A combination of the angle and the material has also stopped me from having any issues with my hand slipping in both rainy and humid conditions."
Clicker: Win & Win carbon clicker – the older version. "I take the metal bit off it because I hate the tinny sound it makes and I also use the screw from a Beiter clicker because it tightens better and looks nicer. The W&W clicker seems to have a sharper click sound than other clickers I've tried and that's what I like about it."
String: BCY Mercury, 26 strands. "My dad makes my strings, so I get an unlimited amount and it's easy to test different strands, lengths, etc. I've shot with BCY 8125 and 8190 in the past but beyond that I've not really tried anything else."
Tab: Fairweather tab with the metal pro-plate, no modifications. "It's the first tab I've had where I can cycle between three different ones and not be able to tell the difference in feel or grouping/sight mark."
Arrows: Easton X10, 500 spine; Eli Vanes P2; 120gn tungsten points; and Beiter over nocks with pins underneath. "For field I use Easton ACEs to get a bit more speed."



Alex Wise (men's first reserve)
Riser: Win and Win ATF-X in silver. I shoot this model because it's the best performing W&W riser that I've shot.
My bow went down drastically during and after lockdown because I didn't have access to a 70m range as often as normal due to restrictions. However, since then, I've managed to work my way up to a bow that is heavier both in mass and poundage than before lockdown.

Limbs: Win & Win MXT10, in medium, 46lbs. (49lbs on the fingers).
Sight: Axcel Achieve XP, pin is a Spigarelli without the pin. "I like to use the open ring because it gives me a more relaxed aim, with a pin I find I tense up when aiming."
Button: Win & Win WK500 button in blue. "This button gives a lot of room for micro-adjustment with the micro click adjustments which helps with fine tuning."
Stablisers: Win&Win ACS15. 28" long rod with a 5" extender. 10 ounces on the end. "Yes, I have played around with different weights, however, I have always found that going front heavy gives me the best post shot reaction." 14" side rods with 8.5 ounces on each side, 45 degree straight v-bar.
Grip: Customised Jager 2.0. "The grip is angled down towards the thumb with an edge for my palm to sit on."
Clicker: Win & Win carbon clicker.
String: 8125G in yellow, 18 strands by Reign Bowstrings.
Tab: Win & Win EZR finger tab, with a different plate on it.
Arrows: Easton X10, 410, spine, 1¾" Spinwings in blue, 110 grain Easton Tungsten points, Beiter overnocks in blue.
Yulia Larkins (women's first reserve)
Riser: Fivics Argon X. "Was chosen for the weight balance (slightly heavier at the bottom) and the preferred geometry."
Limbs: Fivics Titan EX wood core. Chosen for stability and calmness of the shot. 46lbs, giving me 43.5 lbs on fingers ((my draw length is only 25.5 inches).
Sight: Shibuya Ultima 2, standard Shibuya sight pin with middle pin taken out. "It is more comfortable for me to aim at the middle when I can clearly see it and just fitting gold within a circle."
Button: Beiter button in black. "Very easy to adjust and the quality stays the same after years of use."
Stabilisers: Gillo G8, 30 inch longrod plus Fivics damper plus 5 Gillo gold weights, 12 inch siderods with short fivics dumpers and 2 gold gillo weights per rod. 45 degree angle.
Grip: Fivics standard grip. "It got slightly angled in and edges sharpened, for me personally it helps with the rotation of bow arm and the feel of the grip."
Clicker: Spigarelli clicker customised by Richard Priestman. "It is angled in a way to make it easier to feed arrow in in team rounds and help with better clicker control."
String: Trophy 18 strand string. Made by Richard Priestman.
Tab: Fairweather tab with two layers of kangaroo leather. "It is the most comfortable tab for me. It is a good weight in order to not interfere with release and follow through. The leather lasts for very long time and my groups became better since I started shooting with it."
Arrows: Easton X10, 650 spine, Eli vanes P2 – "good for windy weather". Decut tungsten points in 110. Easton pin nocks.
Compiled by Sophie Meering, courtesy of Archery GB
---