The 2004 Olympic champion talks to Bow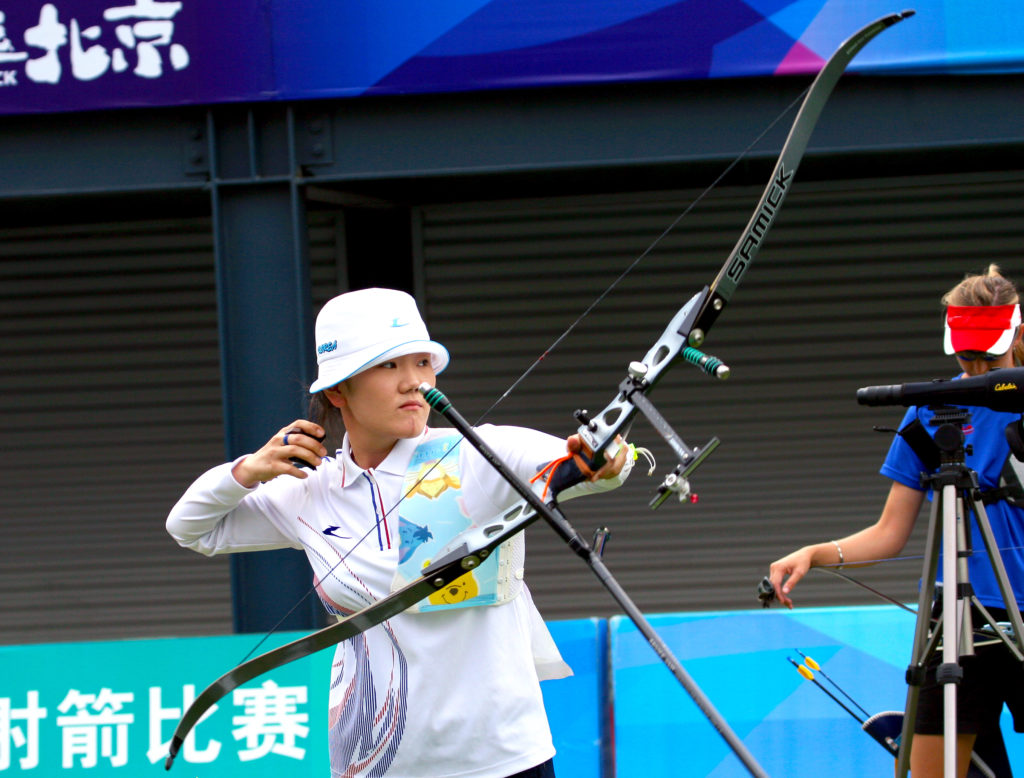 The greatest? Park Sung-Hyun once described her archery medals as "gifts I've received along with my coach… If anything, I think I've had more luck than other people." But Sung-Hyun dominated archery in the 2000s, taking three gold medals and a silver from the Athens and Beijing Olympics, along with a raft of other titles and a near-mythical world record that still stands.
She competed in an era when the Korean archery team demanded a relentless professionalism that the rest of the world is still only just catching up on, itself an iteration of South Korea's tough-it-out, quasi-military approach to Olympic sport. "I like the pressure. For me, stress is something positive. Most foreign archers have a job, they see it as a hobby for the weekend – even the very important international competitions," she once told Bow, all the way back in 2008. "They can also think about starting a family and having a private life with someone, but we can't think about these things. We are archers."
After retiring from the sport she did just that, starting a family with fellow Korean legend Park Kyung-Mo. She has concentrated on coaching ever since. "My dream as an archer was to take over the whole world. But now that I've achieved my dreams as a gold medallist and a leader, my dream is to now train the next best player to take over the world," she said – although a recent interview saw her threaten to return to the World Masters Games in Korea in 2023, bow in hand. She was kind enough to speak to Bow, briefly, in June.
Tell us what you know about the Korean women in Tokyo this year. Some have said that An San shoots a little like you. What do you see in her? 
"I think she's a better archer than me. I think she's a better archer in terms of technology and how she approaches the sport. I actually think the female athletes participating in this year's Tokyo Olympics are likely a better team than any other members who have participated in any previous Olympics."
What is it going to take for them to win? I mean, you might know….
"If I knew exactly, I might have been able to win some more! You have to make sure that your preparation is as good as can be in the build-up, you have to have trust in your coach and in your teammates, and you have to be in the right condition on the day. When I was a player, I always thought that everyone else must have worked as hard as me and prepared as well. I never thought I was particularly special. Looking back now, I suppose there wasn't anyone who could beat me [laughs]."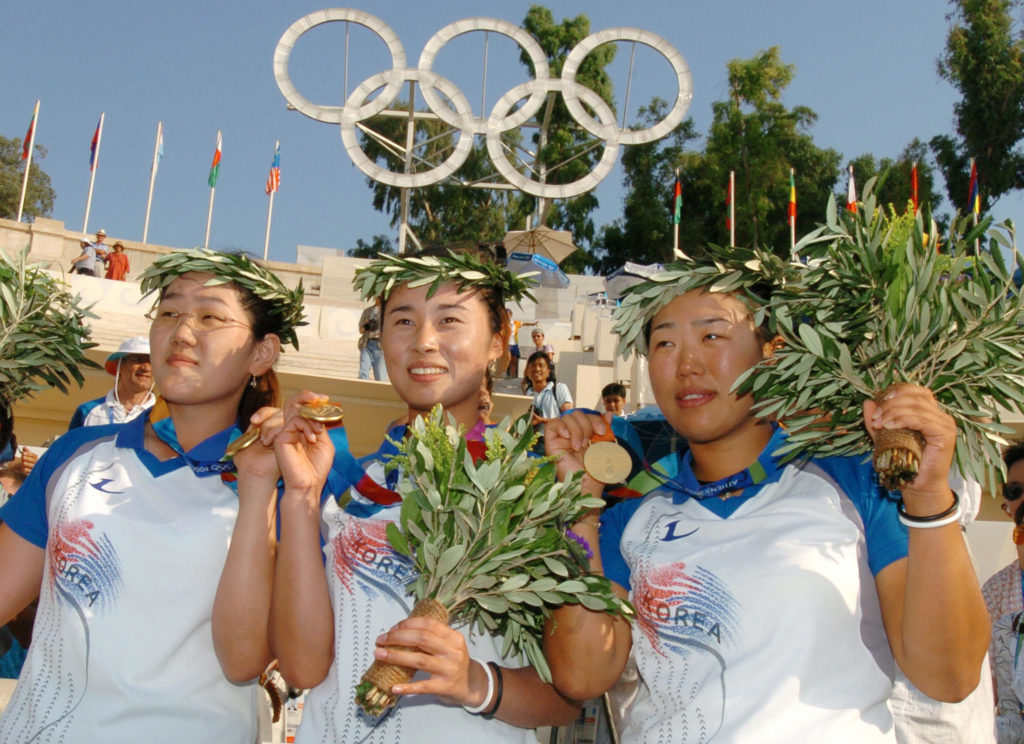 A few archers have crept closer to your 1405 record recently. You have said before that you would like to see it beaten. Can you explain why?
"The level of archery competition in every aspect, whether it's technique or the equipment, is getting higher and higher all the time. Records will always be broken someday and I think it's only natural to break them because all the players are working hard to achieve that goal. That's why I hope there will be a day when a Korean junior archer will break that record."
You commentated for the Rio Olympics, along with your husband. How was that as an experience?
"The tension I felt as a player in the firing line, and the tension I felt in the box as a commentator, were very different. Even watching the younger archers win medals, I was very nervous and my hands were sweating. It was an unforgettable experience for me personally, as I experienced a sense of tension that not everyone feels on both occasions."
We know a lot about you as an archer. Tell us more about you as a coach, and how you like to pass on knowledge.
"I hope to guide archers based on my experience as a player. However, it was definitely difficult at first because my experience, and the condition of each player, was very different. I felt more comfortable when I was a player than when I was coaching. Since each archer has different skills and situations, the coach tends to encourage players to do better by getting them to play to their strengths."
What do you see as the most common weakness in your students?
"Athletes who have reached a certain level are most often psychologically weak. That's what needs the work. To strengthen the psychological part, I try to apply my personal experience and academic knowledge at the same time. But it is something that I always worry about because each player is different depending on the situation. But if you're ever wondering why you can't overcome a certain obstacle, you are usually over-complicating the situation."
How has the equipment changed since you were competing?
"That's not easy to answer, because I was an archer who only really used one piece of equipment. I think the right equipment for each player is different. But it is often difficult to determine which particular equipment is good, and the only way to find the equipment they think is more suitable for them is by shooting it. But when you find the right gear for the player, it will be the best gear. It seems like the equipment is evolving, as the scores and records keep going up."
We saw a photo of you back together with the Athens team?
"Yes. We got together again a while ago after participating in a commemorative event for the Lecaf company, who made the clothing that we wore in Athens. We are now close friends who meet often. The Athens members are very special to me as they are friends who I often contact on a regular basis and see often at competitions and parties."
Park Sung-Hyun: the greatest ever?
In 2016, World Archery did a series about the greatest Olympians of all time, which put Sung-Hyun at number three, behind the USA's Darrell Pace and her compatriot Kim Soo Nyung.
Soo Nyung's haul of Olympic medals – four golds, a silver and a bronze – is unsurpassed in the modern era and will probably remain so, and she remains the most successful Korean archery Olympian. However, it's usually argued that Sung-Hyun dominated in a more competitive era, and she won her three golds and a silver from just two Olympic Games. In addition to the Olympic and World Archery Championship titles, Park won individual and team gold at the Asian Games, Asian Championships and the Universiade – completing the 'triple crown' of Asian archery.
She also stood on four consecutive World Championship podiums and, in 2004, set the most famous of her many world records, and one that still stands 17 years later: 1405 points on the WA1440 Round, formerly known as 'the full FITA'. Only two women have made the 1400 mark since, both in the past two years. 'The 1405' has become the legendary mark in the sport. Sung-Hyun also came closer than anyone has ever got to the last target archery achievement of all: defending an individual Olympic title. Bow and many others think she genuinely deserves the title 'greatest of all time'. 
Thanks to Kyung Hwan Choi for assistance
---