It might not be as much as you think! By Mimi Landström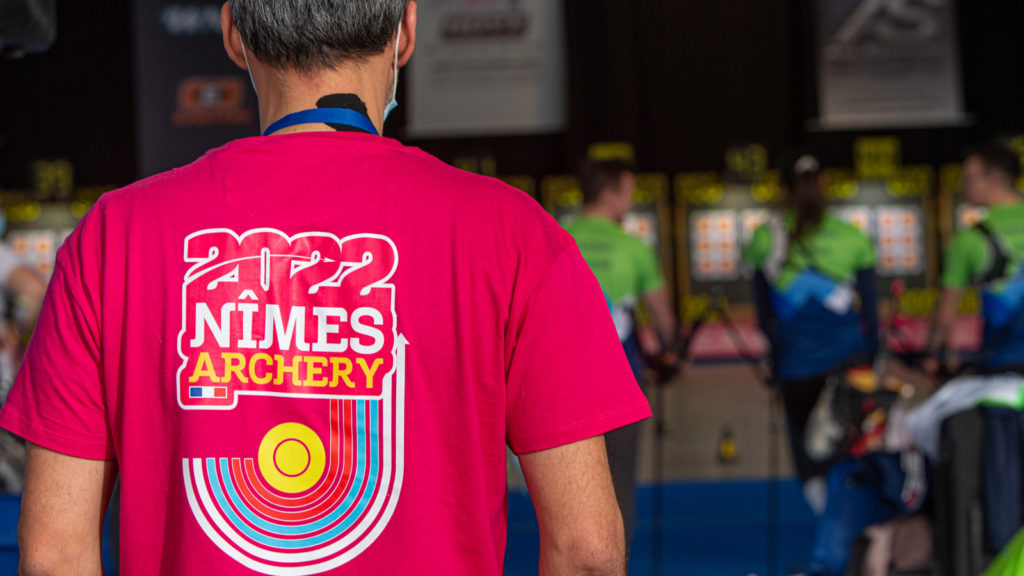 If you've been thinking about a trip abroad for a shot at the Indoor World Series in 2023, read on. I have been travelling to and competing at The Vegas Shoot since 2017 (obviously, 2021 was a write-off).
I get asked every year, "how much does it actually cost?". This article will explain what to expect from Nîmes and Vegas cost-wise.
The indoor season for 2022/2023 will be slightly different in format to other years with the World Archery Indoor Series now counting towards the Sanlida World Rankings. The GT Open, Sud de France Nîmes Archery Tournament, The Vegas Shoot and the Taipei Archery Open make up the Indoor World Cup circuit for the season.
World Archery introduced a new system for the world rankings at the beginning of October, back-dating it to the last indoor season (2021/2022). The new system can include up to two indoor, one field, and four target international competitions in the rankings. The full calculation system can be found on the World Archery website.
HOW TO TRAVEL WITH ARCHERY EQUIPMENT
If you have never travelled abroad with your archery gear before, it might seem quite daunting. One of the main things to ensure is that you have a decent bow case. It needs to have excellent padding, especially if you are travelling with a compound, to make sure no part of your equipment gets damaged when it's being flung around by airport staff.
There are airline-grade cases available on the market from companies such as SKB, Easton, Wiawis, Fivics and Legend. Also ensure they have TSA-approved locks, so that TSA agents can open the case to have a look without damaging anything. Most (but not all) bow cases count as oversized baggage, and you will have to look up the additional costs on your chosen airline.
Some recurve archers or barebow archers choose to pack their equipment into a suitcase, along with their clothes for the trip. A 30in longrod will fit into a standard large suitcase diagonally, although you may have to remove the weights. We are neither suggesting this is a good or bad idea, but it does work for a lot of people.
If you are travelling with two setups, and another person or group of people are travelling with you, it might be a good idea to take one of your setups and one of theirs in your bow box, and vice-versa. This is just in case one bow case doesn't make it from country to country for whatever reason – at least that way you should have at least one of your full setups.
In some countries and regions, a bow is considered a weapon (to be fair, they're absolutely right). It should not need to come under firearms rules when travelling by plane. There are, however, some airlines that ask for a firearms form to be completed, such as Virgin Atlantic. It can be easier to fill out this form, as it is a fair assumption to make that if the firearms form is completed, the bow case will turn up at the other end as it must be attended at all times. It can be a lot of faff, but it could also be easier. Other airlines simply say to register the bow case as oversized luggage and are not fazed by it.
A sensible tactic some archers do is put their tab into their hand luggage, as it is such a unique and specific item to you, so it's best to make sure it gets there. Smaller items such as your string (for recurve and barebows), and your pressure button could also potentially go into hand luggage.
So, the question we are all waiting for, how much does it cost to compete at Nîmes and Vegas? These two are usually the biggest events on the Indoor World Cup circuit, in terms of entrants.
SUD DE FRANCE NÎMES ARCHERY TOURNAMENT
Let's start with the Nîmes stage of the Indoor World Series. Obviously any prices given here are a rough estimate of prices at the time of writing this article.
The easiest airport to fly to for the event is Marseille. While Nîmes has an airport, it is rarely flown to, it's quite expensive and not many taxis or buses service it. Flying into Marseille does mean some onwards travel, whether that's by train, bus or renting a car, but it is easy enough. By car the journey from Marseille airport to Nîmes centre should take about an hour and a half, depending on traffic.
To get costings, we have looked at the Friday to Monday (20-23 January 2023). The competition itself is Friday to Sunday, so we assume entry for the Saturday of the competition. While we have covered the main cost components for the trip, please do not quote us on this, it is all correct at the time of writing, but subject to change, plus extra charges that may occur.
Entry fees
Recurve: €160/$160/£140
Compound: €160/$160/£140
Barebow: €100/$100/£85
Event approved accommodation:
There are nine promoted accommodations through the event site and here are some rough costings for a selection of them. We looked at booking through the link on the event website for costings, so it might be cheaper through third party websites. We have based the rooms on two adults sharing, but the price shown is for the full room price, the cheapest room, including taxes, and non-cancellable rooms.
Hôtel Campanile Nimes Centre – Mas Carbonnel: $170/£150
Hôtel Kyriad Nimes Ouest: $210/£185
Ibis Nîmes Ouest: $180/£155
Grand Hôtel de Nîmes: $420/£365
Novotel Atria: $260/£230
Flights
UK: London Heathrow to Marseille on British Airways return, with one 23kg checked bag. Total cost is £130 per person.
USA: San Diego to Marseille on Delta with one checked bag and two stops both ways leaving on Thursday, landing on Friday. Obviously, there are many more routes that can be flown, but this is to give a general cost idea out of America.
Total cost per person is $1,210.
Car Hire
Picking up and returning from Marseille airport that is big enough for two people, two bow cases and hand luggage. We found the same specs from different companies for a comparison, all mid-size SUV, automatic, unlimited mileage, needs to be filled full to full and free cancellation.
Budget: $380/£330
Avis: $410/£360
Alamo: $430/£375
Enterprise: $460/£400
FUEL
Driving to and from Marseille airport and around Nîmes for the weekend would work out at about 200 miles and cost about $60/£50 in fuel.
FOOD
This part is obviously an estimation and depends on how much you eat, but based on what I would usually do at Nîmes for a day. There are a lot of places to eat, along with bakeries for a cheap breakfast and supermarkets to get food for lunch.
Usually I budget about €30/$30/£25 for an evening meal.
Nîmes costings
Total (approx): $1,795/£640 per person
Accommodation: $170/£150 per room
Car hire & fuel: $380/£330 total
Flight: from USA $1,210 and from UK £130 per person
Food: $150/£130 per person
Entry: $160/£140 per person
THE VEGAS SHOOT
As the name would suggest, this stage of the World Indoor Series is in fact, in Las Vegas! The shoot itself is known around the world in the archery community. And although it is in 'Sin City', it might not be as expensive as you might think.
The shoot is hosted at the South Point Hotel and Casino, just south of the main strip. The shoot itself has moved around the strip over the decades but located to the South Point in 2012 and has been there ever since. Being able to stay in the same hotel that you are competing in is an intense experience!
There is a discount code to use at the NFAA event due to the relationship that the NFAA and the hotel have. If you head over to The Vegas Shoot website, you will be able to book your discounted room for the event. Use discount code NFA2023 to get the event room price.
Right across the street from the South Point is the other event hotel: The Grandview Las Vegas. It is described as being at 'walking distance from venue', which technically it is – it's out of the hotel and across a busy road. The rooms themselves have a self-catering kitchen, so if that is more your vibe, then this is recommended. There is also a discount code for The Grandview (use code W11101).
While it can be rather frustrating getting from the shooting halls, through the long queues and up the lifts at the South Point, having everything in one place is beneficial. It's also good to remember that there are restaurants in the hotel, with discount booklets when you check-in (make sure to collect them).
We have priced up The Vegas Shoot for Wednesday to Monday, 1-6 February 2023.
PRICES
Event approved accommodation
South Point Hotel & Casino for five nights (Wednesday to Monday): $660/€675/£570 (subject to exchange rate) per room, including the tax but not the resort fee as this is paid at the hotel.
The Grandview Las Vegas (Wednesday to Monday): $680/€695/£590 for a one-bed room and $1,040/€1,065/£900 for a two-bed room. This does include the tax and resort fee.
Flights
London Heathrow to Las Vegas direct on British Airways with one checked bag at 23kg. Total cost per person is £690.
Amsterdam to Las Vegas with KLM and one stop-over in Salt Lake City and one checked bag. Total cost per person is €1,345.
Food
Food in Las Vegas can be quite pricey if you eat on the Strip. But head a bit away from the Strip and it is a lot more affordable. Even eating at the South Point is cheap. Steak 'n' Shake is a great place to get a snack, a meal, whatever you fancy. Usually budget around $40/€40/£35 a day.
This is an estimate of costs and it is very likely it can be done cheaper (or more expensively), but it works as a rough guide.
Vegas costings
Total (approx): $2,100/£1,085 (depending on which division is entered)
Accommodation: $660/€675/£570 per room
Flight: €1,345 from Amsterdam per person or £690 from the UK per person
Food: $240/€245/£215
Entry: Flight division: $200/€205/£180
Championship division: $350/€360/£312
Championship Compound Open: $525/€540/£470
---