GBR's Sarah Bettles opens up about her struggles with mental health and her return to top-level sport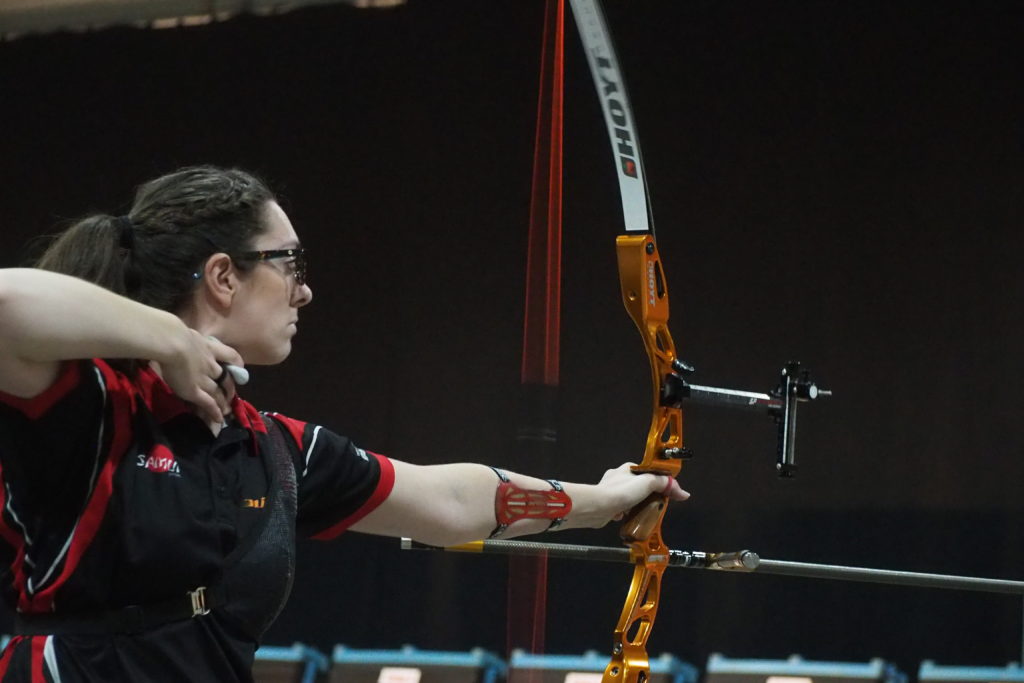 It's well-known that the 'mental game' plays a huge role in performance, and mental management has become a teachable skill. Mental health is less commonly spoken about, although over recent years more athletes have been opening up about their experiences with it.
GBR international, European Games team champion, world championship medallist and Tokyo Olympian Sarah Bettles spoke to Mimi Landström about her experiences.

I'm 29 years old and I have struggled with my mental health since I was 17. At 19 I was diagnosed with depression and anxiety and last year I was diagnosed with borderline personality disorder. I struggled mentally in the build-up to the Olympics and told myself that I just needed to get there, and as soon as I got home, everything would be fine again. It's well known that many athletes experience post-Olympic blues, and it turned out that I was no exception.
Once I got home from Tokyo, I lost my daily routine and all sense of drive and purpose. I still had the 2021 World Championships to train for, but I struggled to motivate myself to get out of bed and eat, let alone train. I spent most days driving into the national training centre feeling sick from anxiety and in tears over how low I was feeling.
I distinctly remember one day where my only goal that day was to cook myself dinner. When it came to it, I couldn't find the ingredients I needed for it, and I had a complete meltdown. A few days later I dropped out of the World Championship team and took over five weeks away from training.
During that break I made some big changes. I bought two kittens and decided to put more focus back into horse riding. I wanted to pull myself away from archery until I felt archery pulling me back.
I didn't allow myself to go back to training until I felt like I wanted to shoot, rather than feeling like I had to shoot. I wanted to find my joy in archery again, and when I did go back to training, I made sure to finish each session feeling like I still wanted to shoot more.
I started riding at eight years old and competed in some low-level dressage and showjumping. Horses are naturally empathetic animals and instinctively pick up on what or how we are feeling. They have a way of mirroring our emotions which helps us to learn to recognise and regulate our own emotions. For me there is something quite special about building a bond with a half-tonne animal and gaining their trust and confidence in you.
When I first started full-time work, I was aware that I was starting to progress through the British ranks in archery and if I wanted a chance at getting on the national squad I was going to have to put the horses on hold so that all my spare time outside of work could go towards archery. Although I desperately missed the horses, it was OK as archery became my mental release. In 2019, with the Olympics fully on the horizon, I decided to do archery full time.
During my break last year, I realised that if I wanted to be able to carry on with high-performance archery, I needed to have something to turn to, away from training. I now share a horse called Valco. On my days off, I'm at the stables looking after, exercising, and generally spending time with him.
If I'm having a tough day at training I go to the stables and see Valco, and it's like he knows everything I'm thinking and feeling. There's a calming energy that comes from being around horses.
While I'm still always cautious about getting injured and how it might affect my archery, I have one major difference now from the previous years; I am an Olympian now, and no one can take that away from me. My sights are still firmly set on Paris 2024 but my life is so much better with horses in it that I'm willing to take that risk now.
Archery also provides many benefits to my mental health. I get to spend most of my time outdoors, surrounded by friends and there is a quietness and stillness to archery that I love. I'm always searching for that flow state in archery where my body just takes over and the shots become automatic, I focus on the middle, my body does the shot and my arrows hit the target. I can switch off all my thoughts and focus solely on shooting, and that is why I love it.
There will always be mental pressures involved in high performance sport and archery is no different. It's a sport for perfectionists and constantly chasing perfection can become frustrating. In high performance sport even when you are doing it for your own joy there will always be external performance pressures from needing certain scores or finishes to secure your place on a team or to get funding.
In a sport where we are constantly told to focus on process and not outcome it can be hard not to focus on outcome, when that's what could dictate our entire future in the sport.
Sarah's mental coping tips
Have a daily routine that you can implement
Talk to people — opening up helps
Do not be afraid to ask for help
Positive self-talk using words such as 'calm', 'relax, 'breathe'
Listen to music
Listen to a podcast to re-engage your mind and thoughts
Take the small wins as big wins
Set small goals, as well as the bigger ones
Build a strong support system around you, and use it
Take breaks when you want them and need them
I've learnt a lot about my mental health and self-care over the past few years. I've realised how important taking breaks are when I need them. It's a lot better to take the occasional extra rest day instead of running yourself into the ground and needing to take over five weeks off due to burnout.
I spent a lot of time over the Covid-19 lockdowns getting into yoga and meditation, and this is something I carried on with when I went back to full training. It became part of my daily routine and was something I could easily continue with while I was away at archery competitions.
Having a good routine has become very important to me and I find it helps me settle well when we go away on trips. Before each trip now I sit down with the sport psychologist and we run through a list of potential emotional triggers and then come up with ways to deal with them if they were to arise. We then lay out a self-care plan for the trip which usually consists of getting back into my routine, finding time to sit and chill with a hot drink and painting my nails or spending time with teammates.
I've been incredibly lucky over recent years to be on a UK Sport funded programme which has meant I've been able to receive clinical psychological support. Thanks to being surround by amazing and supportive friends, family, teammates and staff I now feel in a much better position to manage my mental health.
Getting help
According to research in 2021, around a quarter of Olympic and Paralympic athletes reported experiencing serious mental issues after the Games, for many different kinds of reasons. This number included swimmer Michael Phelps, the most decorated Olympian of all time, who has spoken publicly about his own severe post-Olympic depression. While not everyone is a high-performance archer or athlete, many people in the post-Covid-19 era have experienced mental health issues — sometimes for the first time.
If you are struggling, here is a brief list of resources that may be able to help:
NHS Mental Health: www.nhs.uk/mental-health
Mind: www.mind.org.uk, 0300 123 3393
Rise Above Aims to build resilience and support good mental health in young people aged 10 to 16: www.riseabove.org.uk
Samaritans: 116 123, www.samaritans.org