Eight months after Sally Park took over in the Land Of The Thunder Dragon, how are the team progressing?
The tiny Himalayan nation of Bhutan has archery deeply woven into its history and culture. Most Bhutanese archery takes place on huge ranges using either traditional bamboo bows or – somewhat incongruously – gleaming new compound bows, in competitions which are often noisy and riotous compared to traditional target archery. Most VIP visitors to the country are encouraged to have a go, with the Duke and Duchess of Cambridge getting involved on a visit in 2016.
In July last year, Park Young Sook, better known as Sally, was appointed head coach of the Bhutan archery team, on a one-year rolling contract to oversee both elite and grassroots performance programmes across the Himalayan kingdom.
The Korean national, who shot for her country at the 1984 Los Angeles Olympics, has been an archer, coach and international judge ever since. She went on to train the Italian recurve women's team that won gold at the World Archery Championships in Turin, Italy in 2011, as well as working with the Singaporean team and Korean youth squad.
She is perhaps best known for coaching Malawian athlete Areneo David, who became the first ever archery Olympian from that country at Rio 2016, and she played a key role in a documentary made about Areneo's journey called Hello From Malawi (which can be watched on YouTube). In 2017, she won the World Archery Women's Award for her outstanding contribution and remarkable services to archery.
She first came across the opportunity in 2017. "The Bhutan Archery Federation was looking for a recurve coach, but didn't have lots of money. Not many people wanted to work in Bhutan. I just wanted to help Bhutan archers."
Despite Bhutan's fame as the only country in the world where archery is the national sport, almost all participants take part in traditional archery competitions on 145m ranges. The Olympic side of things is not so well known and there have only been a handful of steps towards developing a target compound team. "Many people enjoy archery in Bhutan," said Sally.
"People shoot across the cities for fun and when someone hits the target they clap, sing and celebrate together. It's a very nice environment. Even the King shoots." Nevertheless, a single archer, Karma, represented the nation at Rio 2016. One of just two athletes from the country that year, she had the honour of carrying the flag in the opening ceremony in the Maracana Stadium.
"Although archery is the national sport, when I started coaching in Bhutan, there were only seven national archers – three recurve men, three recurve women, and a single para recurve archer. Seven archers are not enough to develop a national team, so I wanted to organise a junior team and and national Group B team."
"I have selected junior archers in Thimphu [Bhutan's capital city] and started training them, and selected the more junior archers in the east of Bhutan in March. We are in the process of selecting eight archers for a national Group B team as well."
When Sally finally arrived in Bhutan in July last year, the tiny team was already committed to a rigorous physical training schedule that would shame many Western squads. "It was very long and tough." However, she decided to increase the arrow volume while reducing the level of exercise. "After I started coaching, I began to modify archers' postures. Archers need to shoot more arrows to be full of confidence for competition. So, we focused on shooting which means reducing physical training." The Bhutan team now shoot between 1,000 and 1,700 arrows per week depending on their level, which is comparable with world elite level teams.
What is the long-term plan for the team? "First of all, we need to organize the system with national A, national B and junior team, because there were only seven national archers. Secondly, I selected the young archers at the beginning of this year. I am expecting the young archers will shoot really well. I want to see our young archers participating in the next Youth Olympic Games."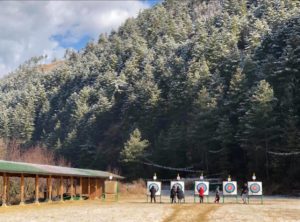 "Thirdly, we need more professional coaches for developing Bhutan archery. In addition, I prepared for a coaching and judging seminar this year. We should keep doing seminars regularly. And I hope that some Bhutanese do international judging in the future."
What competitions will the team be entering over the next year? "Actually, we don't have enough budget for taking part in many overseas competitions. Therefore, we will choose one or two of the main competitions for one year. Our archers have to compete with other countries and need various experiences through many world events, but it is impossible now. Of course, we would like to participate at Tokyo 2020. But we will just do our best with the situation."

Nevertheless, the team will be participating in the World Archery Championships, but without full teams. "We will select some archers. We will also be participating in the Asian Archery Championships in Bangkok in October and November for recurve and para."
Is target compound developing at all? "I can see easily lots of Bhutanese who are enjoying shooting with compound bow, all over the country. But the traditional archery is totally different. However, I think national compound team is not working properly. Before the overseas competition, there is a competition for selecting some compound archers."
Is there anything you have noticed about the Bhutanese character that is good for the sport? "The Bhutanese character is very mild and calm, and not aggressive. I think it is especially good for archery. That's why many Bhutanese people are enjoying the sport."
How long will you be staying in Bhutan? "The Olympic Committee suggested that I should work till 2020, but my physical condition was not good when I signed with the Bhutan Olympic Committee, so I requested one year."
"But I would like to extend the contract, if possible, as coaching for one year is not enough to establish a system and I don't want to leave this very nice country after one year. Because I am learning many things from the Bhutan people and culture."
World Archery commissioned a lengthy article about Bhutanese archery, including both the traditional and Olympic side, written by Bow International's editor in 2016. It can be read here: arche.ry/bhutan