As Richard Head Longbows celebrated 21 years as a full-time bow making company, Bow International caught up with founder Richard Head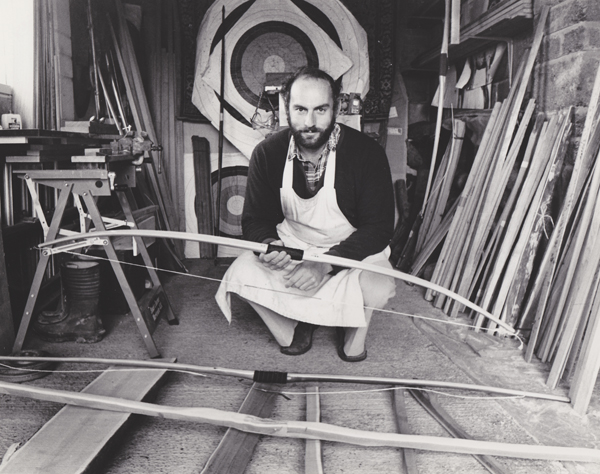 Richard Head has been making bows professionally for 21 years, though his involvement in archery goes back way beyond that. We ask, how does it feel to be celebrating 21 years in business? Richard laughs, "I haven't been a bowyer all my life: I was a quantity surveyor in the building industry. At that time, making bows was a hobby and then part-time business, and I often thought, 'well, it might be nice to do this full-time'. The job was a stressful sort of job, but giving up the monthly pay packet to jump into the unknown was a bit daunting, but then I was made redundant, and I thought I might as well have a go at doing it full-time. So I was not exactly pushed into it, but thought, 'well I'll have go and see whether I can make a go of it'.
"I suppose it's a lifestyle business rather than something you're going to become a millionaire at. My wife is part of the business partnership, and my son Phillip is as well – he was the first son taken on by his father as an apprentice longbow maker for probably a couple of hundred years!"
Richard goes on to explain how things have changed over the years he has been in business: "The longbow and traditional archery has become more popular, both in this country and around the world, such that when I started making bows full-time there was probably only myself and perhaps one or two others doing a similar thing, but since then a lot of people have jumped on the bandwagon and there is more competition around now.
"The interest in the longbow has expanded in this country and worldwide. The advent of the internet has altered things a lot as well. It made it easier to let more people know what we were doing, such that we now export archery equipment to almost every country in the world really – North America and Canada, South America, Australia, New Zealand, pretty well every European country, plus Russia, Japan, all sorts of places! Because we've been in the business for a long time we're pretty well-known.
"Our business is such that we try to give people advice. If they come to us wanting some arrows or a bow we'll try to give them advice and not necessarily just get a sale out of them, and I think over the years that approach has paid off."
So there are some very well-travelled longbows out there! "Yes, there are," laughs Richard, "We've just finished a bow with purpleheart in the core, for an American ex-serviceman. He was in Vietnam and he was awarded the Purple Heart, so he wanted a bow with purpleheart in it. A lot of our commissions are sort of one-offs.
"Someone wanted an arrow plate made out of gold with diamonds in it, I think it was out of his mother's ring or something like that, so he had the arrow plate made and we fitted that in – the arrow plate was worth more than the bow. We get odd commissions like that which does make things a bit more interesting. We normally put mother of pearl in as an arrow plate, and we got some nice mother of pearl from a guy who worked on the Queen Mary ship, and once they'd done all the fitting out of the state rooms they had some mother of pearl left over, which was fantastic stuff, so we can tell people where it came from and it adds a nice touch to the bow.
"We made a bow for the V&A museum when they did the anniversary of the abolition of the slave trade. There's a figure there with a bow we produced. So we get a number of unusual commissions from time to time, but most of our sales are to competitive archers, including the Royal Company of Archers, the Queen's ceremonial bodyguard in Scotland, and for people involved in medieval re-enactments. Medieval re-enactment is something that again has increased over the years."
The conversation moves onto how archery as a sport has changed since Richard first got into it, and he reveals, "I started archery in the 1960s, shooting modern equipment of the time, and then I started to have an interest in the longbow. At that time there wasn't really anyone making them so I started to make my own and went on from there. There were one or two competitions for the traditional longbow, but that number of tournaments has increased, and the type of people shooting has changed. At one time it was just enthusiasts that wanted to keep alive the traditional longbow, and you've still got those people involved, but you've also got a lot of quite competitive archers who like to shoot the traditional bow but like to win and do well, so I think it's become more competitive. Is it a good thing or not, I don't know, but it's certainly bringing people into the sport and people are thinking, it's not just a bit of stick and a string to shoot arrows in the general direction of the target; it is potentially an accurate weapon in the right hands. The scores have increased a lot and I think people are taking the sport very seriously."
Richard mentions that the company diversified into arrows and accessories from an original basis of just making bows, so does he have a favourite material to work with, or a favourite technique?
"Regarding the bows, we tend to stick with lemonwood for the belly,
which we've used for a long time – it's very reliable. For the backing of the bow, we used to use hickory, but the quality of hickory that we were able to obtain has dropped, and we were finding that the bows were failing. So we're now using bamboo as a backing, which is more reliable.
"We use yew in bows, but not as much as we used to. It's becoming more difficult to get hold of good quality yew. We were buying it in from Oregon in America, and used to get it from a chap called Ulrich, who was cutting wood in the 1930s and 1940s up in the Cascade mountains in America. I think he was taking pack mules up there to bring it back, and I've seen pictures of him up in the log cabin he built with snow six feet deep, and what with bears and wolves and all the rest of it, he had to be pretty dedicated or mad to be cutting this wood in the depths of winter!
"Because it was such a long time ago and there was really only him doing it, the quality of the wood was very good, and when he died we bought up what was left of his stock and had it shipped over, but we've now used most of that.
"The hurricane we had twenty years ago brought down a lot of trees and we did get some quite good English yew then. We got some from the burial mounds overlooking Stonehenge – the king's barrows – which are mainly chalk, and because the soil was very poor the grain of the yew was very tight, and that made very good bows. We made a replica medieval bow for the master of the Worshipful Company of Bowyers and we used that wood. We mark all the English yew that comes from places like that, so we can tell the customer where the wood came from, like we can tell them the mother of pearl arrow plate was from the Queen Mary, and all these little things just make the bow that little bit more individual and more interesting than something made in a factory out of carbon fibre."
There are some incredible stories and interesting commissions there. Is there one thing that Richard is particularly proud of?
"Probably reputation, I should think, for providing a good-quality product and dealing in an honest way with people. That might sound quite simple, but I'm probably most proud of that, and the fact that we're known around the world. I've been made a liveryman of the Worshipful Company of Bowyers and my wife's a liveryman of the Worshipful Company of Fletchers, and they are companies that can date themselves back to the 1300s. They oversaw the quality of longbows and arrows that were produced, the quality of the materials and made sure there was no shoddy workmanship. They have invited a few people who make archery equipment to a good standard to become members, and again I'm proud of that."
It's not all about making bows through, as Richard explains, "We've done quite a lot of bow-making demonstrations, and I still do lectures for local history societies, anyone that's interested in the longbow. We did bow-making demonstrations for several years at Kew gardens at a festival of wood during the spring, and at the Bath and West Show, with a shooting demonstration in the arena, talking and explaining about the longbow right through from the middle ages up to its modern use.
"We've done bits of television work, and when the Shakespeare's Globe theatre was opened in London the first production was Henry V, and we kitted out the English army with longbows – but the English army consisted of one man, so it was a prestigious appointment but not a huge one! We've also sent a load of stuff to the Royal Shakespeare Company up in Stratford as they were doing a similar production."
And finally, what words of advice would Richard give to anyone interested in making their own bows? He thinks for a moment, than answers, "Making longbows, from hobby to profession, is a journey full of trials and triumphs like any other. 30-plus years later it still quickens the heart to see and hear a bow you have spent the last two weeks making explode into a million pieces while on the tiller for the last time!
"Your first attempt will never be right, sadly as you become more fussy you may still be afflicted with this keenness to improve, never entirely happy. But it's the knowing when to stop before you take that last little bit of wood away, the final straw you may say. I would never be so bold as to use the word expert, though expertise does not come overnight. I am still learning, which is why I probably still do it." www.richardheadlongbows.com