Pip Bickerstaffe relates the trials and tribulations of compressing a bow making course into two days, and the eventual successes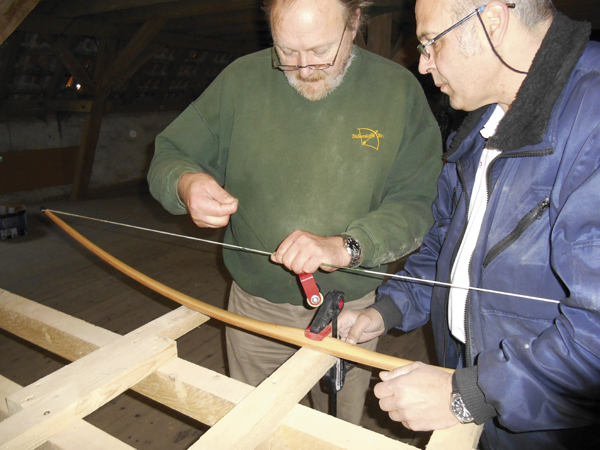 Over the 50 years plus that I have been involved in archery I have done many things in the archery world, but since starting the business – Bickerstaffe Bows – one thing I have never done is offer bow making courses in the UK. There are several reasons for this, from not having suitable facilities, to the limited amount that someone can expect to learn over the course of a couple of days, and the fact that I have never got around to doing it – yet.
However, a good friend and customer of mine in Germany persuaded me to do some bow making courses with him in his facilities. The plan was to take staves that were ready laminated and cut to width such that a lot of the time-consuming and critical work was done to a professional standard beforehand. This would make it possible to tiller and finish the bows over the course of two full days, with a skilled teacher on hand to prevent failures.
We hoped to make sure that the people who came along had a lot of fun and enjoyed the experience, but we wanted to also guarantee that at the end of the course they had a quality bow to take away with them, giving good value for money from the experience. Over the months preceding the course, Peter took booking from customers in the shop, mostly referred from previous customers, and we made sure that we knew what kind of bow each person was hoping the end up with: the bow type, left- or right-handed, the draw weight at 28 inches and their actual draw lengths.
I could then prepare each stave, as I would if we were making the bow, and in this way I can pretty much guarantee that the finished bow will be exactly to specification. That might sound a little arrogant in some ways, but when you consider that we have made over 20,000 bows we have got a pretty good feel for what will be required, and if we overbuild the bow a little we have got sufficient material to work with to allow for a mistake to be corrected without compromising the final target draw weight.
It was a total success with each person leaving with a finished bow, of the specification they had asked for. Over the course of the weekend we built five bows, which in this case was four flat bows and one longbow.
One of the people on the course, a 72 year-old retired professional racing driver, was on his second bow making course having enjoyed the previous one so much. On his first course he built a longbow, and on this one he was building a flat bow. It is always good to see old friends returning and enjoying their time in the workshop. For me the workshop environment is where I am happiest; I am comfortable around the tools and I love to help other people to get a feel for working the wood; some people do get into it and are really in touch with the work, where others never really seem to. I guess that is why some people are good at one thing while others are good at other things. We are, after all, all different.
On this course we also had a father and daughter team, which was not the first time we have had more than one family member on a course, but I think it really nice to see young people, especially girls, having a go at the practical side of the sport. I do find it good that archery, especially traditional archery, is such a family sport where the whole family can be involved in the same activity and share the fun of doing something that is both healthy and social in the countryside.
On the first day of the course the participants start to get to grips with using hand tools and discovering some of the vagaries of wood. It is all quite different for most people to be working and shaping something exquisite from materials that seem to have an attitude problem all their own. Learning the feel of unfamiliar tools is always a challenge and to see people start off clumsily but gradually develop the touch and feel as they get more comfortable and familiar with the tools and the work, and to see the wood starting to take shape, gives a great feeling of achievement.
Gradually the bows start to take shape and begin to look like a bow. The limbs begin to blend into the handle area and the curves flow up into the right shape, and what started off as a square block now has shape and form and curves, and a kind of inner beauty begins to emerge. Then the delicate and interesting stage starts, where the temporary string nocks are cut into the stave and the bow is gently bent a little as the tillering process begins.
Fundamentally, tillering is a simple process of removing wood where the bow is not bending enough, and avoiding areas where it is already bending more than it should. It sounds easier than it is. Initially, we start with an overlong string and the bow is bent ever so slightly. It takes an experienced eye to spot potential problems at this stage, but this is the time when the difference between a good bow and an OK bow can be made. Bend the bow too much at this point and damage is done that cannot be reversed. So while it may seem to have only just started, we are actually at a really critical point straight away.
As the bow can be safely bent further it becomes a bit safer, and the process is less likely to damage the bow. To the newcomer this is a bewildering and confusing process where art and the ability to see curves and shapes is subtly blended with the science of building a uniform spring from a piece of wood. It's an unusual situation where art meets science. Someone once said that when you looked at a good piece of design like a bridge or some structure in steel, if it looks aesthetically right then it probably is right.
I guess this comes from how we see the natural world where, in nature, we see things like trees and fish and each seems to "look" right in its situation; the tree tapers as it gets taller, the branches come out of the trunk in a smooth curve with a little extra wood around it such that the tree is naturally a little stronger around the joint. Fish are designed to move quickly through a fluid, and when you look up to see an aircraft fly overhead the fuselage is a similar shape to the fish. One has evolved in nature and the other was designed using maths and physics and the drawing board, but the answer to the same problem of moving quickly through a fluid is, unsurprisingly, very similar.
So when it starts to look and feel right it almost certainly is, and the experienced eye will see minor variations that, when removed, take an OK bow up to being a good bow. As each bow is slowly persuaded to behave, you can see the understanding dawning as people start to see the changing shapes. Even though they may a long way from being able to do it themselves without a safety net, they are starting to see and appreciate what makes a bow.
You can see the participants are slowly starting to understand the complexity of what appears to be quite a simple item. The reality is that even a simple wooden bow is quite a complicated asymmetrical item, where the top and bottom limbs are different lengths and bend into slightly different curves, yet the shape of the whole bow seems to blend into one continuous curve with a slight stiffening in the handle area.
As each bow comes into shape and is matched to the weight that each archer is looking for the staves are sanded up and the horn nocks and arrow plates fitted and shaped. So ends day one, typically around 7.00pm as each tired and dusty archer heads for some much needed food and rest.
Day two dawns and the bows are now fully finished, with the grooves cut into the horn nocks, and they get a final sanding and finishing ready for a couple of fine coats of lacquer. As the seal we are using dries rapidly we can then fit the hand-stitched leather grips, make a double looped string and serve it on the bow, fit a nocking point and the bow is ready to be shot.
By lunchtime on day two all five of our customers are shooting the bows that have been made on the bow making course. There are happy smiles as each bow achieves and exceeds their expectations and shoots fast and smoothly, in complete balance with no hand shock. The father and daughter team we had were absolutely delighted with their bows and booked into the shoot that Peter was hosting the following weekend.
The course was a success, and every archer took home a top quality bow that they had enjoyed making, and gained a better understanding and appreciation of just how complex such a simple item really is.