Pip Bickerstaffe looks at the different woods native to the UK that can be used for making bows, and the advantages, disadvantages, and characteristics of each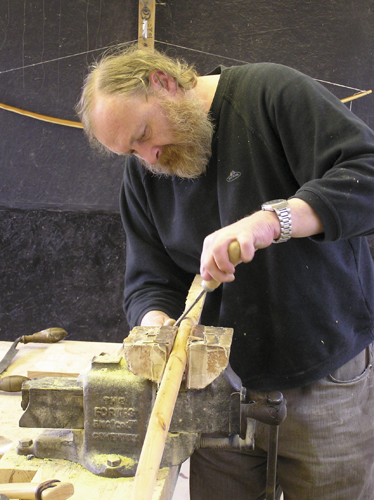 I first started making bows while I was still at school, having started archery at age seven, and since then it has come to here, more than 50 years on, with around 20,000 bows made both on my own and with my colleagues at Bickerstaffe Bows. Before I formed the company I had made several hundred bows in a wide range of designs from many different materials. Some were recurve bows, compound bows and fibreglass-backed flat bows, as well as many different types of wooden bows.
In a bow-making career spanning 20 years of commercial manufacture as well as nearly as long working on my own experimentally, I have learned much about bow design, bow woods, and what does and does not work. I will put my hands up to many failed projects where things did not work as I had hoped, but with each disaster came another notch on the scale of experience as another lesson was learned.
So the following information is hard won, through both research and practical experience. It is not easy to work out how bows were made in antiquity, but as you learn more about the ways wood works and responds you can deduce a fair amount, and the sketchy evidence that does exist tends to support my own findings. So as you read through the following article, you might find that what I say does not agree with what you may have heard. I have always tended to be wary of the source of any information –unless you know the history and experience of the guy who tells you something, you do not know what can be trusted and what can't. Likewise, beware the internet. It is populated by many people who have a lot to say and a lot of opinions but rarely much, if any, true experience. From what I have seen, the people who actually know what they are talking about do not spend much time on internet forums and the like – they are usually too busy for such pursuits!
There is a good number of woods in the UK from which bows can be made. Some work better than others, but few are spectacular in terms of either performance or longevity.
This is basically due to one simple factor, our warm-ish, wet, maritime climate. The amateur bowyer can easily find wood to work with in this country, but no native tree species will produce bows that perform spectacularly well or last for a long time. The heavier the bow, the shorter the life expectancy and few, if any, of bows made from these woods will meet the modern concept of a warranty period. There are always exceptions, but the normal, likely experience will not be a long-lived, high-performance bow of any quality or consistency.
Yew
The wood most associated with the longbow is yew, imported in huge quantities for many years in the heyday of the longbow as a weapon of war. However, apart from simple, short-lived lightweight bows, English yew is not generally a good longbow wood.
The reasons are simple: in our warm, wet climate we do not tend to have clearly defined seasons, meaning that when a tree 'wakes up', as it were, in the spring it puts on a growth spurt, producing soft, early growth wood. As the weather can be damp from March through to June, July and August, this rapid early growth can be a large proportion of the annual growth in a native-grown yew tree with a thin, hard, late growth ring being put down towards the end of the growing season.
The early-growth wood is soft and flexible, but becomes more brittle as it dries and seasons, and as it is so wide it is likely to fail in shear between the harder, stiffer late growth rings.
The result of this is that you can make a D-section bow from wood that is almost green and still quite wet. The wood will be supple at this time, but as it dries it becomes harder and stiffer. The bow will gain weight and, as this process, continues the bow will become more brittle. If the bow survives without twisting out of shape as the wood continues to dry, then it will start to lose weight again, and then become kindling as it finally breaks into useful-sized pieces.
Early societies knew how to use our native woods, and could make a bow relatively quickly that was adequate to hunt with, and over the course of the next few weeks the archer could use it and take game to feed the family, and when it broke it would help to cook the meat while he was making another bow for future use.
So while English yew will make bows, they would only be fit for purpose as a temporary hunting bow. Bows made from English yew are not either target archery bows or war bows, and never were.
Wych Elm
It was well known that the Welsh made bows from wych elm, tending towards short, stout bows that were effective in battle as a guerilla weapon. What is less well known is that these bows were broad-limbed, flat bows, and not D-section longbows. They were made in the same way as English yew bows from unseasoned green wood, with the same short working life and final outcome.
It is unlikely that these bows would have been of excessive draw weight, probably not more than 70lbs or so when first made. This would increase a bit as they dried and became more brittle and crisper, and then they would dry further, losing weight and before long failing dramatically.
Ash
Ash is another well-known bow wood from history but, like wych elm, it made a far better broad-limbed flat bow than a D-section longbow. Ash is a ring porous hardwood, and the early growth wood is coarse and stringy, with the late growth wood being harder and stronger.
Ash, unlike yew and wych elm, benefits from being properly seasoned and air dried over several years, giving a stable hardwood that will work reasonably well with sharp tools.
Having said that, while it will make a plausible bow of moderate weight, up to maybe 70lbs or so, it is prone to developing compression cracks on the belly. A bow made using sapwood as the backing and heartwood as the belly is a better bow, but ash does not produce a lot of heartwood so this is not always a readily available option, certainly not historically.
Most of the ash that is available from timber merchants is American white ash, which is quite different from European ash. While it will make bows, they are not as good as those made with European ash, and this wood makes better arrow shafts than bows.
Hawthorn
It's not usually thought of as wood, but hawthorn can produce some decent-sized logs of around four feet or so, and if it is reasonably straight-grown without too many little pin knots, it will make quite a respectable flat bow. The wood is quite hard, when properly seasoned, and the grain structure is tight and quite interlocked.
I have seen D-section bows made from hawthorn, and while they did work they tended to fail in compression and follow the string. Both of these problems can be avoided by making the limbs broader and thinner, ergo a flat bow design is far better than a D-shape.
Apple, Pear, Cherry
Most English fruit woods will make bows. These will not necessarily be spectacular in any way, but will make a serviceable stick that will shoot an arrow. Again, a broad limbed flat bow design is far more likely to perform and last reasonably well.
Laburnum
Laburnum is an unusual bow wood, and as long as you can find a decent size and length of straight-grown wood you could have the makings of a decent bow. You can use the yellowish sapwood as a backing, like you would with yew, worked to a single annual growth ring, and the darker, greeny-brown heartwood as the belly.
Now for the surprise: you can make a D-section English longbow with laburnum and it will perform and last reasonably well, in draw weights up to maybe 55­-60lbs. It pays to make the bow slightly 'over long' for the draw length, rather than too short, and it will perform well with lighter, more delicate yet stiff limb tips. This would be a bow worthy of horn nocks and a careful bit of workmanship.
This wood can also be backed with ash or hickory, and when laminated with a purpleheart core makes an attractive, quality longbow. However, it is prone to string follow.
So for the keen amateur bowyer there are several native wood options to work with that will enable a useful learning experience at moderate cost. Making friends with a tree surgeon can pay dividends!
If you read many of the old archery books you will find a number of woods listed as being in common usage, and while not all of these woods are readily available, enough are for good quality reliable longbows to be made. If you are interested in making laminated longbows, typically the right quality of hickory, maple and ash will back bows, and there are numerous core woods that can be used, including purpleheart, greenheart, satinwood, and pau amorello, to name a few. For belly woods, the choices are far more limited, and lemonwood and osage are certainly two of the best, with osage being the king of bow woods.
Now for a cautionary note – all of the hardwoods that are available today were available when these books were written, but the reason you do not see woods like bubinga used to make longbows is simply because it is totally unsuitable. Ipe will work briefly before it develops compression failure, after maybe 6­-12 months, or 18 months, at best. Bamboo has no historical precedent for use in English longbows, while it was widely used in the far east. What is not commonly appreciated is that there are around 600 species of bamboo. Around five or six of those species have a historical precedence as being good bow material.
You may have heard that tonkin cane can be used as a good material, but tonkin cane covers up to perhaps 400 different species of bamboo, as it refers to an area from which bamboo is harvested, not a specific species. Most of these species of bamboo are good enough to make split cane fishing rods, but not bows. You will see bamboo sold in garden centres for making wind chimes and other garden ornaments, which are probably the best uses for it as the garden centre has one specific requirement of the bamboo they buy – the cheapest. I wouldn't advise using this type of bamboo to make a bow.
I have heard of people using patio decking wood for making bows, as various species of hardwood are used to make decking, but a word to the unwary. In the wood trade wood is graded, the highest quality wood goes for furniture making and other high value uses as exotic hardwoods. At the bottom of the list of uses for wood come building materials, and then right at the bottom of that, garden decking. Be careful about where you source your wood, but otherwise, experimenting with your own bow making with native woods can be both cost-effective and rewarding.