Bow reviews USA Archery's tuning videos from some of their biggest names. By Amy Skogen and Duncan Busby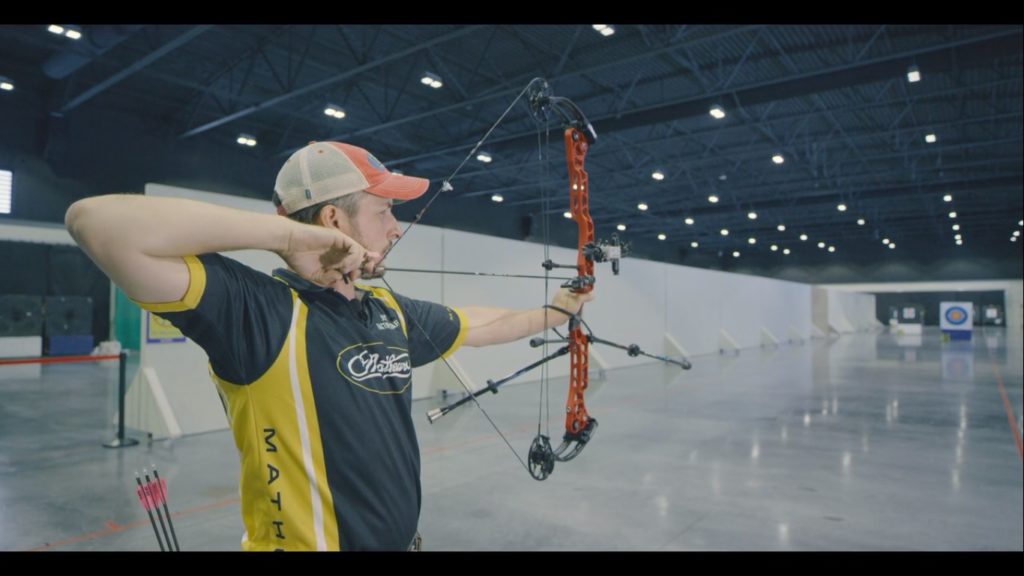 Have you ever wanted to know how the world's best pros set-up and tune their equipment? Well now, thanks to USA Archery, you can join legends Jesse Broadwater and Brady Ellison in a virtual pro-shop, learning step by step the processes they use to build and tune their bows.
Jesse and Brady have honed their craft through years and years of success, now you can use the same techniques to get your bow shooting its best this season.
'The Complete Guide to Recurve and Compound Bow Tuning' is a new educational video series from some of the most recognisable authorities in the sport.
These on-demand and downloadable video courses are designed to teach archers and coaches of all skills and experience levels. Featuring ultra HD footage, these technical videos offer a deeper more personal insight into the process than any other resource so far. The cost is $79.99 (around £60) for each one. So… are they worth the cash? 
Recurve
Brady Ellison presents The Ultimate Guide To Recurve Tuning, which comes in a little under two hours. It's divided into six chapters: an introduction, Unboxing and Set Up, Bareshaft Tuning, Fine Tuning, Stabilisation and Pro Tips.
Essentially, he starts with a brand new bow (you won't be surprised to see it's a Hoyt) and takes you through his entire process from getting it out of the box to having it ready for a top-level competition. It's handy to be able to dip in and out of the lessons when necessary.
Brady is of course one of the most successful archers of the modern era, and the peak he has hit in 2019 gives an awful lot of weight to his choices of how to tune a bow. I really enjoyed his clarity of thought about the decisions he has made and why.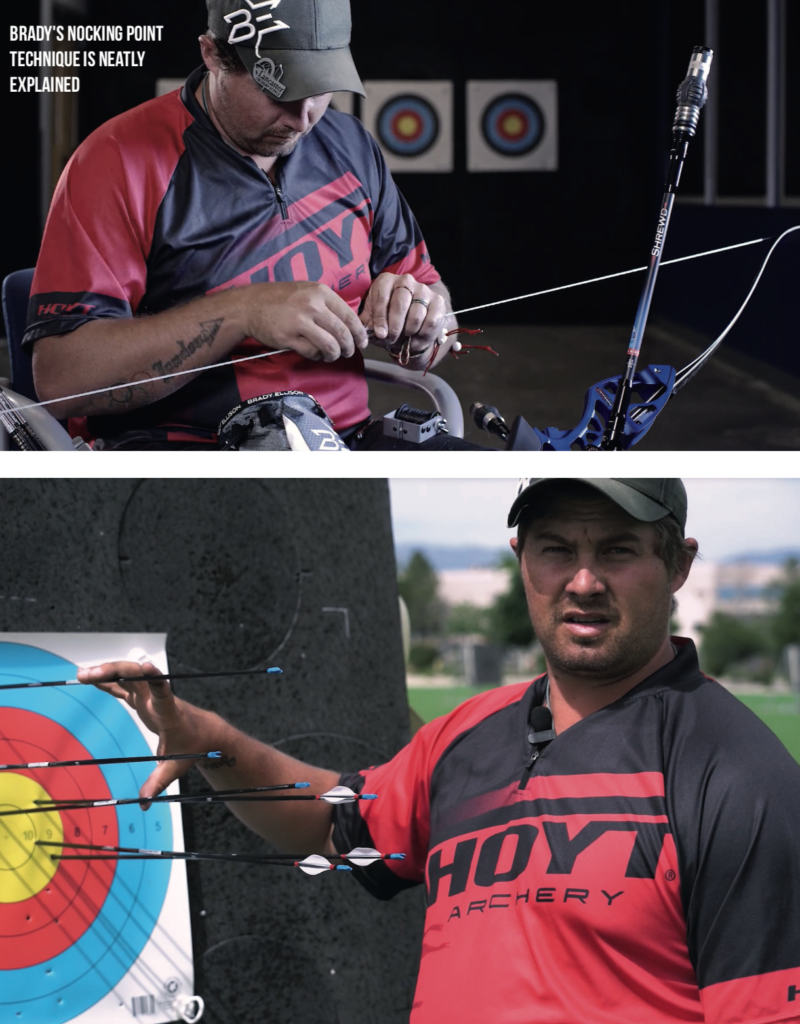 Of course it is *his* process, which works for him, and he doesn't do some elements – such as walk-back tuning – that many other guides cover. (Be prepared: the Brady method requires shooting a lot of arrows.)
One of the best sections of all is the relatively short part covering stabilisation, where you can sense the excitement and passion in explaining the hows and whys. His way of creating nocking points – so crucial for tuning – is the best demonstration I've yet seen.
If I had a criticism (which I could level at several other archery how-to's) it's that the advice is a little mixed in terms of who it is aimed at. The very best of it shows the real work that Brady puts in to get a bow absolutely fine-tuned, which serious experienced archers would get a lot out of, but some of the unboxing and setup stuff seems to be more aimed at novices.
If you are a total beginner, you're going to need a lot more detail, but if you've ever bought a bow before, this bit might have you hitting fast forward.
But if you are an experienced archer capable of shooting good groups and and you want to discover the Brady method of really fine tuning, this video comes highly recommended. 
Amy Skogen
Compound
Jesse Broadwater's 'Ultimate Guide to Compound Tuning' features over three hours of insider tips and techniques for setting up and tuning your bow and arrows.
Presented in 15 easy to follow chapters, Jesse takes you through the initial process of un-boxing and checking your brand new bow, before showing you how to determine nock fit and install a D-loop and accessories.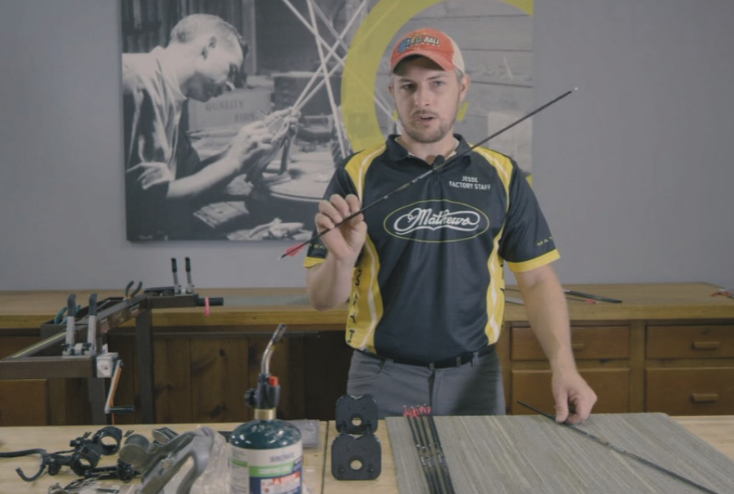 Chapter 4 covers peep height and installation and then you'll learn how to fit the bow to you. In chapter 6 Jesse moves on to arrows and shows you how to index your shafts.
If you're a Mathews shooter, chapter 7 covers Mathews' Top Hat cam system and provides valuable information about this brand-specific technologies, but don't be put off if you shoot a different bow, the principles behind the cam system are universal to all compound bows so the knowledge and understanding you'll gain can still be of benefit to you.
Jesse then goes on to cover group tuning, bareshaft tuning and stabilisation, followed by torque tuning in chapter 11, The final chapters cover arrow building, fletching arrows and sight levelling, before Jesse finally reveals his sought-after pro tips.
I really enjoyed the way the tutorial was structured; it allows you to choose which area of compound set-up and tuning you want to learn about.
Jesse covers the topics well and explains the reasons for his methods clearly; it's always good to see someone else's perspective on bow set-up and tuning particularly when they are so successful in their field. The videos are well shot and feature close ups of each technique so you can clearly follow Jesse's instructions.
As a seasoned archer and coach even I was surprised to learn something new; Jesse's stabilisation chapter in particular was very insightful, his explanation on the cause and effect of weight distribution around the bow gave me something to think about with my own set-up and some good ideas on how to stabilise my bow in future.
I also liked Jesse's method for determining your peep height on a brand new bow; it certainly takes a lot of the guess work out of a process that can become quite fiddly.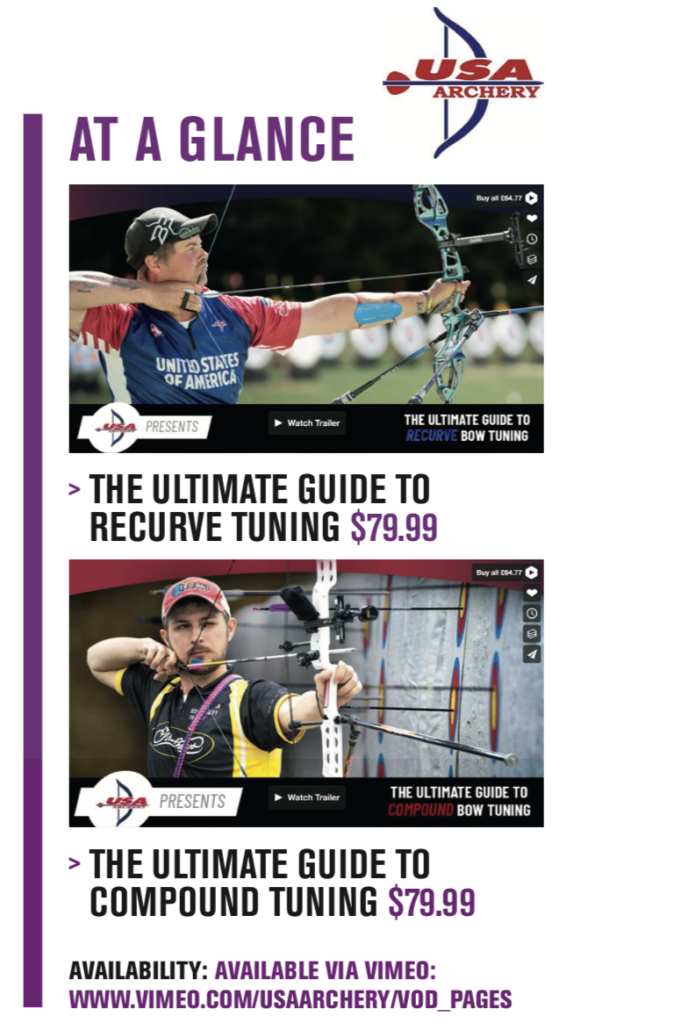 His explanation of paper-tuning is very insightful too and definitely busts the myth of the importance of achieving a perfect bullet hole.
The down-to-earth and friendly approach Jesse has with his audience makes it all the more watchable, like your friend at the club is helping you out.
This is a great resource and one which I think nearly every compound archer will find useful at some point. Even if you're not technically minded you can still benefit from understanding your equipment a little more.
Duncan Busby 
You can buy these videos at: https://vimeo.com/usaarchery