Bow talks to the Olympic silver medallist, now embracing barebow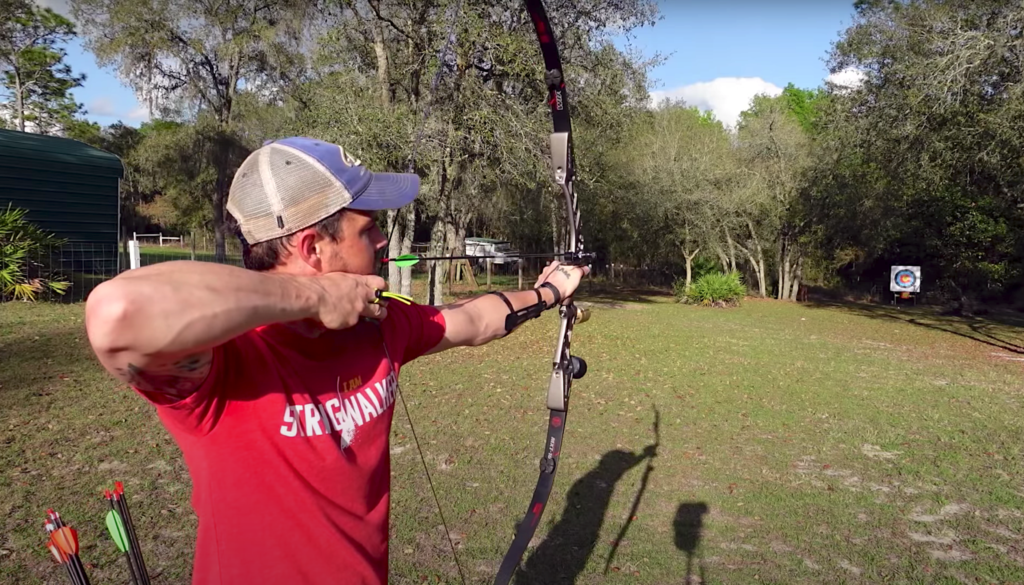 Jake Kaminski was a linchpin of the USA men's recurve team in the last decade, and took team silver medals at both London 2012 and Rio 2016. He retired as an international recurve archer in 2018 and has moved into coaching and developing a high-profile YouTube presence. A key part of this channel is his journey into barebow, probably the highest profile elite athlete to have made the switch. He talked exclusively to Bow.
Tell us about the changes that took place in your career in 2018.
Essentially, the entire industry was on a huge downturn unexpectedly in 2017, after the Olympic Games – every company out there was cutting shooters left and right. This never happens, it's always an explosion afterwards. All of my sponsorships had lapsed and I was without any contracts. In negotiations, I was forced to sign some accept-decline forms for USA Archery.
They had a new policy, saying that you must go to all World Cup events in World Championships, Pan Am Games, Pan Am Championships if you want any funding at all. Due to extenuating circumstances of financial hardship, not being able to afford to compete at a particular event without sponsorships, I couldn't guarantee that I could go.
They said that unless I can guarantee that I am going to go, I get no health insurance, no funding – I get nothing. The health insurance and the funding through the USOPC (United States Olympic & Paralympic Committee), not from USA Archery, is what pays the bills and without that I was forced to retire. So, briefly, that's what happened.
What drove you towards barebow?
I wanted to try it because I have tonnes of recurve risers, limbs and a string. I didn't have a target compound and I wasn't going to spend the money on it, I have plenty of stuff laying around to shoot barebow, so I wanted to play with it. That was exciting and I thought it was going to be healthier for me, I don't have to try too hard: I have super high expectations for recurve scores based on my history and the past. That's why I picked barebow.
During the process of moving from recurve to barebow, what aspect of technique have you found most challenging and what do you like about it?
The most challenging part is dealing without a clicker. The clicker forces you to hold in the middle, it eliminates any sort of potential for target panic, and I definitely have target panic. I developed it when I was 12 years old, while shooting compound with back tension release.
I never cured it, so I switched to recurve because it had a clicker forcing me to hold in the middle – problem solved. In barebow there is none, so that's the most challenging thing and what I like about it. If you can overcome something that's challenging, then you are going to have good success; it's going to be worthwhile and satisfying; that is important to me.
What is the most common technical issue that you see with barebow students you work with?
Technically, I see many archers collapsing on release or having a static release, creeping while they're at full draw while aiming. I believe that is due to muscle fatigue. People try to hold static at full draw and eventually it pulls you in – not good.
The way to cure it is to add a little bit of tension while you are at full draw, pull back a little further and, chances are, you are going to lose less than when you try to hold statically. As far as the tuning technical issues go, there are a lot of different set-ups. Tuning your bow for 20 yards, 50m and the field game – all those require different tunes and technically require many different things. It's part of the nature of barebow due to stringwalking, so there is no way to avoid it.
Social media has become the main information exchange platform. Have you always wanted to go down that road?
Not necessarily a 'want' because, to be honest, it is time consuming and can be unhealthy. It's not something I have always wanted to do. I just knew that if I wanted to be more than a shooter, to build a brand of Jake Kaminski, I needed to be very active on social media.
I could capitalise on a market that was untapped and share a lot of information with people, that's why I did it. I don't see YouTube as social media as much, because I can educate a lot more people, it's a lot less silly, it's a lot less 'marketing', it is more organic. Facebook Live was also organic I believe, at least the way I ran them. The way I run my YouTube channel, I try to be as organic as possible and the reason that I may feel this way is because I no longer am sponsored, so I don't have to push products or agendas and I can just be honest.
What gives you the most satisfaction at the moment?
I have a lot of satisfaction in helping people, especially people who have had a lot of problems they've been trying to work through for years. I can simply come in, make one simple adjustment – not necessarily a form change, a mental perspective change, what they should be thinking about, or a concept of how to shoot archery. That can make a world of difference and make people shoot extremely well.
The satisfaction that they have from it brings me a lot of joy. I also have a lot of joy from shooting with my family, shooting with [my wife] Heather, teaching her, going to tournaments. I would like to do more of that. We genuinely enjoy it and I think that's part of the reason why some of our videos on YouTube come across so well and have been received positively, it is because they are genuine. Shooting with Heather keeps me motivated, keeps me wanting to shoot.
What important lessons have you learned over the past few years?
That's pretty difficult. Over the past few years I've learned to slow down a little bit. I went through a huge change from being at the Olympic training centre and competing full time. I have learned to shift goals from professional shooting goals to other type of things, learning how to move forward with that. I've tried to learn more patience. I have learned a fair amount of stuff about archery equipment, that is what makes me tick; I've also learned a lot more about 3D product design and computer modelling – I can communicate with people to build better equipment in this way. That brings me a lot of satisfaction.
What path do you see for barebow archers who want to shoot at higher competition levels independently?
This one is tough. It is not a difficult sport because you can get into it very easily, but it is a challenge to do well at a high level without the support from others. You can spend tonnes of time tinkering, which can cause problems. I think that those individuals who want to get better should talk to the people who are already good: pick their brains, try to understand why they do what they do.
Ask about their technique, their anchor, their aim, their crawl, how they do those things. It's important because there are tried and true methods for recurve archery: you've got your push-pull methods, straight linear methods, your angular method, Eastern European methods – they are all relatively sound and there is a lot of information out there. For barebow there is not. There is not a tonne of different solid ways to do it and that kind of choice is not out there yet. That's a hurdle that people will have to overcome.
Where do you see yourself going next?
As a YouTuber, I want to continue to grow. I will have more time freed up soon and I will be doing this more as a full-time gig; my production quality will go up and content will increase. I enjoy it, I like coaching and I like helping people out. My wife and I have discussed international travel: doing seminars, shooting some field archery, which is my favourite game. I would love to go back to France and Croatia, shoot some of these countries' nationals as a guest, and just be able to shoot in great venues.
What advice would you give to your younger self? would you have done anything differently?
To stick to the YouTube channel I created in 2006. I uploaded a few videos and stopped, because it was so new and wasn't getting much traction. I wish I had kept going, it would have generated a high following by now. I would tell myself not to take things too personally and to approach things not only as a business decision, but try to make good, sound judgements, not based on personal pride or emotion.
---