The 'Armless Archer' finally snagged an individual world title in Dubai. By Joe Parker
In Dubai, at the 2022 World Archery Para Championships, the USA's Matt Stutzman finally took an individual world title – the highlight of a high profile career. 
The 'Armless Archer' had taken a world championship gold before, in the team event in 2015, and grabbed a individual bronze last time out, in 2019, when his teammate Ben Thompson took the compound open title. Exactly a decade on from his breakout Paralympic silver in 2012, he fulfilled a career-long dream, beating Aleksandr Gombozhapov, 142-137, in the final.
Stutzman led throughout, and was confident enough to shout "you're witnessing history, guys!" to the assembled crowd of supporters after just two ends. But his run was almost derailed in qualification, when an equipment failure saw him qualify in a lowly 54th place.
However, the subsequent draw saw him beat both other 'armless archers' in the competition on the way to the final: Piotr van Montagu, and Gombozhapov. The Russian, who lost both arms and a leg in a freight train accident in 2003, was inspired to take up the sport after watching YouTube videos of Stutzman and described him as a 'hero'.
It was a long road to get there. Stutzman didn't start archery with the intent of making it to the World Championships or Paralympics. He originally took up archery as a means of putting food on the table.
"I mean, I Googled 'how to shoot with no arms', and there was nothing." (laughs). He developed a method of shooting involving holding the bow with his right foot and triggering the release with his jaw. "In 2011 I was in Vegas for a tournament, and someone approached me and said 'You should shoot Paralympic archery," and I said "What is that?" So I Googled for that, too. (These days, an internet search for 'how to shoot with no arms' apparently brings up 108 million hits – mostly about Matt.)
After qualifying for the 2012 US Paralympic archery team and making the trip to London, a then-unknown Stutzman took a silver medal in the compound open competition, and he suddenly became a minor media star.
His profile was raised even further by a Guinness World Record for 'farthest accurate shot' set in 2015 – even if the definition of 'farthest' and 'accurate' don't really link up with normal target archery. But Stutzman has been media-savvy for most of his career.
"The weird thing about it is the fans now. Everywhere I go there's like, pictures being taken, people interrupting.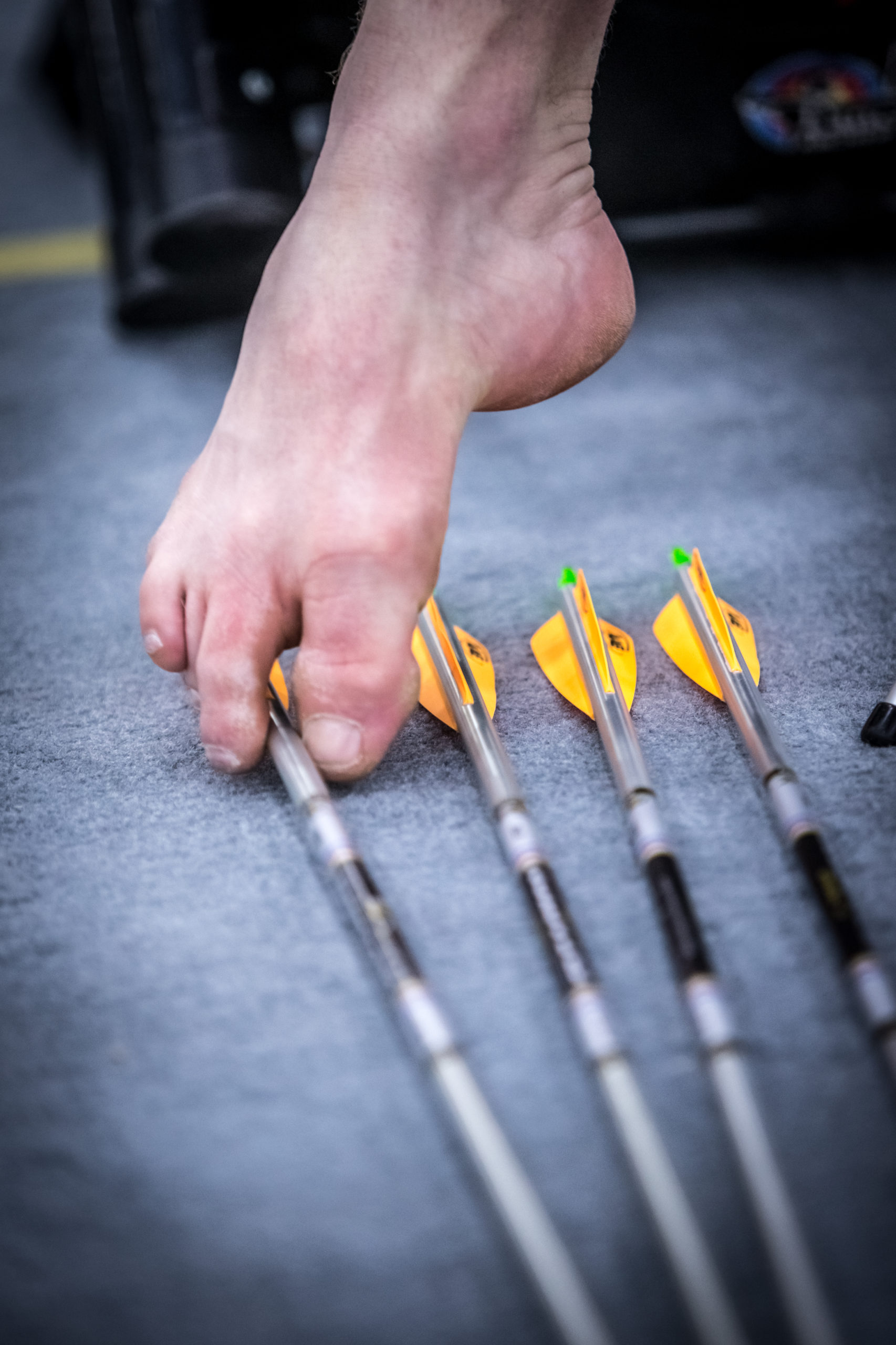 "Learning how to manage that and not make anybody mad, is part of it, because they're your fans and they help pay the bills."
He also upgraded his tech and technique at every opportunity. In London, he used a trigger release that was activated by his jaw, but from Rio onwards he used a back-activated hinge. "It became a process shot: let it happen, aim in the middle. It enabled me to be a lot more consistent."
The road to Rio was blighted by an injury to his shooting leg, and he failed to medal at the Sambodromo after an equipment malfunction. But his profile grew, with Stutzman eventually becoming an ambassador for the Paralympics in Rio and Tokyo. 
It didn't stop him. "I've always had the mentality that I want to be the best archer in the world. I don't care who I'm shooting against. Even now, I don't know who's in my bracket, and nor do I care. I've never looked at it. I'll just step on the line when they tell me to shoot. I look at the person and say "OK, that's who I'm shooting against."
His only weak point, according to him, is timing – archers in Olympic and Paralympic competition get 20 seconds per arrow to shoot, and Stutzman takes more time than other archers to load the bow with his feet.
A bronze at the World Championships in Den Bosch in 2019, saw expectations remain high for Tokyo, bolstered by a high-profile – and highly entertaining – appearance in the Paralympic documentary Rising Phoenix, which is still available on Netflix and recommended by Bow.
It covered Stutzman's childhood – born without arms, he was adopted at just four months – and his epiphanic realisation that he could do everything people with arms could do, including climbing trees.
"I could drive a car with my feet, and outrace 90% of the people around me. A car doesn't stereotype the driver. It doesn't care if you have arms or not. It just wants to be driven. That's why I fell in love with archery. A bow just wants to be shot."
Unfortunately Tokyo wasn't a good competition for Stutzman; due to nerves he lost in the last 16 to Marcel Pavlik of Slovakia.
Still, there was no quitting. "I'm going to be back in Paris (2024) and my goal is to represent the United States in LA (2028) – that will be my last Games," stated Stutzman.
The world champion title in 2022 may supplant his silver medal as his greatest archery achievement, although Stutzman claimed his greatest achievement was at the US Indoor Nationals in 2014, when he was just one of seven in the world who shot clean.
"I believe I was the first person with a physical disability to clean a professional tournament. I beat Reo Wilde, Levi Morgan. For me, that says I'm there, I can hang with the best. And I still want to win Vegas."
"I notice when I shoot with the pros, the respect level is different. They don't look at you as a para-archer, they look at you as a professional that's there because he's the best at what he does. And I feel like I can compete with those guys.
"When I was younger I wanted to be Michael Jordan. I'd still like to be the Lebron James of archery or something. That guy who is good, and people like him because he's good or they hate him because he's good.
"And of course, there was no way I was going to be Michael Jordan. No way. I'm not tall enough." 
---