INTERVIEW: Phoebe Paterson Pine
Phoebe Paterson Pine, aka "Triple P", is currently ranked fourth in the world for compound women, and made her debut at the 2020 Paralympic Games at the age of 23. After being part of the ambitious programme for Rio in 2016, Phoebe had the burning desire and drive to compete in Tokyo. As well as gold, she won a quota spot for the 2022 World Games – the spots are non-transferable as they can only be filled by the Paralympic champions.
Starting archery in 2012, Phoebe won the silver medal in the compound women junior team at the World Youth Championships in Rosario, 2017. Earlier this season, Phoebe also shot at the second stage of the Hyundai World Cup in Lausanne. Bow caught up with Phoebe after her return to the UK.
Tell us about your experience of your first Games
I absolutely loved every second of my first Olympics, from the preparation camp prior to going into the village to actually competing. It was really stressful at times and it was definitely a Games like no other, having it occur during the COVID-19 pandemic, but we as athletes are so grateful to Japan and the Japanese government for working to make the Games go ahead regardless.
How did you first get into archery?
I first got into archery when I tried it on a family holiday to Center Parcs in 2012. When I got home, I found a local club and signed up to a beginners' course.
After being accepted on to the Paralympic archery squad in 2017, I was able to train at Lilleshall National Sport Centre for three days a week and have a gym plan created for me to do weekly as well. This enabled me to train with high-quality coaching and allow me direction with my training.
How did you overcome boundaries (if there were any) within the sport?
I haven't had many boundaries in archery to overcome, it is such an inclusive sport that I, as a disabled person, have been able to compete alongside able-bodied people and still do well. I knew archery was the sport I wanted to do as soon as I first shot an arrow on that family holiday, it felt so natural and right. It felt like this was something that I was put on this earth to do.
How do you fit studying and training in together?
Fitting both studying and training into my weekly schedule is hard, but I really lucky that my university is so flexible with my training and is there to aid me with any issue I am having around balancing the workload. I've been able to switch from full-time studies to part-time studies, which enables me more time to train and study without getting too stressed out.
When you won the spot to go to Tokyo earlier this year, how did it feel? AND What were your emotions like shooting for the spot?
Going into the final match at the quota tournament [in Nove Mesto] I was incredibly nervous, I wanted to get that spot for myself so bad as I've worked so hard for it and going to a Paralympic Games has been a dream for me for so long. However, at the same time I was also really sad that I was up against my teammate, Jodie Grinham, who I knew really wanted the spot as well and I always want my teammates to do the best they can. It was very dog eat dog, but that's sport.
How did it feel to win the gold?
Winning the gold medal in Tokyo was a feeling like no other. I was nervous for every match I was in but worked to keep to my own shot process and only worry about myself. I wanted to make it through my first match so I knew I wouldn't come bottom of the board. Going into my second match, which was against my teammate Jess Stretton, I was nervous for several reasons. I wanted to do the very best that I could do to win but again I wanted her
to do the best she could do as well.
I'm happy that I won but I do feel a great sense of melancholy for Jess's loss. Going into my match against Julie Chupin, I knew I needed to continue to keep my cool. So I continued to focus on myself and my shot. By the time
I had made it to the quarter-finals, I had already exceeded my expectations of myself, and just wanted to keep on doing well. So I continued to focus on myself and staying calm.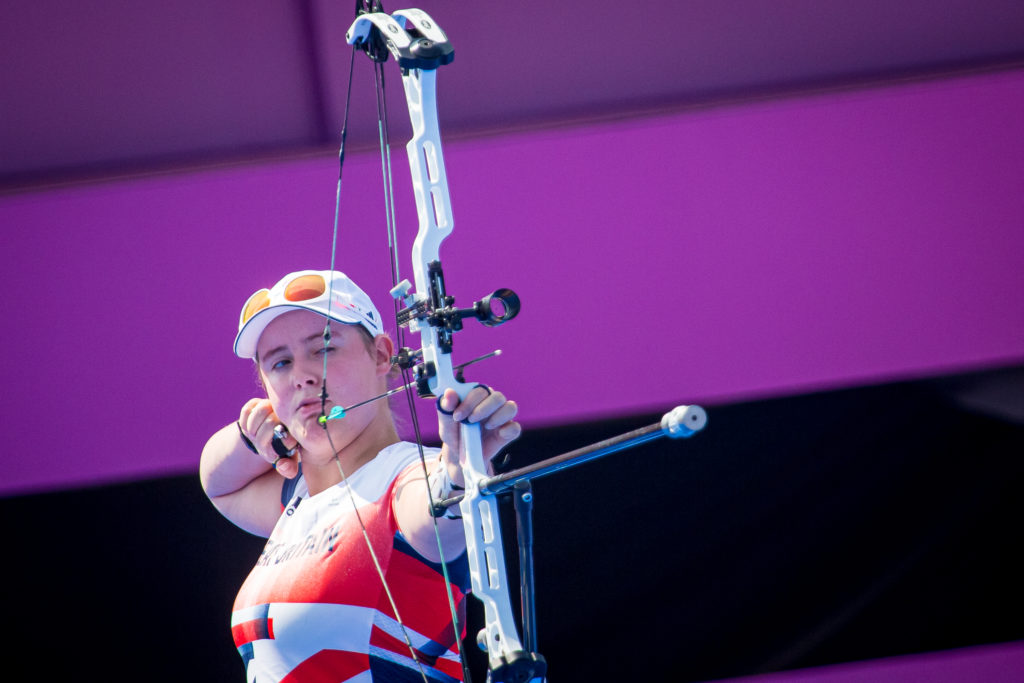 Going into my semi-finals match, I knew the worst that could happen was to finish in fourth place at the Games, which to me would still be an incredible place to be. But I also wanted to go further because then I would be going to the gold medal match and the worst that could happen then would be coming home with silver. Again, I continued to stay calm and that enabled me to win the match.
Going into that gold medal match I started off calm but I finished the match feeling nervous, I knew that I would be coming away with at least a silver medal if not gold and to me that was amazing.
What are your plans moving forward from Tokyo?
My next goal is Paris. I'm going to do my best to get a quota spot for Paris at the World Championships in the Czech Republic in 2023, the year before the next Olympics. And I'm extremely proud to have qualified for such an event as the World Games. It'll be my first, but hopefully not my last.
Finally, what was it like when David Beckham liked your Instagram post?
David Beckham liking my post made my day. I thought it was a spam account but to see it was actually him was an unreal experience.
INTERVIEW: Hazel Chaisty
Hazel Chaisty, 49, shot in the individual and mixed team recurve open competition for Great Britain at Tokyo 2020. She took up archery seven years ago after losing her leg in a motorbike accident. Fresh from a 28-hour journey home from Japan, she took a moment to speak to Bow about her experience.
How long were you out there?
We set off on 12 August and stayed at Keio University. They really welcomed us. The Japanese were very worried about our safety. But everyone was so polite. What an incredible nation, everything's clean – even the garbage trucks are clean. Everyone was so kind.
For recurves, there was a big gap [after the ranking round was completed]. We had a week before we did anything. We just watched the compounds do their thing. So we had a long wait until we started, but we could practise every day, to which we took full advantage.
I read quite a bit and listen to audio books. I took knitting with me. My new grandchild was born the day I set off, so I took some knitting and made a blanket for her and a patchwork quilt. By the time Dave [Phillips] and I got round to shooting the bad weather returned, but we were prepared: in the UK we'd practised in heat and humidity chambers to try and shoot and just get a feel of how it could be over there. And we'd shot in the rain at Keio University.
So it was good old British weather, but there was a bit of a curveball. We practised on one field – the ranking field – then you move across into the arena, which during the day your sight marks were exactly the same. However, in the evening, you were almost practising in the dark. Then you turn it up in this arena that was floodlit and where your string picture changed drastically. It was about who could get a handle on that quickly.
You came sixth in the individual?
I'm quite quite proud of where I came, getting through to the quarter-finals, which wasn't expected. I ranked 12th and finished sixth, well above my ranking. So I'm super-pleased with myself.
The third match, the quarter-final, I'd got used to the arena and I felt like I shot really well, just not quite well enough. The lady who beat me [Vincenza Petrilli] went on to win the silver medal, which made me feel better.
Most of the competition wasn't shown on TV, but yours was. How much pressure did that add?
It's really sad because we were told it would be Channel 4 wanting to show all the sports all of the time. But when we got there we were told that several sports were going to be dropped. Fencing, for instance; the archery team share a psychologist with them.
They were phenomenal, brought back five medals. Absolutely sensational, and to watch fencing is so exhilarating. Nobody got to see it and that's a real shame. We were told that the compound archery had been dropped but the recurves would be shown – so that was extra pressure then [laughs].
My first match was the first to be shown on TV and we were all over the place. The lady I shot against was all over the place too, but we levelled up somewhere in the middle and I managed to win. The second match was the same. We went to a shoot-off, I shot a nine and she shot an eight.
In the first mixed team match, I was holding Dave up, because he shot a couple of sixes. In the second match, I simply could not get it right. We'd practised in the dark, in a howling gale, then we moved over to the arena.
There the wind dropped and with the bright lights and the rain coming down, I just wasn't fast enough. Instead of aiming off, I tried to move my sight and it was too big a distance to move. So there's a lot to learn for Paris.
I know what to expect and we've got these little things that we know we can work on. Working towards Tokyo, there were a lot of unknowns, trying to imagine what it felt like.
Tell us about Phoebe's gold
My room-mate Phoebe [Paterson Pine] took the gold, which was so unexpected for her. She only just got to go to the Paralympics by a shoot-off, then she shot off against Jess [Stretton] and she just kept going through. There was a lot of pressure on Jess's head. They knew they could beat each other, because they'd done it.
I know Phoebe very well, as we usually share rooms. I could see on her face that she was more and more astonished every match she got through. When she got back to the room afterwards, she was completely quiet and almost pale, she couldn't believe what happened.
Also if you win a medal you have to go to drug testing and she was saying things like, 'What if the drugs testing comes back wrong because I had a rehydration tablet?' and 'What if that beef I had was iffy?' I had to keep telling her, "Phoebe, it's OK." [laughs] It was incredible to be a part of that experience. I feel I have about a 1% share in that medal.
Tell us what's next
I definitely want to do this again. We've got the world champs in February in Dubai. I want to get straight back into it, so I'm going back mid-October to Lilleshall and start training again. I've done well in Dubai in the past. My first individual gold came from Dubai. My ranking's gone up now to ninth in the world. I work hard enough to show that I want it. I don't think I've peaked yet and I think people can see that.
I know I've got more to give. I turned 49 over there, but there's a few more years to go. I want to go to Paris and maybe LA, then I might want to give up. [laughs] I'm really proud of sixth, but I want a medal next time.
Oldham University want me to be a guest speaker. They want me to be an inspiration for their young people. I don't know what I'm going to say yet. I'm going to open with "I know you were expecting a Paralympian and you've got a middle-aged woman, but… here's my story." [laughs]