Still only 15, the USA's newest star talks to Bow…
At the start of 2018, in the U.S. National Indoor Championships, at just 13 years old, Kaufhold destroyed the senior, junior and cadet national records with a score of 1162 out of 1200 over two days of competition. For the incredibly consistent teenager with the explosive follow-through, this was the first real statement of intent.
But then, at the first major indoor world series event of last year, the GT Open in Luxembourg, she won outright, taking her first senior title – but not before demolishing the cadet world record with 589 out of 600 in qualifying.
In Nimes this year, she again scythed through the field to a gold final against the experienced Korean international Kang "The Destroyer" Chae Young, who had previously pushed her out of the running in Rome. It was not to be a win, but Kang was complimentary afterwards.
"I'm amazed at how she was able to make the finals at such a young age," said the Korean. "I'm sure we'll see her at the Olympics one day and I'll be cheering for her when that day comes."
When Bow finally sat down with Kaufhold at the Vegas shoot, she was almost eerily calm about her record breaking indoor season. "Yup, that was my first World Cup as a senior, and it was… pretty cool to have my first one be a win. Going in there I didn't have much expectation because it was my first shoot, the whole World Cup thing, so I just went and tried to have fun, and just tried to be as calm as possible, and it worked and I shot a 589. So that's pretty good."
At the Vegas shoot, on the Friday she posted a score of 290 ("kind of average or below average") on the Friday, 292 on the Saturday, and a spectacular 298 out of 300 on the final Sunday to finish on the podium in third place at the championship shoot – ahead of all but two of the Korean recurve contingent.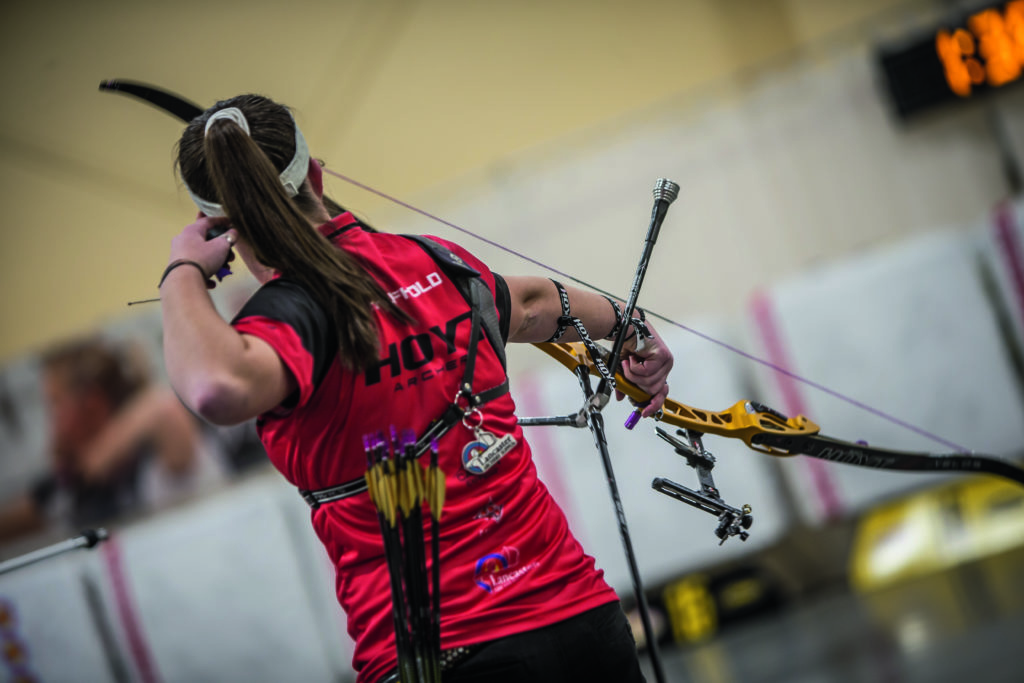 In the World Archery Indoor Series final on Saturday, she finished just outside the medals in a highly creditable fourth place and pulled four points off indoor specialist Kim Chaeyun.
"I'd never really shot against some of the top Korean women, so it kinda made me a little bit nervous, but now I think I'm getting used to it." This was her fourth Vegas, but her first time shooting the championship – and the first time shooting 40cm targets instead of the 60cm ones usually used in the junior categories.
"It's pretty cool shooting against adults instead of just kids that are my age. I got to shoot with good friends, so it was a lot of fun, it was just the mental part of it that I need to work on." Being still only a teenager, archery remains a family affair. Kaufhold is the daughter of Rob and Carole Kaufhold, the owners of Lancaster Archery, one of the largest retailers in the USA.
She first picked up a bow aged just two years old, but it turned out her first love was gymnastics, a sport in which she was nationally competitive. The relentless discipline and 'coachability' started there – and gave her resilience for her future sport. "When she's in a match she has a different frame of reference to what 'pressure' is." her father Rob says.
"To her, pressure is doing a blind backflip on a balance beam, or it's doing a routine on the uneven bars where if she misses her grab she's flying out through the air and she's going to land in the hospital. Because that's been reality for her, and she's had to go through things like that, and get back on those bars, and get back on that beam. She shoots a bad arrow, so what?"
After a broken leg, bone chips and other injuries forced an unwelcome end to her gymnastic career, she finally took up the 'family sport'. After placing second at a USAT national event, in her first 60m cadet shoot, she realised she'd turned a corner. "That kind of turned this switch on." said Casey.
"That was probably where I realized that I want to do this for the long run". Kaufhold took on archery with all of the passion, the dedication, the discipline that gymnastics gave her – to the point where her parents needed to put the brakes on. "She just loves to shoot." said her father, Rob. "She'd be over there [at the range] over the Christmas break shooting arrows before we open the shop, and we'd get home from work and we'd go over to the range to get her, and we'd be sitting as a family at dinner, and her fingers would be all swollen up. And I'd be like "honey, how many arrows did you shoot today?" "Well, I don't know, I wasn't keeping track.", he smiled.
The 15 year old is still enrolled in high school, but recently switched to online classes in order to allow more time to shoot. "It's all online. I do it in the morning and it takes me like three hours, and then I just shoot the rest of the day. I like it a lot, because it's just so easy and so efficient. I'm up at 6am in the morning, with the rest of the family, you know, by 7:15, 7:30, I'm working on my school work and it's done by 10 or 11, and then I can train the rest of the day. I get done by the time my brother's eating lunch." [Her brother Conner is also a national-level archer].
Combining high level competition with 'real' life has become the norm. "I like to watch Brady [Ellison], because when he's up on the line he's serious and stuff, but then when he gets off the line he likes to have fun and be social, and that's a big part of it, being able to concentrate but still have fun and enjoy yourself.
"Although when I'm sitting before we start, I just sit and I close my eyes and put my headphones on and I'll just visualize what a good shot feels like to me, and going through my process. And another mental thing I do – this didn't happen today – but I try to just go down there and score my arrows and just forget, totally forget what that end was, like forget what the score was.
"But, yeah, sometimes the other part of my brain gets in the way."
As she prepares for her first senior outdoor season on the World Cup circuit and (most likely) the World Championships too, she is one of the great hopes for a USA recurve team which, while still highly competitive at international level, is perhaps not looking quite as strong in depth as in previous years or decades.
All elite archers are staring at Tokyo coming up on the horizon, and if Casey made it there she would be one of the youngest competitors in the USA delegation.
The selection process for the Tokyo Olympics start at the National Championship in August. The top 16 from that compete in a second trials before the Arizona Cup, in the spring of 2020, which produces a top eight Olympic training team. How do you feel about that, having not participated in a chop down process like that before?
"I think it's nice because at the beginning you can have some leeway, if you don't have such a good competition. You just have to make the top 16, but then you have to start getting into it more, and then it's top eight and it cuts down, but I'm sure if I just keep my head in it, I'll be up there.
"What's the most important factor? Probably discipline the most. Being able to take corrections or take comments and apply them. Definitely with coaching; discipline and that aspect of it. That's probably the biggest part of it."
Who else do you think would be on that team with you in Tokyo?
"I'm guessing Mackenzie [Brown], because she's had all the international experience, and Khatuna [Lorig] if she's still shooting. I haven't been in touch with her lately, but I'm guessing if she does shoot then she's going to be on the team."
"How far am I going to go with this? Until I physically can't shoot anymore. I'd like to make an Olympic team or two, by then, and to stay on the World Cup team and be able to travel; and to make new friends and stuff through all that. I'm excited for Columbia in April, that'll be a lot of fun to see how the culture is different and all that.
"I've taken three years of Spanish, so I can speak a little bit of the language." If she can manage the expectations – and all indications are that she can – the sky is indeed the limit."
---
THE BOW: WHAT AND WHY?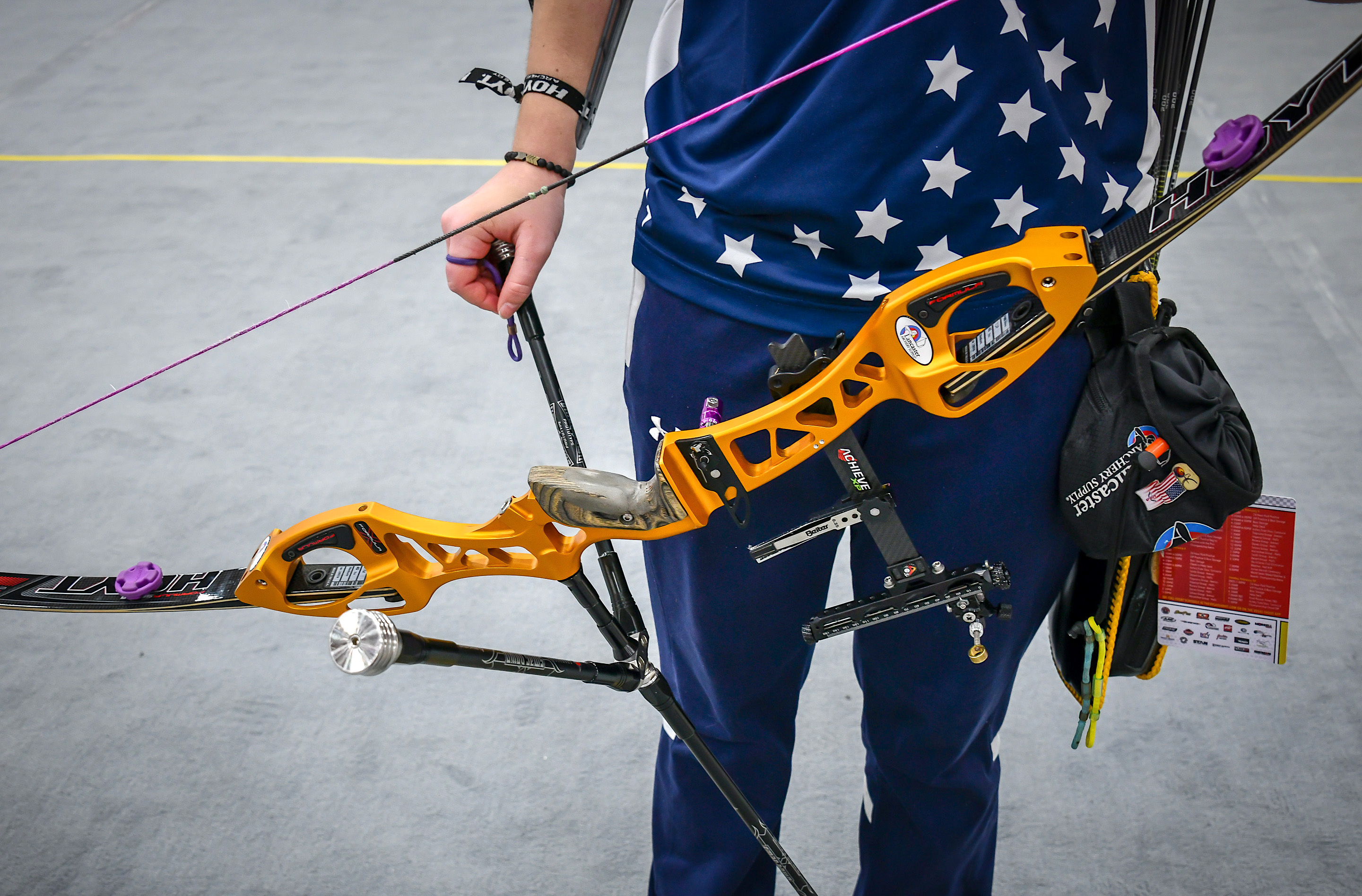 Casey's 2019 Bow set up
Riser: Hoyt Formula X in Gold Medal finish
Limbs: Hoyt Velos, in medium, with limbsavers. Outdoors: 42lb limbs, pulling 38lb on the fingers
Sight: Axcel Achieve XP, with Galaxy Slicker Clicker (sight mounted)
Pin: Homemade with custom brass aperture
"[Coach] Dick Tone made that for me. I like it a little bit smaller than the normal Shrewd ones. Indoors, it's on around the 6 ring, and then at 70m it matches up with the 4."
String: Lancaster LAS custom string made by Brian Loveland
Button: Beiter
Rest: Shibuya
Grip: Standard Hoyt grip with some Sugru construction
"Jay Barrs, he did that for me. He just shaved it down and then put some Sugru on it to build it up on the sides, and it fits my hand a little better."
Stabilisers: Conquest Smacdown. 28″ longrod, 12″ siderods. 6oz Bee Stinger weights on all rods, plus two aluminium weights on top and bottom of riser
"The riser weights are 3oz each, they're a little bit less than the normal steel ones. I don't like the stabilisers to be super wide, and I didn't want to stack more weight on the sides, so I just put it in the riser and it seemed a little bit more efficient."
Tab: "Currently shooting a 3D printed tab from my coach, Dick Tone."
Arrows: Indoors: Carbon Express Nano SST 700's, Beiter #1 Pin nocks, 70mm XS Wings, 120 grain Tool Steel points.
Outdoors: Carbon Express Nano Pro, Extreme 700's Beiter Outnocks, 1.8″ Spider vanes, 110 grain tungsten Points.
---