Get your gear around in one of these top options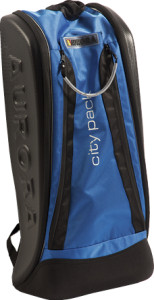 Aurora City Pack
This semi-rigid reinforced backpack offers plenty of space for transporting all your gear: it has a double linked zip entry down the front, and has a top carrying handle as well as backpack straps and a waist belt to help distribute the weight when carrying it. The side panels unzip to reveal extra pockets, and it has a built-in section for an arrow tube.
€127
Bignami
www.bignami.it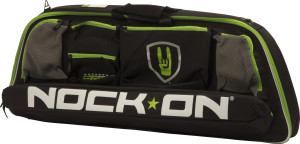 Legend Nock On Compound Bow Case
Featuring bright Nock On detailing, this case is the result of a collaboration between Legend and John Dudley. It has pockets for everything – 13 in total – including a front pocket for an arrow tube and stabilisers, a back pocket, an inside organiser and plenty of accessory pockets. Made from a tough, ripstop fabric, with metal buckles and rivets to reinforce the straps, it's designed to take plenty of use. Six internal straps hold your bow in place, while carrying handles and a shoulder strap are your carrying options.
£64.95
Aardvark Archery
www.aardvarkarchery.co.uk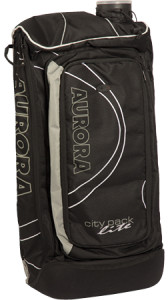 Aurora City Pack Lite
This backpack features a reinforced base and double zip side access fastened by Velcro at the top, along with two side pockets, a back pocket, a plastic pocket for your name and details, and two front pockets with further inner compartments. Offering plenty of space for all your gear and accessories, it has inner sections for your riser and limbs, and even features a key ring and headphone wire port. It has plenty of padding on the back and straps, and comes with an arrow tube.
€72.50
Bignami
www.bignami.it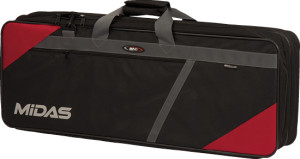 Cartel Midas Bow Bag
This semi-rigid bow bag features two zipped sections lined with padded foam cutouts; it will carry two recurve setups in wellcushioned safety, or one foam block can be taken out and kept as a spare while that section stores all your accessories. Mesh panels in the upper section and a pocket on the front offer some more space, and it comes with a side carrying handle and shoulder strap.
$79.99
Lancaster Archery Supply
www.lancasterarchery.com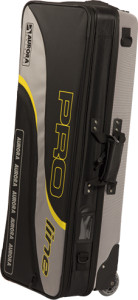 Aurora Pro-Line Wheeled Case
This bow case comes a serious amount of features: as well as wheels and a pulling handle, it has a side handle and hooks to attach a shoulder or back straps, and the body had been reinforced and given supportive feet along the back for when you're getting stuff out. Moveable Velcro bow straps let you secure your bow to the inside of the case, and it features plenty of accessory pockets too. A double zip system protects the upper section, while a front pocket allows easy access to any extras.
€308
Bignami
www.bignami.it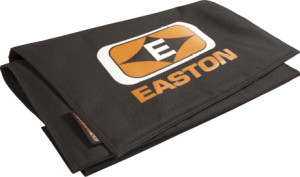 Easton Elite Bow Sleeve
Offering a bit of extra protection to your compound, this bow sleeve is particularly handy if you need to carry other items in the same section of your bow case and don't want them to knock or scratch your bow in transit. It has a Velcro fastening and Velcro panels on the back to help fix it to the inside of your case.
£14.25
Quicks
www.quicksarchery.co.uk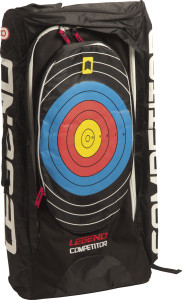 Legend Competitor Backpack
This limited-edition backpack with a bright target design features a removable inner section for your riser and limbs, with additional accessory pockets and an arrow tube. It has padded, comfortable carrying straps and a side handle, and has been built with a lot of use in mind – rip-stop polyester fabric and thick zips mean it can handle whatever you choose to throw at it.
€59.99
Legend Archery
www.legendarchery.com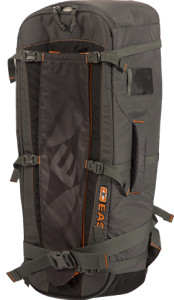 Easton Elite Recurve Backpack
This sturdy backpack offers a bit more protection than a soft pack will; the front section features additional fastening straps to keep everything secure, while a padded and vented back with additional waist straps make it comfortable to transport. An inner fold-out section has additional accessory pockets built in, as well as spaces for your riser and limbs, while the arrow tube section unzips to extend when you need it to.
£99.95
Quicks
www.quicksarchery.co.uk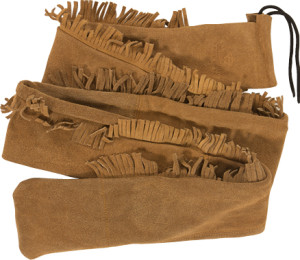 Bearpaw Tasselled Longbow Bag
This longbow sleeve is made from a super-soft suede material to keep your bow free from scratches. A tasseled edge adds some decoration, and it's secured with a drawstring top.
£35
The Longbow Shop
www.thelongbowshop.com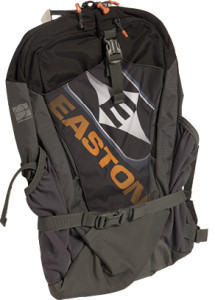 10-Ring Backpack
The ideal bag for taking a change of clothes to a competition, this roomierthan- it-looks backpack features a central main pocket with a mesh inner pocket, structured paneling and padding on the back to make it comfortable to carry, a front pocket and side mesh pockets.
£63.50
Wales Archery
www.walesarchery.com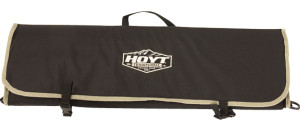 Hoyt Traditional roll-up case
Perfect for field take-down recurves, this compact carry case rolls out to reveal sections for the riser, limbs and any accessories, before rolling up and clipping shut. A fold-down top prevents anything slipping out in transit, and it also features two elasticated holding sections and an additional zipped pocket.
$32.99
Lancaster Archery Supply
www.lancasterarchery.com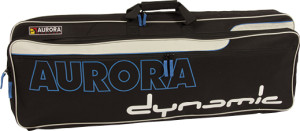 Aurora Dynamic Semi-Rigid Shell case
Offering a functional half-way option between the flexibility of a soft bag and the protection of a case, the Aurora Dynamic has a rigid back section that supports the fabric. Featuring a carrying handle on the top and a shoulder strap, inside it boasts a main carrying compartment and smaller mesh pockets built into the upper section.
£72.56
Merlin Archery
www.merlinarchery.co.uk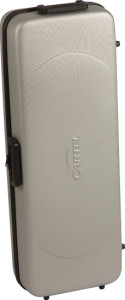 Cartel Zipped Bow Case
This semi-rigid case features top and side carrying handles with a central zip, and supportive feet on both one end and on the back, so you can lie it down or stand it up. A foam centre features cutouts to hold all your gear, while an inner divider (featuring its own accessory pockets) separates your bow from the built-in arrow holder.
£69.95
Quicks
www.quicksarchery.co.uk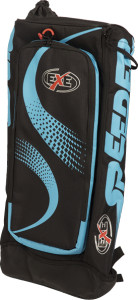 EXE Speeder Backpack
Light and compact, this backpack features a linked double zip opening along the side to access the main compartment, which features inner zipped dividers for holding your riser and limbs. The front pocket has several accessory pockets, and while the back and straps feature some padding it's not as substantial as on some of the larget packs.
€41.70
Bignami
www.bignami.it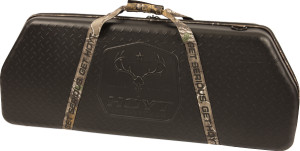 Hoyt Diamond Plate Moulded bow case
This compound-specific bag features a semi-rigid shell, with carrying handles on the top and a shoulder strap for transport. Velcro straps can be positioned on the base to suit the size and shape of your bow and hold it secure, while additional zipped sections in the lid offer space for your accessories and spares.
£99
Quicks
www.quicksarchery.co.uk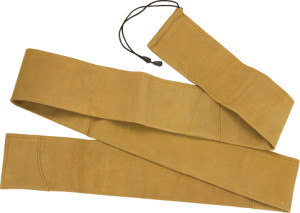 Fairbow Suede Bow Sleeve
This suede traditional bow sleeve features a reinforced base, and a drawstring top. It also has further bands of suede stitched around it at intervals that stiffen it slightly and offer some additional protection for the bow inside.
€40.16
Fairbow
www.fairbowshop.nl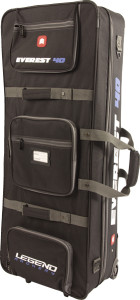 Legend Everest 40 Trolley case
This well-built trolley will take two complete compound setups, as well as a host of accessories and other gear. Featuring handles on the top, side and front, it can convert to a backpack for carrying over wet or uneven ground. Internal padding protects your bows, while the two internal accessory pockets are removable if you want to create extra space.
£110.44
Centreshot
www.centreshot.co.uk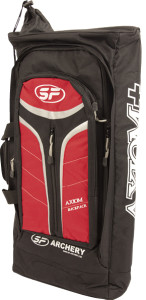 SF Axiom Plus
This is a good mid-sized option for a backpack; it's roomy enough to take even a 27-inch riser, plus limbs and accessories, but isn't as big to carry or store as some more premium models. The front panel unzips all the way round to reveal the main section, with a smaller pocket on the front, and the backpack straps stow away inside when they're not in use.
£28.79
Alternative Sporting Services
www.alternativess.com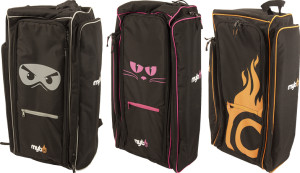 Mybo Aeon recurve Backpack
This feature-packed bag comes in three different designs, and multiple colours, and is designed to hold a completete recurve setup. As well as an arrow tube and internal compartments for storing a riser and limbs, this backpack also comes with a stabiliser sleeve and its own holding pocket, so you don't have to keep it in the arrow tube. One of the side pockets features smaller accessory wallets, while the other hosts twin-rod pockets, and it has a flat front pocket too.
£48
Merlin Archery
www.merlinarchery.co.uk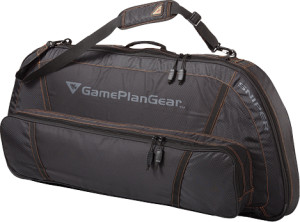 Sniper Bowcase
Made from a tough, tear-resistant fabric, these compound cases feature internal foam blocks that you can move around to fit your bow, and prevent it sliding around in the bag in transit. It has a front zipped pocket that will fit an arrow tube or arrow box, and internal mesh pockets for additional accessories.
£105.95
Silver Archery
www.silverarchery.co.uk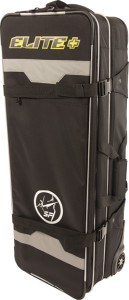 SF Elite Plus Roller Case
At 116cm, this model is the smallest in the SF Elite Plus range, but it can still take two complete recurve setups, with distinct holding sections for arrows and accessories in the upper compartment. What's really handy for tournament archers is the section zipped into the top designed specifically to hold weatherproof gear.
£132.88
Merlin Archery
www.merlinarchery.co.uk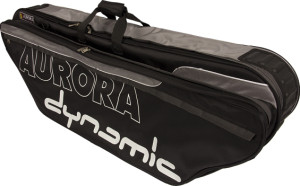 Aurora Dynamic Compound Case
Featuring a top carrying handle as well as a shoulder strap, this good-sized compound bag should fit most bows on the market, and has inner mesh pockets and a front pocket for all your additional equipment. Reinforced corners offer extra protection to your gear.
€127 (Extra long €164)
Bignami
www.bignami.it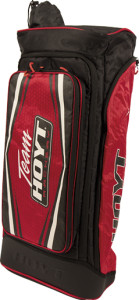 Team Hoyt Recurve Backpack
This spacious kit bag has everything you need for transporting a complete recurve setup; plenty of room inside, two front pockets (one with smaller accessory pockets, and one flat) with space for an arrow tube and side and back carrying handles accompanying the padded backpack straps. A reinforced base adds structure and extra protection for your gear.
£79
Quicks
www.quicksarchery.co.uk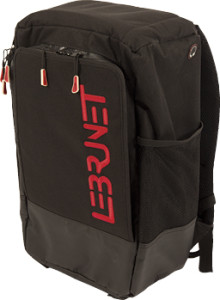 Lebrunet Field Bag
This bag has been specifically designed for field archers when they're out on a course. A built-in stool means it doubles up as somewhere to sit as well as holding lunch, waterproofs, and any spares or repair kit. The reinforced base and waterproof cover and zips mean it will cope with the conditions field shooting is likely to throw at it, and the padded back and straps make it comfortable to carry around.
€89.30
Lebrunet
www.lebrunet.eu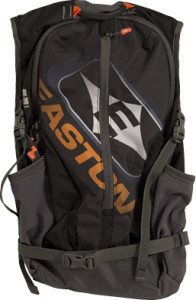 720 Backpack
You won't fit a whole bow in here, but this backpack will work well as an accessory bag, or for all those competition extras like your lunch and an additional baselayer. It has a central zip to the main section, which features a mesh inner pocket, side mesh pockets, and front holding straps to keep everything secure.
£49.95
Quicks
www.quicksarchery.co.uk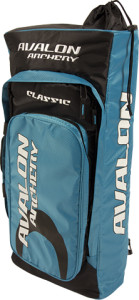 Avalon Archery Classic
An interesting feature of this backpack is that the straps can fold away into a pocket on the back, making it neater to store when not in use. The main pocket features inner pockets for a riser and limbs, while an arrow tube is included for your shafts and a front pocket offers space for additional accessories, and a side-carrying handle is fitted to make it easy to carry short distances.
£33.25
Wales Archery
www.walesarchery.com

Easton Elite 4716 Roller Bow Case
This three-wheeled superlarge case featured rigid back supports, and is designed for the serious competition archer. Able to hold two complete setups, it has two main inner compartments – the top one of which is protected by a double zip system – Velcro-down section dividers, and inner mesh compartments. A protective outer cover is also available for this case, which is particularly great for travelling abroad with it as it ensures all zips are covered and can't catch on anything, as well as protecting the case outer.
£217.55
Wales Archery
www.walesarchery.com

SKB Series-1 Hard Case
This super-durable lock-down hard case is ideal if you'll be doing a lot of travelling with your bow. It has three carrying handles, one at each end and one at the side, and stands on both its end and long edge. The slim case is packed with protective foam inserts to hold your gear, and features an extra foam cover for your riser, as well as space to hold your arrows and an accessory pocket.
£321.60
SKB
www.skbcases.co.uk