Kristina Dolgilevica gets hands on with the latest intermediate ILF limbs

First impressions matter, and these are a striking-looking pair of limbs indeed. An excellent and tasteful design with a soft matt finish which gives the product an 'expensive' look and feels good in the hands. The limb felt light and had a slim, thin body.
The wood core wedge and the width of the limb at the base matched the profile of my Uukhas. The outer limb fitting screw comes in matt black, which adds to the classy appearance of the limb.
The tip of the limb is thin and sharp, but chunky, creating a safe and deep string groove – definitely a bonus for novices who may still struggle with their stringing.
I know that appearances aren't everything, but I think that it is important to note that novices do want their first equipment to look good (just like the 'pros') and many beginner/intermediate limbs come in very unappealing colours and (for me) unnecessarily busy designs. Hoyt however demonstrates some clever marketing and design to promote future brand loyalty.
On test was a set of medium 38lbs Xakt limbs, a match to the entry level Xakt riser, released this year as part of Hoyt's latest addition to their Grand Prix Series line. Due to current restrictions in range access I have tested the pair with what I had at my disposal: a 25m distance in my garden, against my barebow set-up: a barebow 25″ Gillo G1 riser and a set of Uukha EX1 Evo2 limbs of slightly higher poundage.
I also had the chance to test out the pair with the latest 25″ Hoyt Arcos riser, to see how their performance compares with the 'Earl Hoyt geometry' in my hands.
There is no significant difference whether I shot barebow or Olympic style, because I played around with the riser weight distribution and used a variety of hooks with respective tiller adjustments to balance things out.
I tried the following configurations: three-under with neutral tiller; small string crawl with negative tiller; split-finger, with positive tiller. And finally, to add another dimension to the test, I used a set of my old unused pair of cheaper 38lbs Kaya Kone limbs: these would represent a category of cheaper limbs on the market, half price or cheaper than the Xakt pair.
Performance
These ILFs fit into the riser with no problem, are easy to align and easy to remove. As mentioned above, I tried many variations, and experienced no issues: the limbs work in balance, provided I tune the bow well to any style I intend to shoot. They are smooth to draw; I didn't experience any stacking and they recover nicely.
When shot against my Uukhas, they did feel a bit slower, but not by much. Uukhas are monolith carbon, whereas the Hoyt are wood core with carbon facing on each side, making them marginally heavier, and therefore slower.
We all know that the lighter the limb the faster the arrow flight. In reality these differences are very slight, too slight to concern the intermediate archer, who is developing his or her form and stamina.
When compared to my cheaper Kaya set, representing the budget segment of the market, Xakt pair was superior, no question. Bulky Kaya were super slow in comparison and would only really serve well at an indoor 18m range.
I did prefer to shoot the Xakt limbs with the Hoyt Arcos riser, as it felt more balanced overall, and my Gillo's 'geometry' seemed a bit heavy in comparison. Hoyt products are designed to fit Hoyt products – which is fine: that is what product design and innovation are for. Personally, I would go for that kind of brand, the one that invests time in improvements.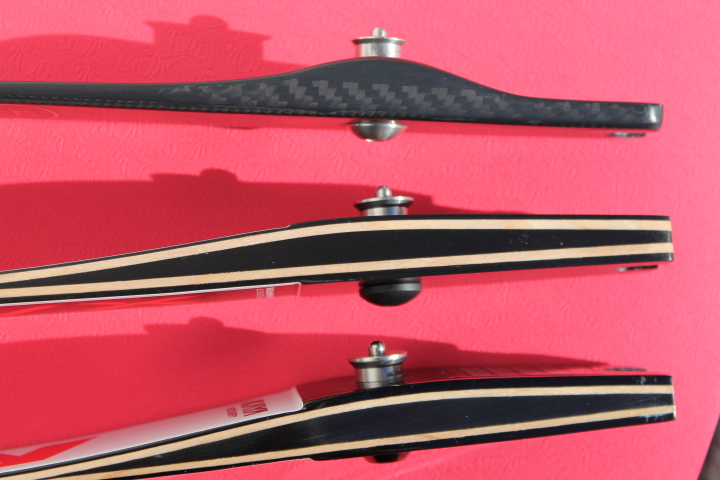 It has to be noted that everything Hoyt has released in recent times has had excellent and tasteful design, but their website does not reflect that. Perhaps it would be advisable for them to add more photographic images of their products because they would show the textures, the actual colours, and the care that has gone into production. This is especially important while few people are able to go into shops and see and touch the products.
Verdict
If you are an archer who intends to shoot regularly, barebow or recurve, indoor and outdoor, if you already have ambitions to compete one day soon, then I would definitely recommend these limbs.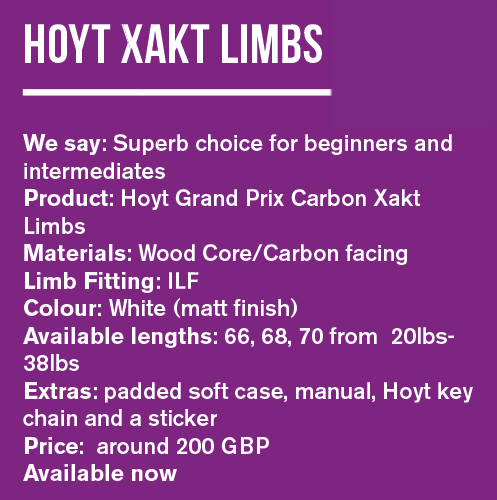 It would be of little use to list the huge selection of beginner limbs, priced from £60 to £150; they would serve well indoors, but if you want a decent but more rewarding set, it is worth saving up a little more and getting limbs that will work well.
You could also go for WNS Vantage G7, priced slightly higher, but you would have to account for the riser also and how your combination would work together.
Hoyt riser and Hoyt limbs do complement each other well, and both limbs and riser together will cost you just under £500 in the UK, which is a bargain: great poundage range, good performance, elegant and an unfussy look that comes at an affordable price.
I have never personally owned any Hoyt products, but this experience has brought me back to the day when I was buying my first set of limbs. If I were entering the archery world for the first time, I would have gone for Xakt limbs, even if it were just based on looks.
It is like learning and mastering a musical instrument – you don't want to go for the cheapest, because it will not give you the performance you need, but it's not time to get the very best yet either. Xakt limbs hit that mark perfectly.
---