Rebekah Tipping looks at some high-quality, low-cost rods from the former Cartel stable
In recent years, the well-known Korean manufacturer Cartel has rebranded itself as Epic Archery. They produce a variety of products, and their catalogue boasts some very impressive looking kit.
The rods I will be reviewing were unveiled in the 2019 catalogue for release in 2020, and they are now available at multiple retailers in the UK. The catalogue gives us this: "Epic Fusion EX Carbon stabiliser is designed to provide reliable performance, guaranteeing your shot accuracy with a minimum investment." I put these rods to the test in order to investigate these claims.
I tested these rods against my own Fivics Phoenix 1500D rods that I've been shooting for about 18 months. It may be a complete coincidence, but the Epic Fusion EX rods look remarkably similar to these particular Fivics rods, probably more than any other rod on the market.
First Impressions
My first impression when I opened the box was that Epic has really upped their game in the past few years. My first ever stabilisers, bought in 2011, were Cartel and I don't think they lasted more than a year before I had to glue some parts back together.
However, these new stabiliser are in a different league entirely, and I am very impressed with the work they've done on their products since my first unfortunate rods. I asked my partner to take a look at the Epic Fusion Ex long rod to guess how much he thought it cost, and he estimated more than double the retail price!
What's in the box?
The long rod and side rods come in their own tubes with the Epic Archery logo printed on the sides, and each tube labelled with the details of the rods. There are three colour variations for these rods: black, red, or blue. The main length of the rod has a carbon-style effect with Fusion branding including highlights in the colour variation of your choice.
The metal collars on each end of the rod also match the highlight colour in the branding. The aluminium v-bar comes entirely in the colour you choose, which can add a nice splash of colour to the set up.
Appearances
I put the set up on my bow, and right away I was very impressed with the aesthetic. The rods feel sturdy and well-made, and they have a matte carbon appearance along the length of the rod that has a rough sort of texture.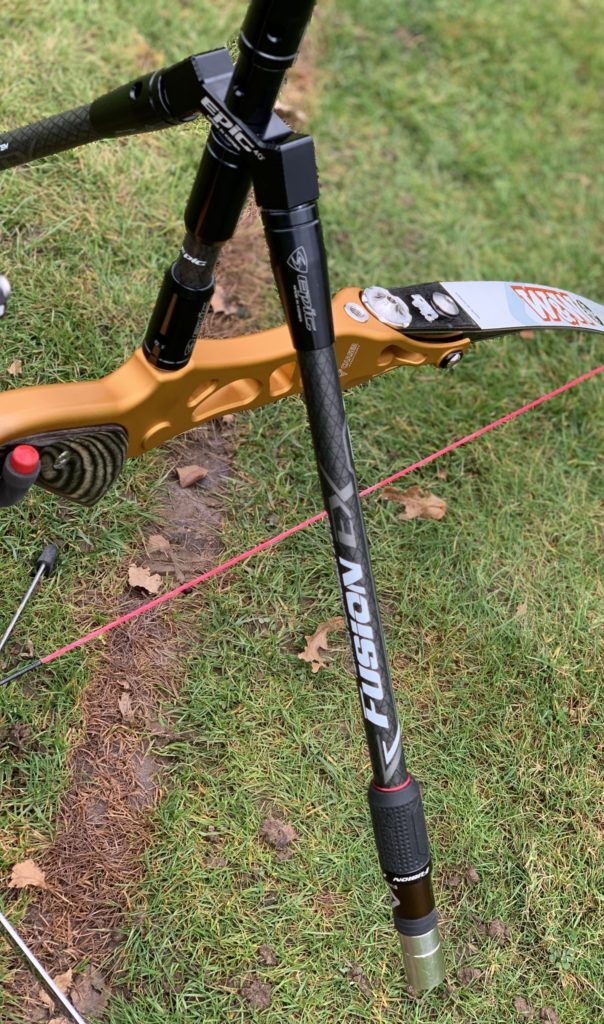 Each of the rods has a rubber section at the end where the weights screw in. I checked the product catalogue and it claims that this is "built-in vibration dampening rubber", but it feels as though there is just rubber wrapped around the outside of the rod, rather than a full dampener.
I'm not sure this would be as effective as an external dampener. These rods really look like they belong on an expensive bow set up, and wouldn't look out of place on the shooting line at a national competition.
The rods come with one stackable stainless steel weight each. I really like the look of these; they are 'singles' but are made to look as though there are three disc weights in a stack, like some of the more expensive weights on the market.
I weighed each of them and found them to be 78g per weight, which is around 2.75oz in American. I can't seem to find anywhere to buy these weights by themselves, so I'm not sure what you'd do if you wanted to add more weight to the rods, although personally, I didn't feel like I needed any more weight.
Performance
I tried the rods without any additional dampeners at first to test out their "built-in vibration dampening" claims, and found the bow to be much louder than I would like, and the limbs felt as though they were wobbling for quite a bit longer after the shot than with my Fivics rods.
To make it a fair comparison, as I would never shoot my Fivics rods without any dampeners, I put my Fivics dampeners on each side rod and my A-bomb on the long rod. This made a huge difference, and the bow sounded beautifully quiet again.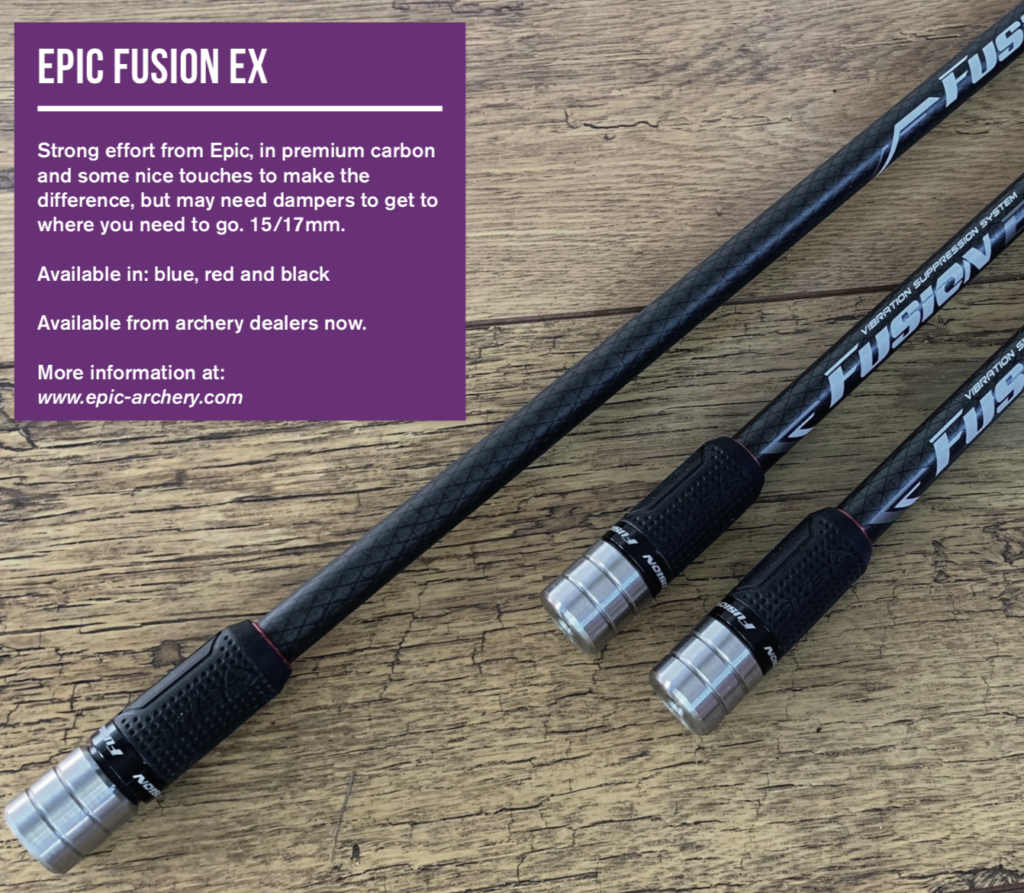 Sound isn't everything though, as stabiliser set up can often be a very personal affair. I found that these rods felt very similar to my Fivics rods to shoot, apart from the physical mass weight of the set up. I weighed both sets of rods (not including weights or dampeners) and found that the Epic Fusion rods weighed 556g, compared to the 383g my Fivics rods.
This is quite a large increase in mass for something that you will be holding at arm's length, so it did make my bow feel slightly out of balance compared to what I'm used to.
The benefit of light stabilisers means you can put weights where you want them to make the set up more efficient. A lot of the weight in this set up was in the extender and v-bar, which isn't going to be contributing to the balance of the bow as it is just dead weight that close to the riser.
Verdict
I quickly got used to the difference in balance, and really enjoyed shooting these rods! They did a good job of dampening the bow, and I'm happy to say that I completely agree with the statement in the Epic catalogue about reliable performance and shot accuracy, as I was shooting the same size groups at 70m that I had been shooting with my Fivics rods.
The Epic rods didn't affect how my limbs behaved in comparison to my Fivics rods: my group stayed in the same place on the target and the arrow tune was not impacted at all. I'm very impressed with how these rods perform, especially considering their price point. These rods come in at £140 for a whole set, which is actually £20 less than the Fivics long rod alone.
The weight of the rods is the only downside that I can see, but I am prepared to forgive that for their price mark. I would suggest getting a good quality dampener for each rod to reduce vibration in the set up, but I would make that suggestion even if you were to buy very expensive rods!
Overall I would very much recommend these rods, for novices or for more experienced recurve archers on a budget.
---