The magazine's first editor Richard White takes us back to the start
The early days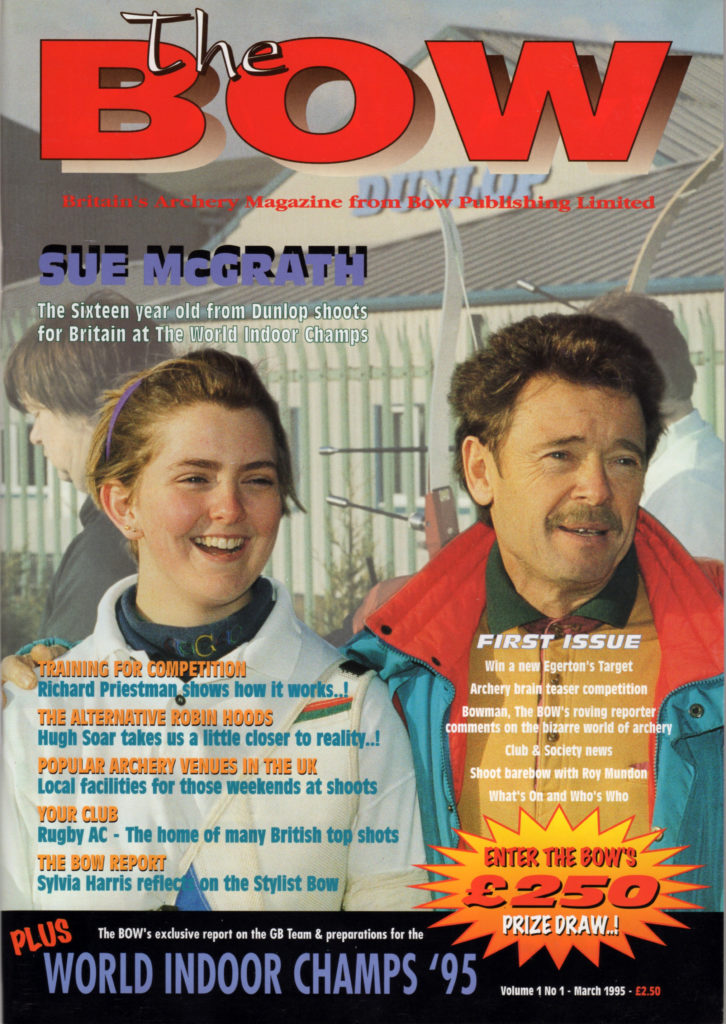 The concept for BOW Magazine, as it was then titled, came about after I and my late wife Daf returned from the 1993 2nd World Indoor Championships in Perpignan. It occurred to us that the only two archery publications attempting to promote British archers overseas or in the UK were 'The Glade' and 'News from the Centre'.
The former, edited by the venerable, late Ted Bradford had established a large following amongst more traditionally minded archers. Glade was known for well-researched editorial and wide ranging features but somehow lacked a polished professional and contemporary image.
'News from the Centre' was purely a news letter published by the Grand National Archery Society for the membership and clubs in the UK. As its editor from 1992-1993 I did try hard to change it into a more readable magazine, but was resisted by the late John Middleton, then the society's Chief Executive.
Something was badly missing, if the sport and those with a progressive mindset were to benefit from wide ranging promotions and greater exposure.
So, in the next two years leading I set about planning a new publication designed to spread the word about archery and help shake its reputation for being a 'hidden' and elitist sport.
We used many pages within BOW as a way of promoting the top archers as well as the clubs, believing that achievements and exposure would encourage a spread of interest in the various archery disciplines, with the goal of helping club archers realise there was a an exciting life beyond recreational archery – maybe leading to represent Great Britain internationally.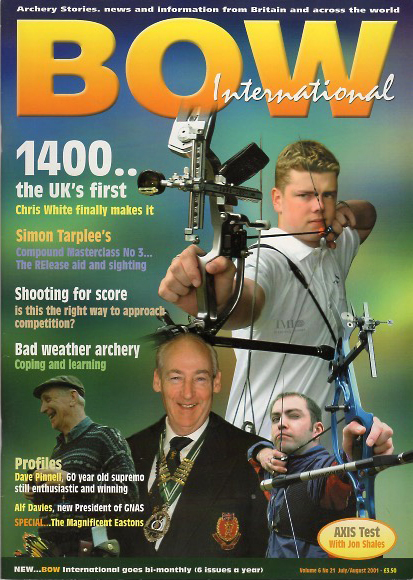 It was a big ask that would invariably lead to much tutting and disagreement amongst the traditionally minded set of councillors and directors within GNAS. Apart from our county, Warwickshire, many people continued to regard archery primarily as a club based recreation.
In late 1993, Daf had become the GNAS's Head of PR and I had taken on the role of Development Officer. However, there was much resistance to new ideas from a board keen to preserve the sports partially hidden status. In frustration, Daf and I resigned in mid 1994 and we concentrated on developing Bow Magazine.
In addition we took on the roles of supporting the 1995 World Indoor Championships at the National Indoor Arena, Birmingham. The event had been my original idea back in 1993 after discussing the possibility with Stan Patterson OBE, then the Vice President of FITA. Stan encouraged and supported those early efforts and I believe his intervention at FITA helped persuade in favour of the event coming to the UK.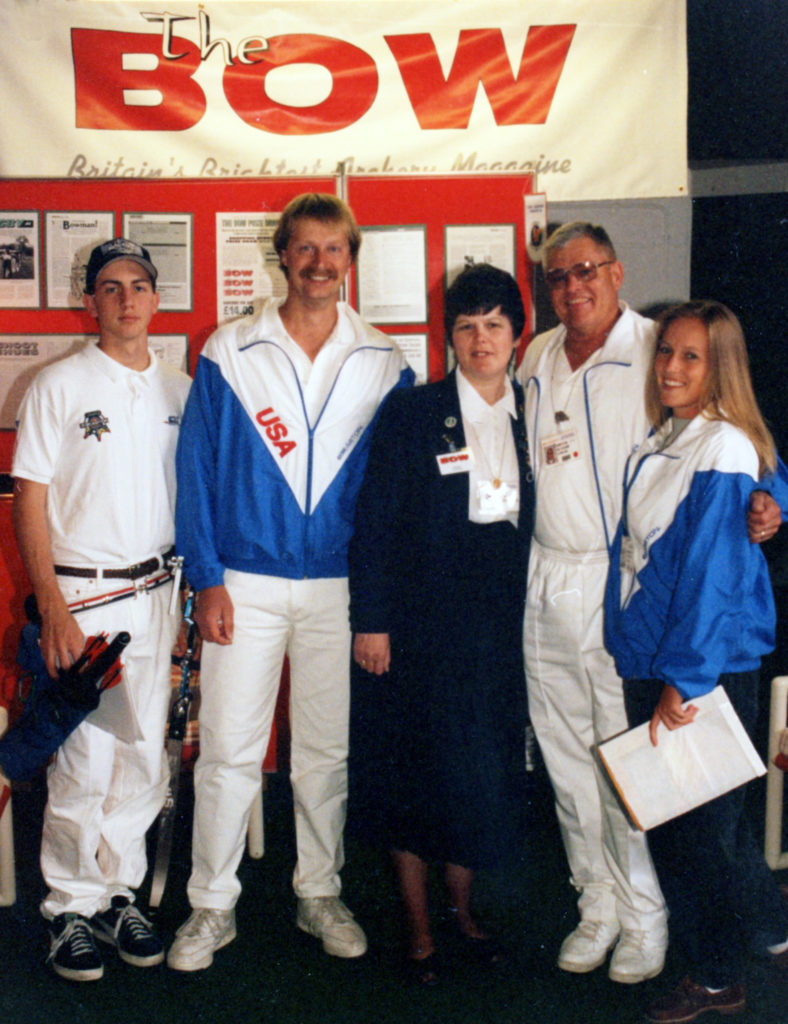 A pilot edition of Bow was designed and efforts made to bring in valuable support from a number of UK based archery retail advertisers. This included Quicks, Wales Archery, The Pro Shop (now Archery World), Merlin, Perris, Clickers, Marksman, and Bow Sports along with several others.
The magazine was put together by a partnership comprising myself as designer and editor, John Rotherham (a Coventry based printer) and Roger Elton (head of publicity and advertising). The launch at the NIA in March 1995, was a complete success with myself, Daf, John and Roger kept busy handing out almost 700 first editions, given away free along with subscription forms.
By Christmas 1995, helped by its own website, Bow attracted close to 500 subscriptions from UK archers and 95 from overseas archers. It was a great beginning but there was still a long way to go, particularly as the team were keen to see the magazine in high street newsagents.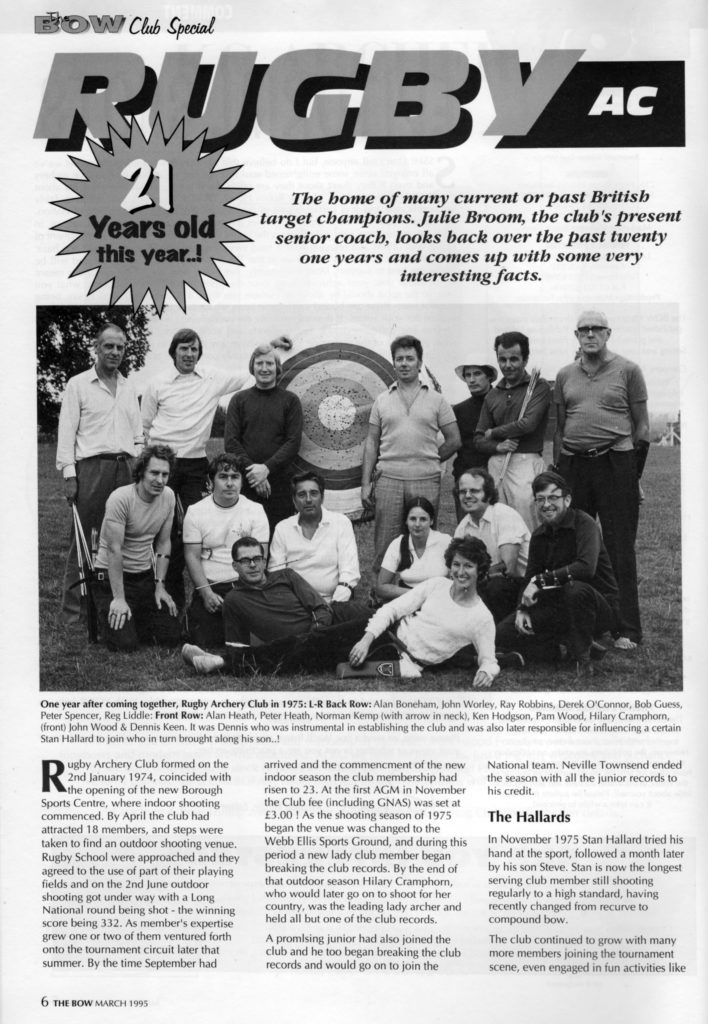 Growing up
With increasing success, Bow gradually established a strong foothold in the market. Due to reasons best known to themselves, John and Roger decided to pull out leaving myself and Daf to carry on from 1997. Working from a converted garage at home, we both ploughed on with Daf doing an excellent job with the proofreading and attending tournaments and events to help with promotions, subscriptions and sales.
We both enjoyed meeting the archers and their organisations including those outside of GNAS. These were the golden days where we could compete as archers and come home armed with many stories and photographs (although alas not that many medals or trophies).
The glory from winning competitions was left to our son Chris White, who went on to become the UK's top ranked compound archer and represent GBR at many international field and target events.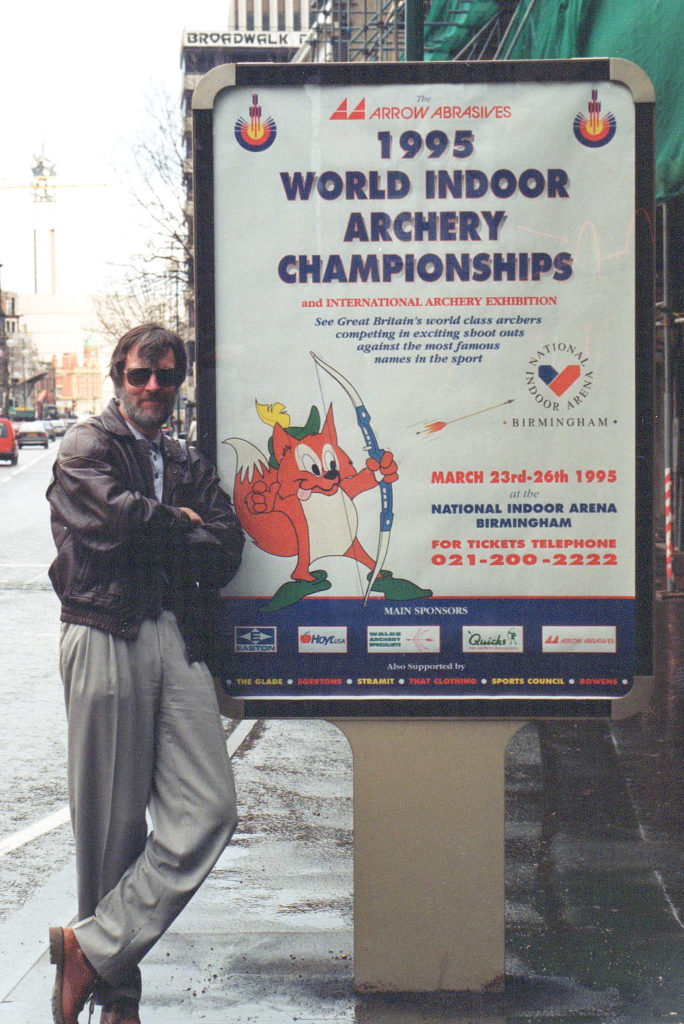 The magazine took on a dramatic and tragic change in 2001, when the family suffered a huge loss. After nearly eight years of a downhill struggle with illness, my wife Daf sadly died.
It was devastating. Chris, Abigail (my daughter) and myself tried hard to avoid the worst effects of grief, but it was incredibly difficult. After a break, Chris managed to carry on shooting at the highest levels. Sadly, his mother was not around to see him become British outdoor and indoor champion in 2002-2004, as well as FITA and IFAA World and European field champion in 2004.
In 2005, after ten years at the helm and 31 editions, I sold the title to Blaze Publishing in Leamington Spa. It was a very good move since the business knew how to achieve a wider circulation than I could have ever dreamed of. (Blaze Publishing was sold to Future Publishing in 2016 – Ed).
On my own and without Daf, it had become impossible, so it was the right move to make. I can only say that the publication is truly excellent and has become the best selling international archery magazine with a presence in WHSmiths and other high street newsagents.
I guess from my point of view, it is job done and despite the ups and downs, I remain proud of the early efforts that have gone into helping the sport become more visible.
The magazine is certainly in very capable hands; thanks to John Stanley and the team behind its current success.