Rebekah Tipping looks at some thoroughly modern new kit from Italy. 
Aurora Techno recurve backpack
This well organised backpack from the Bignami stable is great addition for any recurve archer. I've been using a smaller Aurora backpack for seven years now, and have struggled to find a suitable replacement that is large enough to keep my kit tidy and in place, but doesn't make me feel like I'm off to my first day of "big school" when carrying it.
This backpack comes complete with a removable pouch for the riser and limbs, and includes an arrow tube. There is plenty of space on the inside, with various pockets that have tags to suggest what you should keep in there.
There is a pocket with a small diagram of a sight on the tag (perfectly sized to store my Shibuya sight case) two labelled with stabilisers for the side rods, and a longer one adjacent to the arrow tube to store the long rod.
The shoulder straps are padded, and there is a waist band to take the weight off your shoulders if you have to carry the bag long distances. I used this configuration to carry it backwards and forwards across the university campus to my training venue, and found the backpack much more comfortable than any other I have used previously, likely due to the padded shoulder straps and the fact I used the waistband.
This waistband contains a pocket complete with a USB port, so you can attach your own USB portable charger to the inside and charge your phone from the bag while you walk! I can see this coming in very handy if you have to trek home after a long day at a competition and want to listen to music on your phone as you walk.
If you don't fancy carrying the backpack on both shoulders, there is the option to hide the shoulder straps inside a hidden pouch, and convert the bag into an over the shoulder strap bag, with a comfortable shoulder strap included.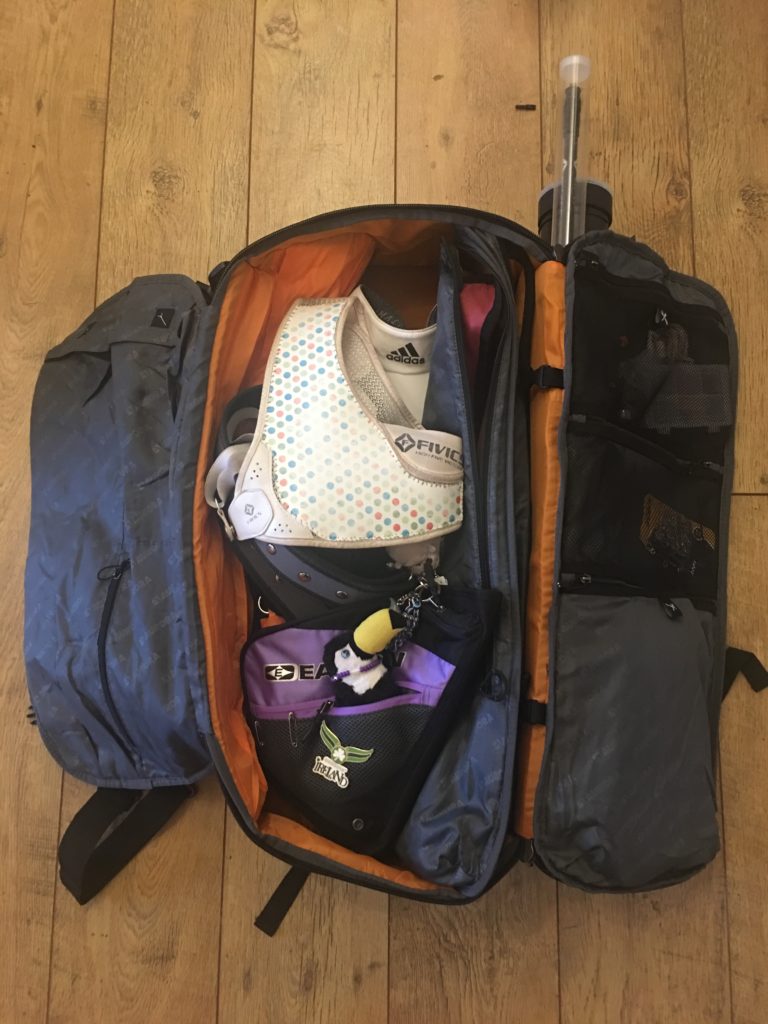 I trialled this method to carry the backpack shorter distances to and from the car when I was at my outdoor training venue, but I didn't find it as comfortable as the backpack straps. I like that there is the option to do both, but found that the shoulder straps give you more control over the backpack and leave both hands free to carry other things as you walk.
I'm very impressed with this backpack, and would highly recommend it to the recurve archer who wants a backpack with a place for every item. The backpack is very comfortable to wear whilst walking, and the multiple  pockets means things don't slide around inside while you walk.
It also comes at an affordable price, around 100EUR/£90. This price puts it between the Avalon backpacks of similar style, and the more expensive, but very similar Easton Deluxe backpack. 
Aurora Techno lite quiver
Choosing a quiver is very much personal preference, whether you go for a field quiver or a target quiver may depend on which style of archery you most participate in, but I have seen many a target archer using field quivers, and vice versa. 
The quiver I will be talking about here is a new addition to the Aurora family. They have proven themselves in the past with both their field and target quivers, and this new target style hip job is no exception.
The Aurora Techno Lite Quiver appears to be a slightly different version of the Aurora Techno Quiver, made from more of a fabric-like material, compared to the Techno's synthetic material.
The Techno Lite is everything you'd expect in a performance quiver. It has four tubes for arrow stowage, making it easier to compartmentalise arrows, which is ideal for someone as particular as I am when it comes to selecting arrows.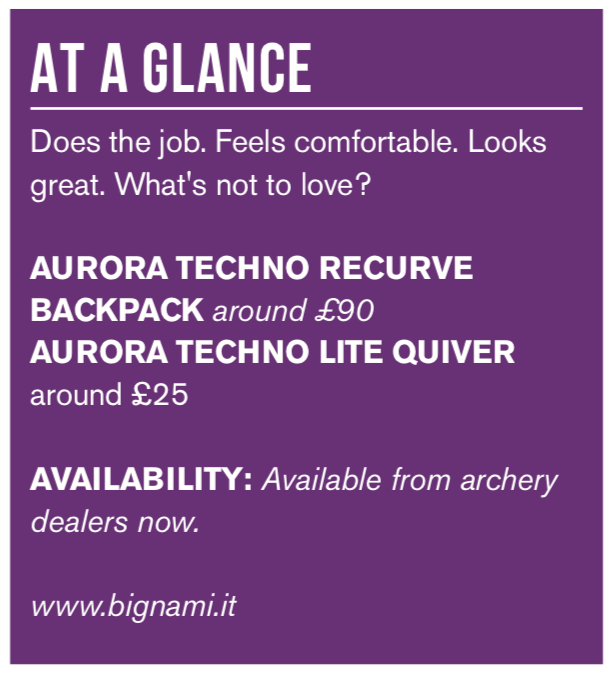 There are a multitude of pockets available, with a sizeable pocket on the body of the quiver itself, large enough to hold the essentials such as a small notebook, arrow puller, and snacks. There is also an open pocket on the outside of this which is the perfect size to slip a phone into. This pocket does not have a zip or closure, so it can be easily accessed. 
The upper pocket is also a good size, with plenty of room for multiple finger tabs and slings, with an even smaller zipped pocket on the front that could be used for stowing a membership card or a sheet of sight marks, perhaps.
Both of the main pockets on this quiver have a support strap between the body and the pocket, so the pocket cannot fall open if it has been left unzipped (an offence of which I am often guilty!).
This model comes with a belt, made of the same material, and in the same colour as the quiver. It is expandable to a large size, and has a simple buckle clasp.
Generally everything is very well made, and has thoughtful touches on it, such as the padded tags on the zips, branded with the Aurora name, that add something to the overall look. There is also a plastic loop on the front of it where you could clip an arrow puller onto for easier access than a pouch.
It comes in six colours; blue, green, grey, olive, orange, and red, with all of the colours being described as "melange", which is a colour effect obtained by mixing different coloured fibres to make the fabric.

It has an appealing effect, creating quite a modern looking, unique colour in the material, which makes a change from the standard single colour quivers that seem to saturate the market today.
Overall, I think the Techno Lite is very much on a par with similar sized tournament quivers on the market, and would highly recommend it for someone looking for a functional, stylish hip quiver, but who didn't want to pay the more expensive prices of the Easton or Hoyt models on the market.
This quiver comes up at around 28EUR/£25, and for that price, I think it's  an absolute steal.