Things we saw at the world's biggest archery trade show!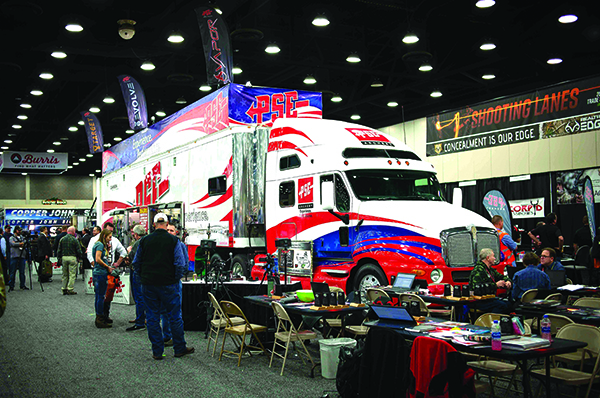 The ATA is the Archery Trade Association, and it holds a trade show in the USA every year with a focus on 'building commerce'. Having been held in Indianapolis for many years, in 2019 it was held in Louisville, Kentucky.  Its main focus is really on hunting and hunting gear, and many brands show off both hunting and target lines at the event. Almost all major archery manufacturers attend the event, and Bow went for a wander to see what was on offer. 
Win & Win had their full range of kit out on display, including their new top end TFT-G graphene recurve riser and limbs. That's been on the market for a while, and we were most interested in their new-for-2019 range of recurve risers and limbs, under their WNS brand, and the helpful Danny Kim talked us through them.
The real eye-catcher was the Vantage riser and limbs, with the riser available in a range of high quality anodised colour finishes. "We're kind of going for something a little up on the Forged Plus," said Danny, "that kind of better mid-range starter. But it's a long term investment, with some of the characteristics of the pro lines. You can shoot higher poundage with these, absolutely no problem."
The FC-100, formerly known as the RS100 series, has a thin profile with no windows at all, and is the lightest of the range.  Win & Win see this at this as a higher mid range riser, the top of the WNS line. It comes with a matching set of matt finish wood and carbon fibre limbs, with the percentage of carbon, and the relative 'snap' of the bow increasing as you go up the range. All Win & Win's risers feature similar grips, with slightly different finishes depending on the standard, and will be available later in the year.
Win & Win's bigger launch for 2019 was the high-end intermediate range CX7 riser and limbs, in a beautiful smooth matt finish. They were at pains to point out that the CX7 is not a CXT replacement. Danny added: "We felt there was too much of a gap to our top end Inno and Nano and TFT series.

"We wanted to close that gap up. There is something inside this riser that is redistributing the weight. The limb bolts follow the pro lines, the angle is deeper, there's a little more comfort and control and tunability."
The limb design is minimal, with some very clean aesthetics, with a carbon foam core, and reinforced limb tips.
The CX7 is available now from archery dealers, for around £500 for the riser and £420 for the limbs. Watch out for a full review of the bow very soon.
Easton are, unsurprisingly, a big presence at the ATA. They had a brand new stabiliser for 2019 on show; the Halcyon. It is a small diameter model, just under 15 mm wide and which Easton claimed to have 'bent over backwards' to maintain the stiffness. The Halcyon is made, like most top-end stabs these days, out of carbon, with a simple smooth black finish rather than the 'carbon weave' favoured by many manufacturers.
Three lengths of long rods and two side rod lengths will be available, and a 30-inch rod will weigh 133 grams unloaded. A full set was said to be around $700 (no UK pricing yet), partly because of the large amount of high-modulus carbon used.
They also were showing their established Contour CS range, which is newly available in several bright colours.
Easton is of course best known for arrows, and the ProComp carbon/alloy, a parallel shaft arrow specifically for compound archers, has been setting records throughout 2018. The price point is reckoned to be around £220 for a dozen shafts, compared to around £350 for a set of their top-of-the-line barrelled ProTours, and thus aimed at mid-level and intermediate archers.
With the strong success of the ProComp in competition, Easton are said to be 'gradually' consolidating their many arrow lines into slightly fewer, and eventually producing a version of the ProComp for recurve too, perhaps to eventually replace their successful, but older technology lines like the A/C/G.
Easton also had a couple of new tournament quivers, the Elite and Deluxe, which break down with a zip, in order to better fit a bow case.
This well known manufacturer based in Arizona makes multiple lines of top-notch archery products in-house. Here they were keen to tell us about their Advante-X line of micro-diameter stabilisers, just 12.7mm wide and with a 30 inch rod weighing only 90 grams. They achieve this with high-modulus carbon. For the archer who likes to match colours, the logo sticker is available in five bright shades.
They were also keen to tell us about their new vane, the AAE 1.85 Hybrid, 47mm long and designed specifically for the European target market, and is described as a 'true wind beater'.
K&K, the Korean brand best known for producing Kisik Lee's Jet 6 Vanes, were keen to show off their triple fletching tape. With a plastic jig, it is the work of a moment to lay three lengths of double sided fletching tape onto an arrow, with different size tapes for different diameter shafts. K&K have produced a video, with a gentleman with a mellifluous voice explaining all:

Price point would be around 10 euros for a packet. If you use spin vanes and you are the sort of person obsessed with both speed and precision, you'll be interested in these.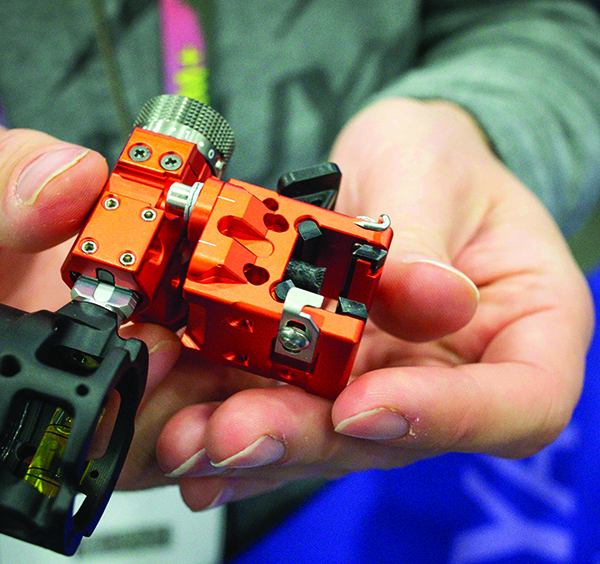 The lovely Phil Knall was in his familiar place behind the Shibuya stall, and showing off Shibuya's newest compound sight – the recurve Ultima II sight is due an upgrade later as they alternate the upgrading process between the recurve and compound lines.
The Ultima CPX 2 is their top of the line sight, and features their ZPE system, which they claim completely eliminates play and 'backlash' in the elevation adjustment, reducing the risk of 'empty clicks'. The CPX has a new indicator system based on a flat shelf design which is easier to read, sight scales for second and third axis results, new screw material, and new knobs too.
Price is commensurate with the status: around €429, not including a pin or scope. 
Britain's Egertec were keen to let us know about their foam layered targets, in standard layouts with excellent stopping power and all-weather ability. Egertec are a well-known manufacturer of straw bale targets and other 3D targets and similar. Their foam versions start at around £70 including delivery in the UK, with large discounts for bulk orders.
Angel are a well-known Japanese manufacturer of high end quivers, also recurve sights and a few other products. They didn't have too many new items on display, apart from a redesigned field quiver geared towards compound which has a new pocket for a kickstand and a few other adjustments.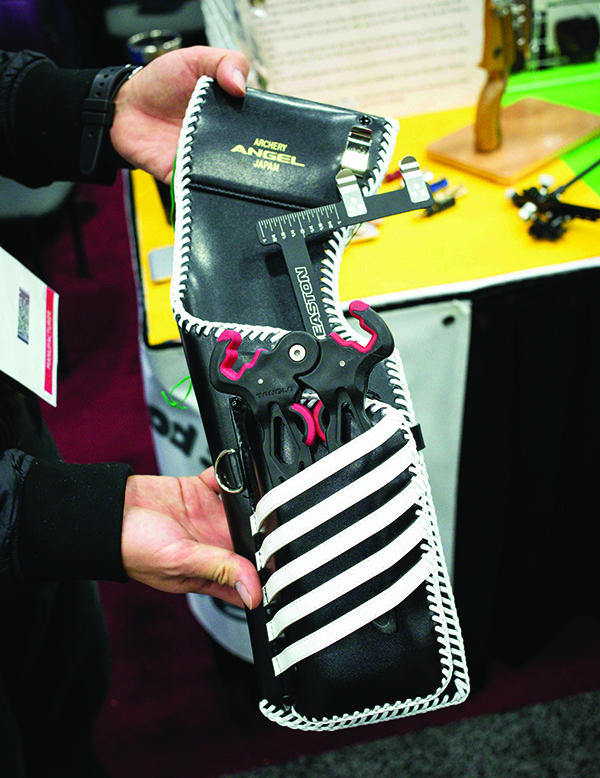 We saw many other interesting products from Hoyt, TruBall / Axcel, TopHat, Shrewd, Bohning, Beiter and other top manufacturers – all to come in the next issue of Bow!
For more great content like this, subscribe today at our secure online store: www.myfavouritemagazines.co.uk
For part two, just click here