More things we saw at the world's biggest archery trade show earlier this year.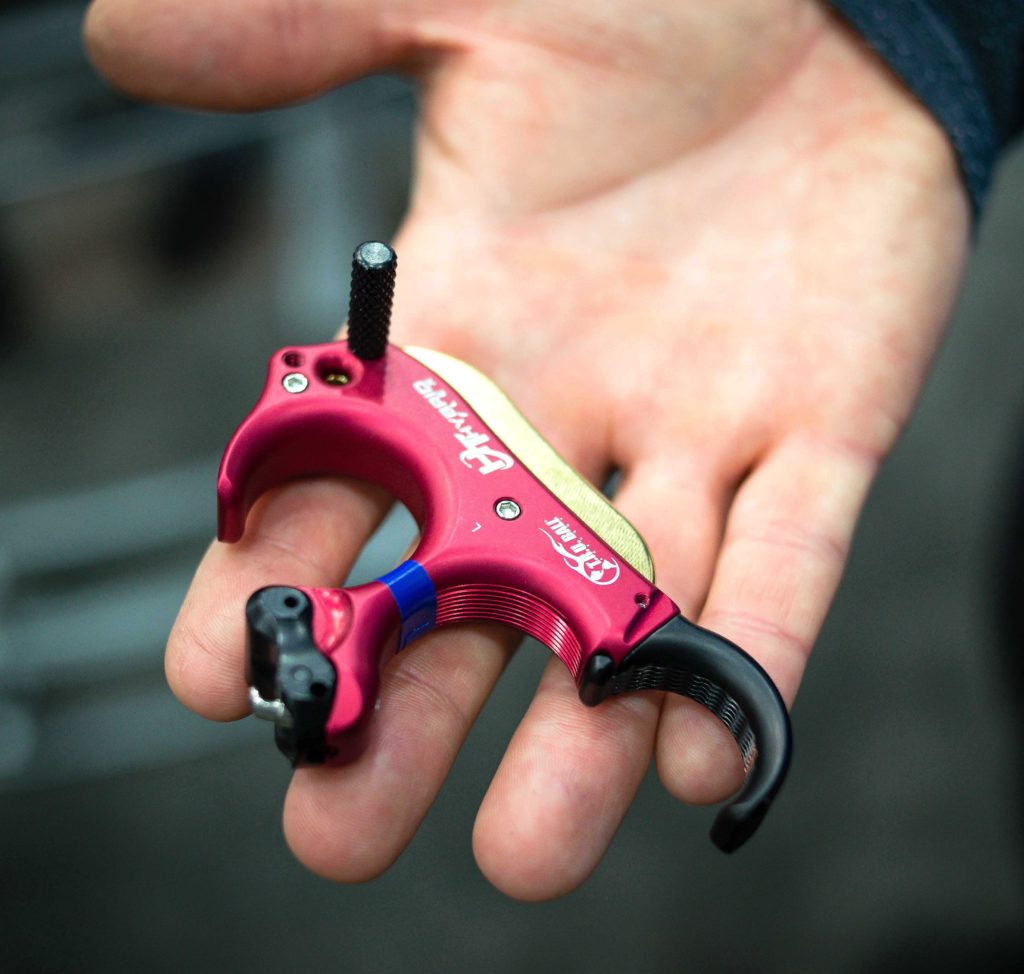 The ATA is the Archery Trade Association, and it holds a trade show in the USA every year with a focus on building commerce. Having been held in Indianapolis for many years, in 2019 it was held in Louisville, Kentucky.
In the second of a two part series, Bow went for another wander round the halls to see what was on offer in terms of new stuff you can get your hands on this year.
Read part one here. 
Hoyt
Hoyt's big stall didn't have too much brand new target gear (they use the ATA to focus more on their hunting lines). Still, they had their latest gleaming Velos limbs on display along with the Pro Force shoot-thru riser, 35-3/4″ axle to axle in its main configuration.
The Velos have been extremely well-received by target archers around the world, with a bamboo core (like the X-Factors that preceded them), newly designed high strength limb tips, and narrower limb design that Hoyt say optimises speed without sacrificing stability. We're looking forward to seeing some more of their target products later this year.
More information: hoyt.com
---
Beiter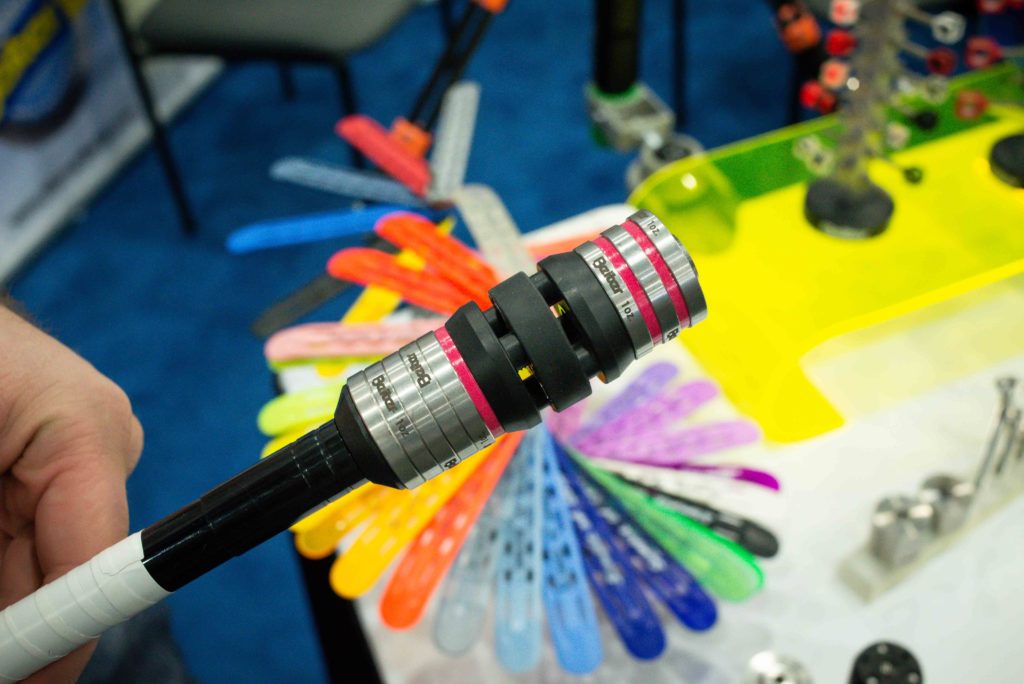 The irrepressible Andreas was keenest on telling me about the V-Box, the newest addition to a long line of multi-functional damper and stabilisation systems.
The V-Box allows the archer to fully customise the weights either in front of or behind a membrane damping system – which itself comes in four different flavours. It allows spacers and weights to be distributed evenly to maximise dampening.
Essentially, it is an integrated system that gives the archer complete flexibility – and with the usual riot of colours available too. As usual, all Beiter products are manufactured in-house in Germany.
More information: wernerbeiter.com
---
Cartel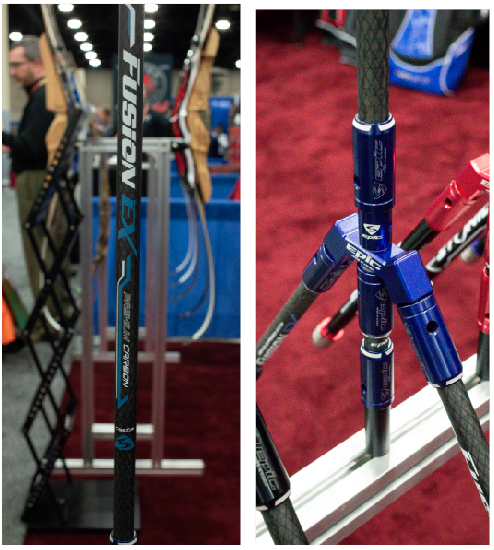 Cartel / Doosung were showing off their new Epic stablisers, with the Fusion EX system aimed at intermediate archers. These provide 15mm full carbon stabilisers at a fraction of the price of many comparable systems. They claim high modulus cross carbon construction, which puts them up there with many of the 'big names' in stabilisation. Cartel continue to distribute a huge range of products from their base in South Korea.
More at doosungarchery.co.kr/eng/
---
TopHat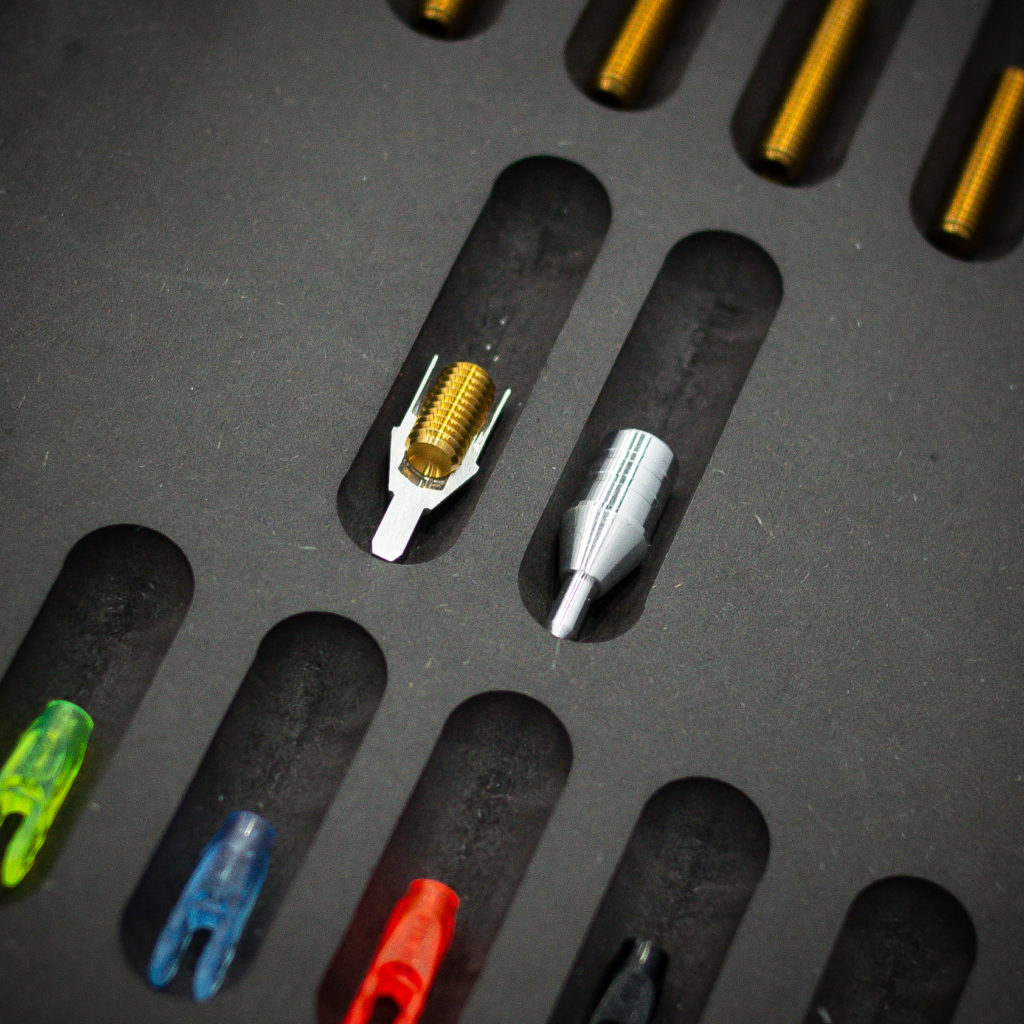 TopHat are a German company that specialises in high-precision points and other arrow parts, for the target archer that wants the very, very best – they supply German recurve superstar Lisa Unruh amongst many others. Their range includes points, inserts, adapters, and tools. The finest of their target points are manufactured on lathes normally used for dental equipment.  They have an extraordinary range of screw-in and glue-in points and weights for compounders, allowing you to add up to 400 grains into an arrow, for even the most demanding heavyweight Vegas attendees.
The newest lines here included a bushing to fine-tune the rear of a shaft. Hardcore tuning enthusiasts apply here.
More at: tophatarchery.com
---
Axcel / T.R.U.Ball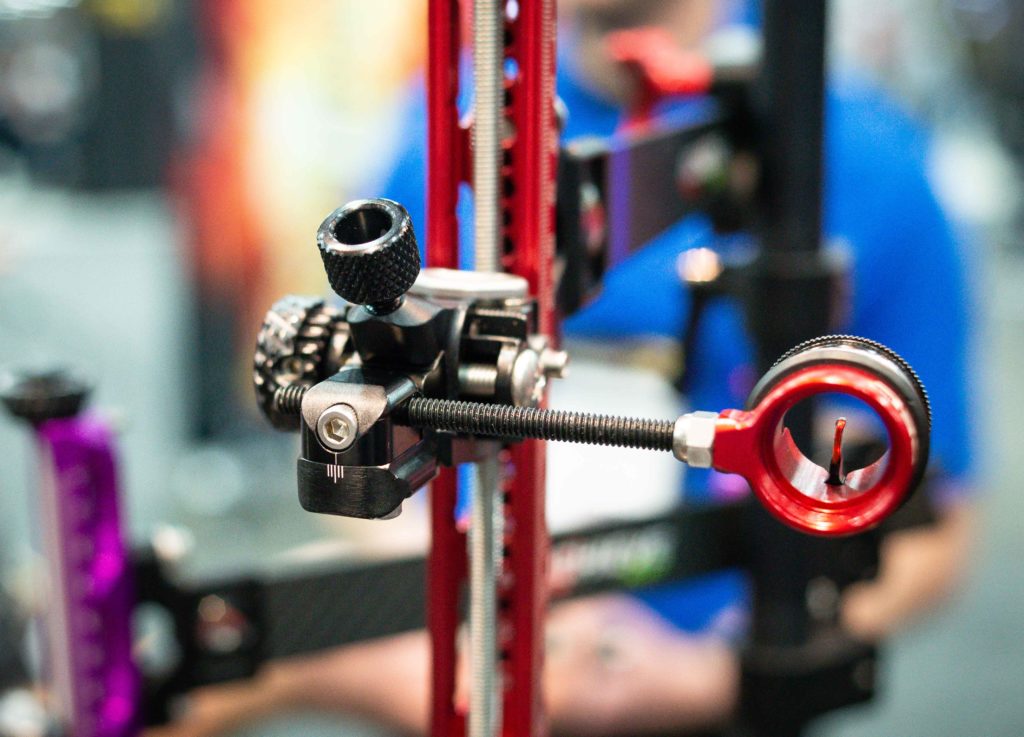 One of the busiest stalls at the show. Truball – the releases side of the business – had their HT Hybrid Flex out and about. This is an all-aluminium body release with a brass insert to increase the total mass weight.
The idea is to get the best of both worlds by having the ability to shoot the release at the weight of their original, highly successful aluminium HT, or by adding the included brass insert to jack the weight up – one of several releases in the hall that aimed to do more than one job or allowed for specific customisation.
As well as the new release (main pic at top of page), the Achieve XP was on display, looking very much like the dominant recurve sight at the top end of the market. Read a full review of it in Bow 132. 
More information: truball.com
---
Shrewd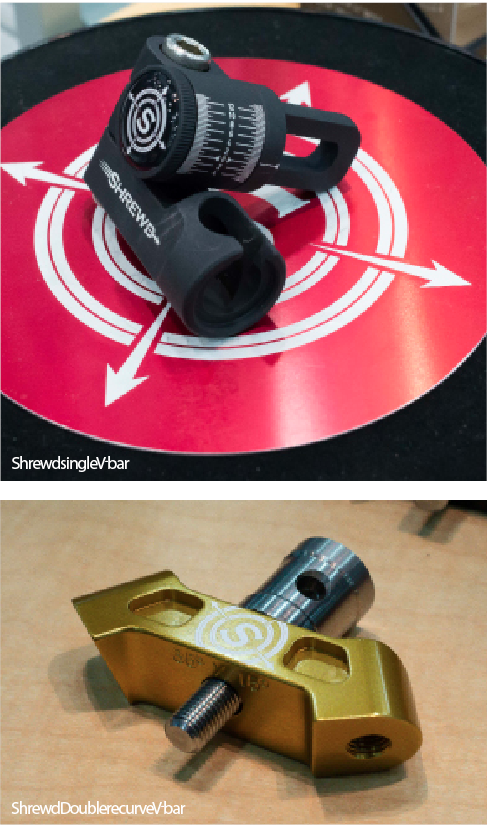 Shrewd are one of the biggest players in the scope, stabiliser and accessory market, with a starry lineup of pros. They had several newer products on display, including the Atlas V-bar, available in single and double configurations. This features anti-walkout washers and a 'drop stopper' shelf.
They also had new colour options for their top-end Optum scope, and a custom V-bar specifically for recurves, that holds the side rods at 35 degrees wide and 15 degrees down, in gold finish. This was at the request of, and designed by, USA archer Mackenzie Brown.
More at: shrewdarchery.com
---
Galaxy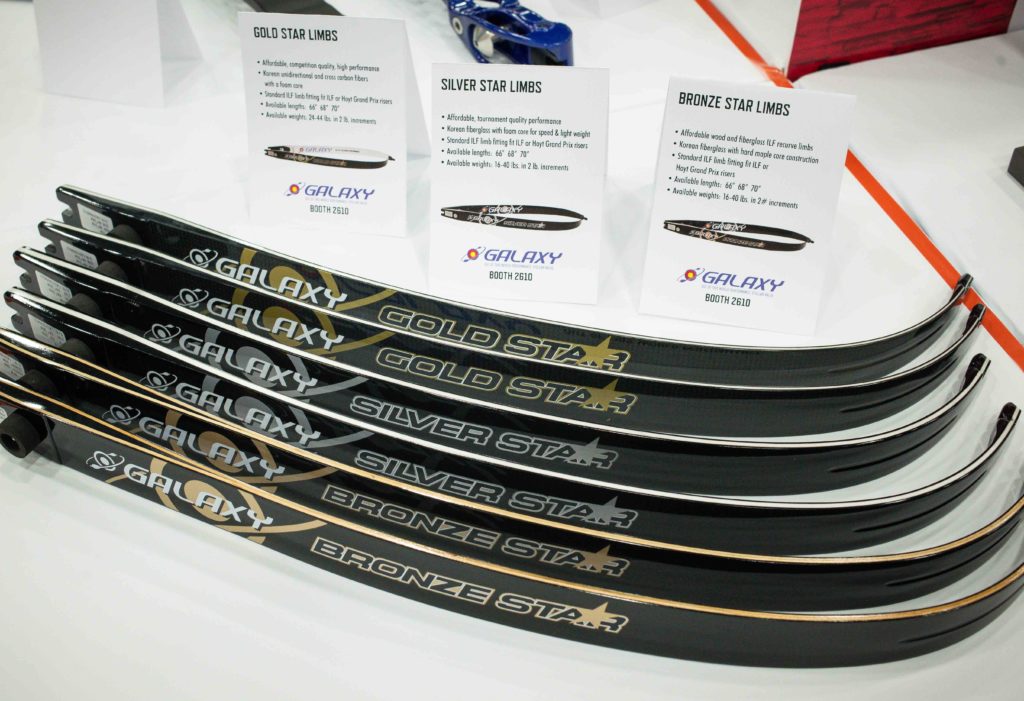 Galaxy is a brand developed by Lancaster Archery, made in China and aimed at the beginner and improver end of the market. They have a full set of ILF limbs, including the Bronze Star (fibreglass / wood), the Silver Star (fibreglass / foam) and the Gold Star (carbon / foam), in the usual lengths and weights. There is a full range of all kinds of other recurve products including risers, traditional, and takedown bows available.
More at: galaxyarchery.com
---
Peli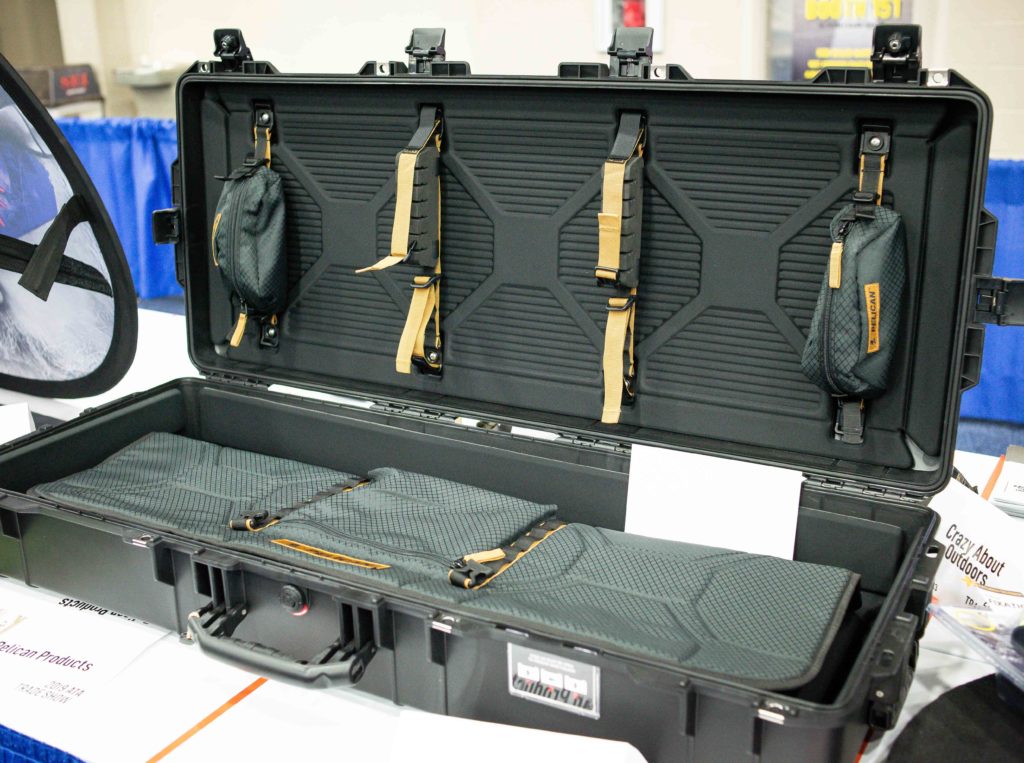 Here, Peli cases (Pelican in the USA), had their archery-specific model on display, the Air 1745, with arrow holders, arrow tube straps, TSA locks, and many other top end goodies.
It measures 46.7" x 19.4" x 8.7" on the outside, with the interior components providing a modular storage system, allowing for a range of configurations for many combinations of bow and accessory kits. If you want the very best, these really are very nice indeed.
More at: pelican.com/us/en/discover/bow-cases
---
Bearpaw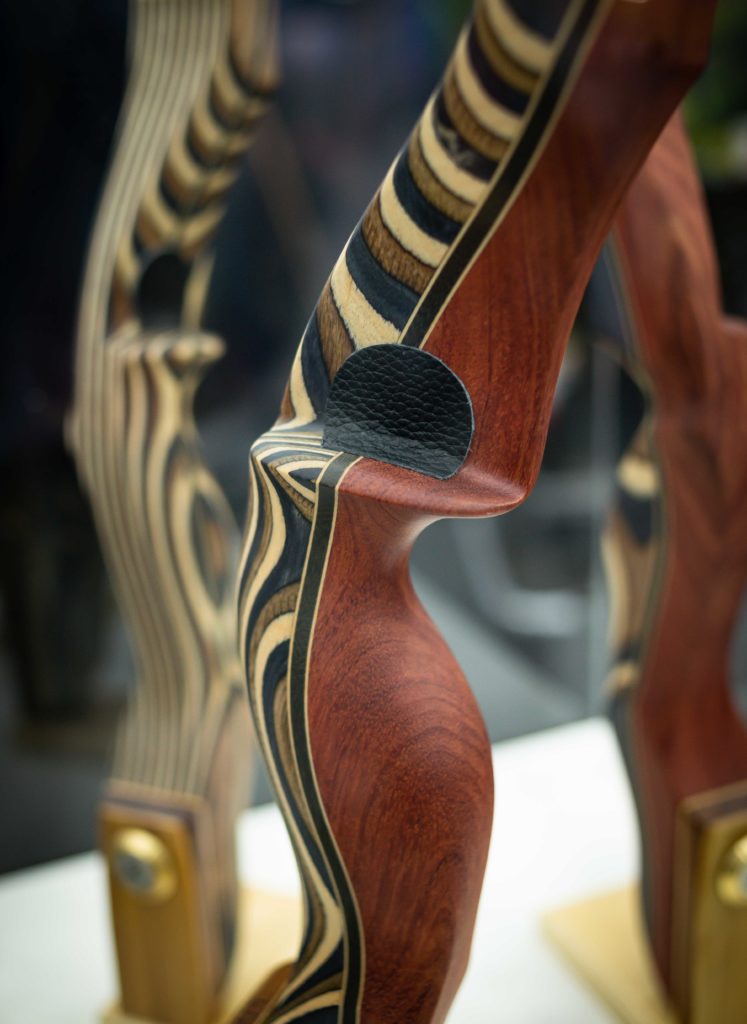 Looking around the halls of the ATA, the market for traditional recurve bows is still strong. Bearpaw are a German company that focus on very high quality, very beautiful trad bows and risers – with a striking stall and striking sales staff. It was good to see someone marketing archery in such a modern and distinctive way, in a sea of remarkably similar products.
More at: bearpaw-products.com
---
Bohning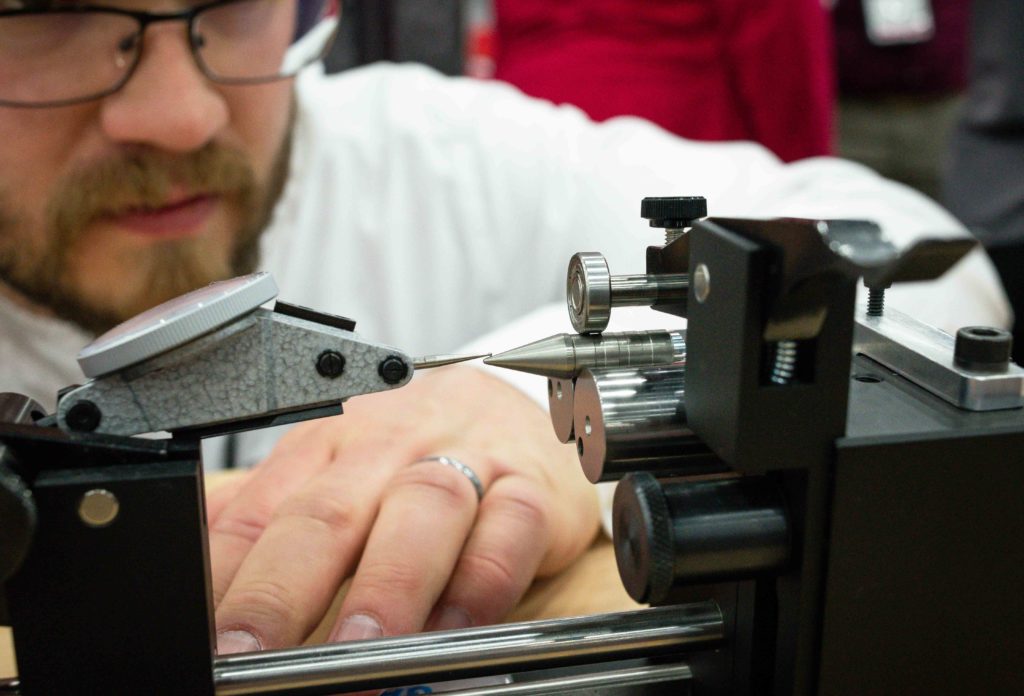 Bohning have been in the archery industry since 1946, and focuses on arrow parts and accessories. They were keen to demonstrate their newest points made on high-precision medical lathes, breaking out the concentricity gauge for a scientific display of the consistency of their large diameter Easton points – more precise, even, than the arrows they'll be going in.
(They also brought out the scales that weighed everything to 1000th of a grain). Bohining also showed us their Zen Vanes; low profile, designed for indoor spots and designed to fix clearance issues when using large diameter shafts.
More information: bohning.com
---
Greatree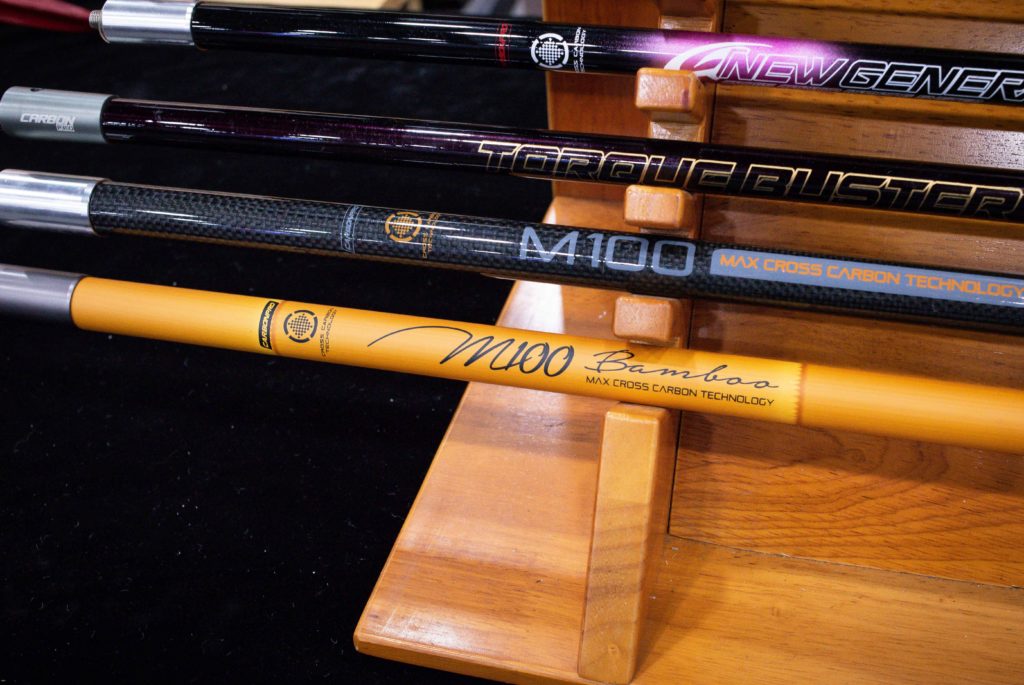 Greatree supply and manufacture a large range of archery products aimed at all kinds of markets. They caught our eye with the M100 'bamboo' longrod stabiliser, which looks like a shoot of bamboo sticking out in front of your bow.
In reality, it's a hand-painted effect, but you'd struggle to spot the difference without touching it. They make side rods too. There must be an archer somewhere who wants one of these. I mean, I'm keen. Just me? OK.
More information: greatreearchery.com