Bow catches up with the Team GB Olympic archery squad as they prepare to compete on the biggest stage of all.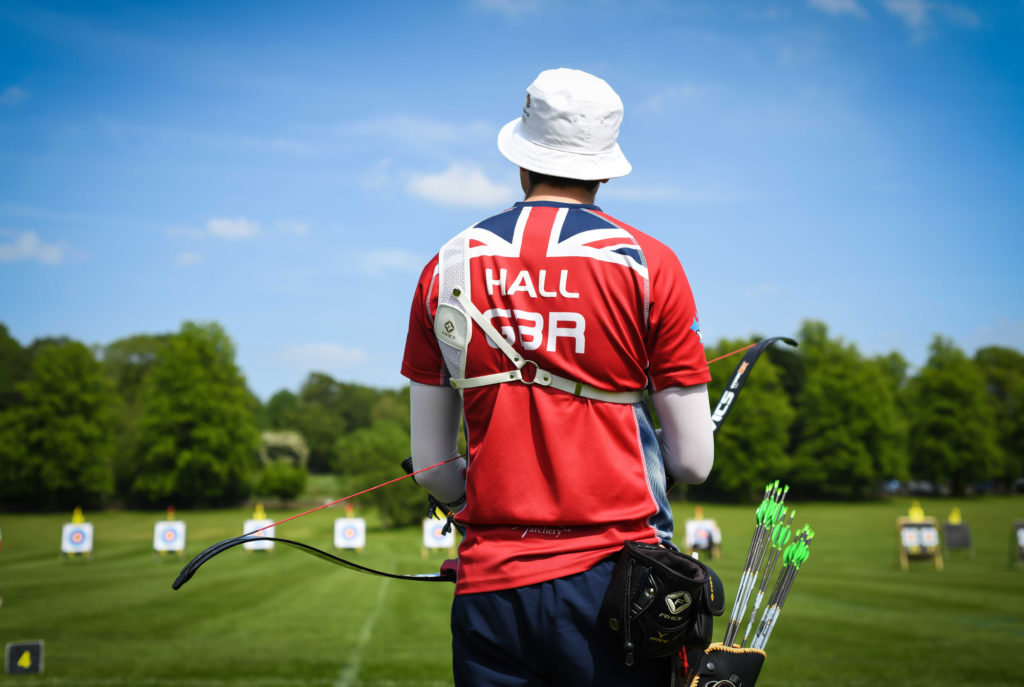 For the first time since London 2012, Great Britain will be sending a full complement of six archers to the Olympic Games. These six spots were won on a noisy field in Den Bosch in the Netherlands in 2019, in the primary qualification match prior to the World Championships – a moment of resolve that may well be the most important match of any recurve archer's career.
In the space of about half an hour, the men (by beating hosts Japan 6-0) and the women (by beating Italy 6-2) changed the course of British archery. Following selection in 2021, the athletes going to Tokyo looked almost identical to those who won in Den Bosch: Naomi Folkard, Sarah Bettles, Bryony Pitman, Patrick Huston, James Woodgate and Tom Hall.
Watching the almost desperate struggle for spots at the last qualification tournaments this year, following two years of stress for many major archery nations, you can see the immense advantages of locking up the Olympic places early.
It has also contributed to a major increase in funding for Archery GB (AGB) over the next Olympic period; critical in a new, less medal-obsessed era. With Olympic cycles – officially or otherwise – stretching over longer timescales, Paris 2024 is already on many minds.
Great Britain has competed in every Olympics in the modern post-1972 era, winning four archery medals. The first was won in 1988 by Steven Hallard, Leroy Watson, and Richard Priestman – the last of whom became the national team coach in 2016 after a round-the-world international career. The last medal was won by Alison Williamson in Athens in 2004. The battle to return to the podium, against the very best in the world, will be tough.
It is also a time of transition at Lilleshall National Sports Centre, home of AGB – partly precipitated by Covid, and partly by other forces. Much of the more familiar infrastructure has gone; the artificial pitch next to Sutherland Hall, formerly owned by the FA and part of the Performance Unit, is no longer used – in the end, too many arrows had gone over the top of the stone wall at the back and onto some of Lilleshall's residential property. The newer AGB offices have closed; everybody is now working from home.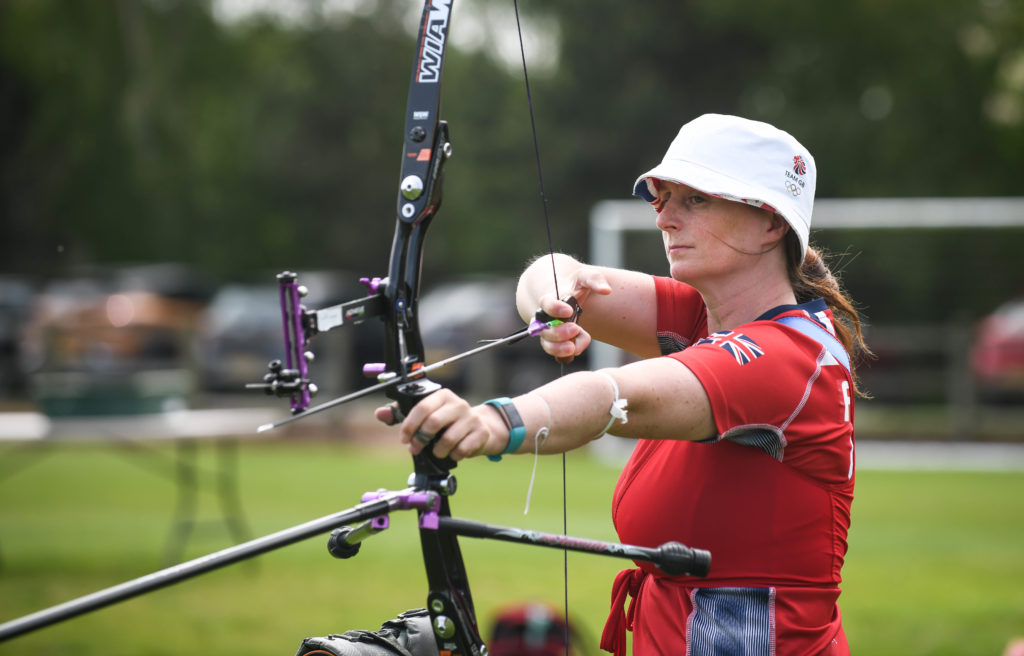 Somewhere temporary to train was needed quickly, and the para team are working today on a new field bulldozed out of an unused piece of land by the tennis courts a quarter of a mile away, with a 'new facility' – a repurposed hospitality tent – serving as slightly draughty protection from the elements. On the day Bow visited, the Olympic teams were training on a familiar space for many GB archers: a windy football pitch next door to a noisy training session from the Manchester United and Chelsea juniors.
The constraints are a problem – for both squads, AGB need about twice the land to be comfortable, and there is currently nowhere for the Pathway (development) archers to shoot. There are many plans in place, including some innovative ideas for surfacing, but at the moment, the facilities are essentially bare bones – a situation especially tough for the para archers in winter.
The challenges do not end at the facilities. International travel, usually only limited by budget, is extremely difficult at present. Richard Priestman was sanguine. "Some countries are able to train as they please in the most ideal facilities."
"A lot of people, including us, love to go and train in Turkey [in Antalya], but we can't go." Turkey is on the 'red list' for the British Government and the GBR team were not able to go to the European Championships because of the impossible – for athletes, anyway – quarantine requirements on return. 
David Tillotson, the performance director, has been busy planning for every eventuality. "Winter training is challenging enough in the UK, and other sports such as athletics regularly train abroad all winter. We're a precision sport, and you have to create the environment for it. We went to Turkey in November, in a window between lockdown, and it worked out really well. It's certainly now a more sedate build-up, if you aren't running around trying to qualify." 
"But what we really need is foreign competition," said Richard. "Certainly, when we went to the Lausanne World Cup, it was our first competition for a year and a half and we were really rusty." Lausanne was tricky for some archers, including Sarah Bettles. "It was my first major international in a long time, and I wasn't really happy with how I shot. My scores were up and down a lot more than I wanted them to be. There's a lot to work on before Paris," she said. 
Long planned pre-Games itineraries have also gone south. "We had planned to go to Korea before Japan, to the National Sport University and the Fivics centre, then on to Seoul, and then to Japan. It was a great system. But we can't do any of that because we'd have to do a 10-day quarantine and be unable to train. We get a week before in Yokohama [at the British Olympic Association holding camp for GB athletes] and then straight to the Olympic Village," said Richard.
On the Olympic training field, in addition to the Tokyo six and both alternates – Alex Wise and Yulia Larkins – several other top UK recurves, such as Ryan Holden and Jaspreet Sagoo, are training (carefully distanced) with the squad to drive some internal competition. Naomi Folkard's four-month-old daughter Emily is being bounced around during breaks. The weather has finally turned into something resembling summer. Nevertheless, there is a slight air of frustration across the field with so much uncertainty ahead.
Folkard, on her fifth and likely final Olympics has a bigger challenge than most. As she pithily told Reuters in a press conference after selection: "Before, my archery was my entire life and I said I was going to go and get a life, so I've had a baby." It begs an obvious question. "I'm going to be out in Japan for two weeks, and away from Emily. It's impossible for her and my partner Jon to come to Tokyo. I was hoping for some kind of dispensation, but that just seems like it's not going to happen."
Naomi has, however, been given permission to skip the holding camp before the Games. "I can go out [to Japan] as late as I want and go straight to the Olympic Village. I think it's really important that I do the two familiarisation days in the days before, and then the official practice days. It's enough to get over jet lag. and be ready to compete."
But the problems, for a new mum, don't stop there. "Emily's only going to be five-and- a-half months and still fully breastfeeding. So I'm trying to freeze as much milk as I can. I'm trying to express two bottles a day at the moment, which is a little bit mental. It's affecting my sleep because it means that I'm going to bed two or three hours later just so I can make some milk when my daughter's asleep. If I was at home with the baby all the time and not trying to train, then making that much milk would be easy. But because I'm training, it's really difficult – even if it's absolutely worth it."
At the time of visiting, the team were not even sure if they were going to be able to attend the Paris World Cup due to complex quarantine and other issues. David was wrestling with the implications. "We were looking around for other teams to train with, to get the competition, but one of the disadvantages of being the only European country to get the full six spots was that all the other nations were still fighting to get teams to Tokyo in Paris. So that was out. It's a nice place to be, but challenging because we need competition."
After Paris, the focus is currently on the facilities at the British Olympic Association training camp in Yokohama, Japan, the port city that borders Tokyo. Several of the team visited Yokohama during the 2019 test event, though the concrete archery range was found wanting, and the archery team will be setting up on an open athletics track.
Patrick Huston, who will be attending his second Olympic Games, was in characteristic gung-ho mode when asked about the currently bumpy road. "The level across the world is always rising higher and higher. I know we have the mental fortitude and physical conditioning to perform. Whatever has happened, the focus is simply on competing when that buzzer goes and making that shot the best it can be. It all comes down to that moment when you need to put it in the middle, and that is the focus. Competitive winning."
"The whole scenario is building a platform for GBR to go out and show that we have prepared for and are ready to deliver a world-beating result. All the extras and specifics around that are just enhancements, to put polish on to the biggest stage that exists for our sport."
---