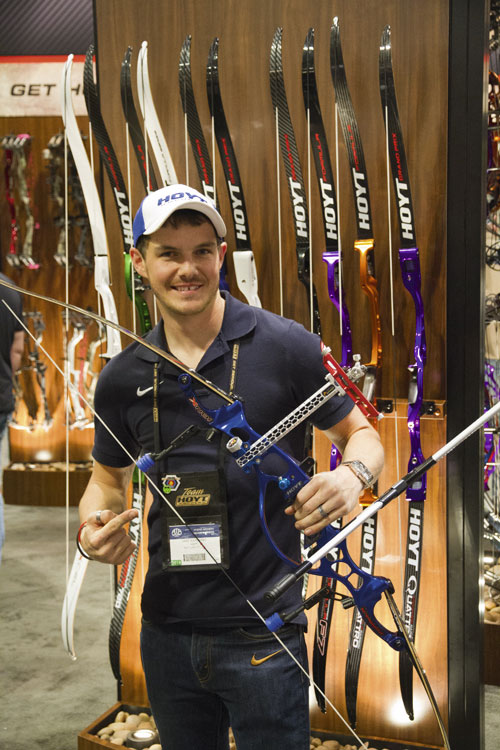 Hoyt has unveiled the first string stops for a recurve bow. Seen for the first time at the ATA show, the unique string stops have been years in the making. Jake Kaminski, Olympic team silver medallist and part of the Team USA that took gold in the 2013 World Championships, says he first thought about the idea five or six years ago, and started developing prototypes with Hoyt engineer Doug Denton. 
A dual set of string dampers, these stops are designed to sit an equal distance from the nocking point so as not to affect nock travel – and they have been designed to reduce noise and vibration, and reduce nock travel beyond the bow's bracing height, thereby increasing arrow speed. 
Jake told Bow International, "The difference in performance … you can't compare it. My bow jumped on the finger sling like nothing I've felt before. I shot my highest ever FITA score in practice with them on." At this stage, the only riser that has the requisite rear bushings for these string stops is the Hoyt Ion-X. However, if these prove to be popular, we expect to see them become more widespread. Fully adjustable for different brace heights and suitable for all sizes of bow, the latest development in recurve technology has been approved by World Archery regulators and is due to be available in spring 2014.