Reo Wilde has medals galore from World Cups and World Championships – as well as world records – to his name. In our quick-fire interview, he explains how he got started and what he still wants to achieve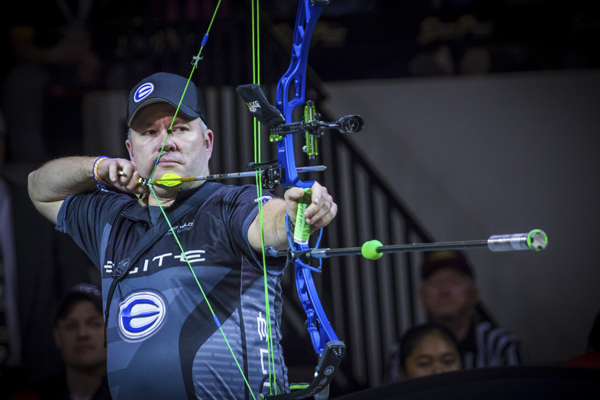 When and how did you get into archery?
RW: My dad got me started and most know he was one the best ever. So that didn't hurt at all.
When did you know you were going to take it seriously and shoot at this kind of high level?
RW: It wasn't 'til I was 19 and someone said I shouldn't have the Wilde name because I didn't shoot. So I borrowed my mom's bow and went to the local league and beat them all. It made me realise I wasn't too bad at this sport!
Give us a quick rundown of your current setup:
RW: Elite Victory 37
Winners' Choice strings
Easton arrows – ProTour 380s
T.R.U. Ball HBC release
Axcel sight
Shrewd 29mm essential scope
Doinker stabilisers – Heros and Mighty mounts
Spot Hogg Rest Edge
Swarovski binoculars and scope
Why have you chosen those particular pieces of equipment?
RW: I have been very lucky and been able to choose whatever equipment I want. With the Elite bows and the others, I just feel they are the best and give me the best chance to win.
What would you say is your greatest achievement?
RW: All of the World Championships and world records I have.
Do you have an ultimate goal?
RW: To win Vegas with my wife there. She does so much for me I would just like for her to have the chance to share in it.
What's the best way to train through the bad days?
RW: Just to find something to work on and not stress too much on what is going badly.
What's the best bit of advice anyone has ever given you?
RW: If you don't miss you can't lose!
Who would you say has been your biggest influence?
RW: My dad by far; he did things in archery that had never been done before or since.
Who is your archery role model?
RW: I would say my dad – he was a big influence all my shooting.
What's your favorite thing to do when you're not shooting?
RW: Hang with my family. I love my girls and as much as I travel I can't get enough time with them.
Think fast:
Indoors or outdoors?
RW: Indoors – it's just the archer vs archer.
Favourite tournament?
RW: Vegas, it's the biggest and most coveted.
Best opponent?
RW: My little brother Logan because if I lose it's still good.
Bit of fun:
Tea or coffee?
RW: None, I don't like the way they taste.
Favourite colour?
RW: Blue.
Ideal holiday destination?
RW: Home – because of all the travel I do I just love being at home.