Grip hand consistency is an essential part of a good shot, and Liam Grimwood has a couple of tricks you can use to spot what you're doing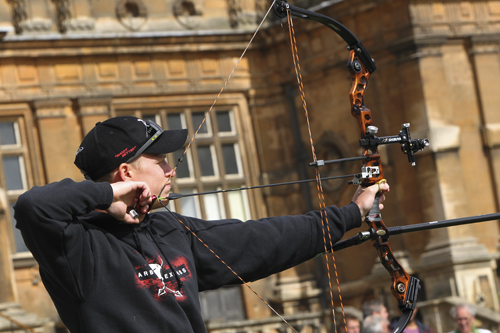 There are a number of articles and instructional DVDs out there now about getting the correct bow grip. However, no matter how many articles, photos, videos and diagrams you look at, sometimes it seems as if there is no clear way to gaining that perfect grip. I notice that lots of shooters look as though their hand is in the correct place, but looking closer, in actual fact I can see them putting torque into the bow.
You should be striving to have your bow hand put a square and even pressure onto the back face of the grip. Any side pressures on the grip, or uneven pressure on the back face, will cause the bow to torque. Likewise, if your pressure is uneven top to bottom, you may find it tougher to get the bow to aim well.
What I have noticed from testing with a hooter shooter, and practical experience with people I coach, is that a small amount of bow hand torque is not too much of a block when it comes to shooting good scores. The most important thing is that this bow hand torque is consistent. If you torque the bow in exactly the same way every time, providing this torque is not too extreme you can still achieve great results. For some shooters you may find that hours of training to create a completely torque-free grip will not achieve you any extra points if your original grip was consistent. So, how do you tell if your bow hand torque is consistent?
When you torque the bow the riser twists very slightly, which is usually always so small as to be almost invisible to the naked eye. However, if you have a stabiliser on the front of your bow this will follow the path of the riser, and because it is 30 inches further away from your hand, the effect of that movement is magnified. So if you were looking from above you would see the stabiliser moving left and right with the torque. Therefore you can monitor this left and right position and check it for consistency. If the torque is consistent, the stabiliser should be in the same left/right position every time.
The best view for this is from directly overhead, which is obviously impossible for the shooter to see unless you have a camera mounted above you, but it can be seen from your shooting position. As you draw back and aim you should be able – at full draw – to look down and see the tip of the arrow. As you look down further again, without moving your head, you should be able to see the tip of the stabiliser. Make a mental note of where the tip of the arrow is in relation to the stabiliser. If your hand torque is consistent, this relationship between arrow tip and stabiliser tip should be identical every time.
It's important to note that if you can't see the stabiliser tip when you are at full draw, you may need to try this with longer stabiliser bar. I know from experience that I can't see anything less than 30 inches.
Furthermore, you can use this technique to check total hand torque. If you look down the back of the bow when it is at brace height, and line the sting down the centre of the arrow, you can see how this arrow tip relates to the position of the stabiliser, and make a mental note of this. Then, when you reach full draw, look down at the arrow point and stabiliser again with your head at the peep. If this relationship between point and stabiliser is the same as at brace height you know you have a torque-free grip. If the relationship has changed, you know you have put some torque in there somewhere.
I started checking my arrow tip and stabiliser tip alignment from a young age, and now it has become part of my shot routine, I glance down and check this on every shot so that I know my hand torque is correct.
You may be lucky and have that consistency already, but if you don't this technique will help to highlight what you are doing with regards to torque in the grip, and the consistency of it. Inconsistent bow hand torque will lead to lots of left and right shots, and poor arrow flight generally, so if you have never paid any attention to it I would recommend checking it out.