Once, a huge swathe of London was an archery range. By Hugh Soar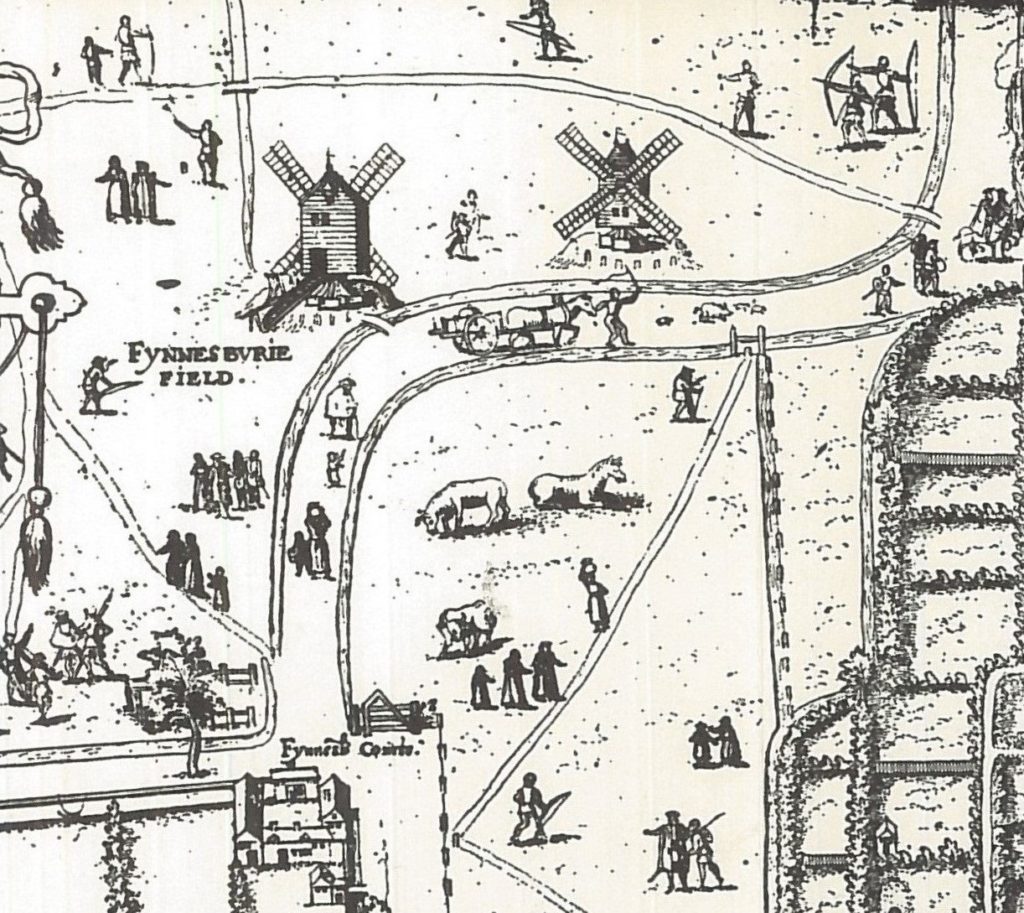 Archery practice in the 1500s was governed by statute and, with certain exceptions, all males were required to take part, with – it has to be said – variable enthusiasm, there were those who actually enjoyed the experience and took great pleasure from the activity.
For these enthusiasts special areas were prepared and set aside: in south London in St Georges Fields, Southwark, and in the north, Finsbury Fields, an large area of green space north of what is now Finsbury Square on the edge of the City Of London.
Although the two were similar in scope, purpose and number of shooting 'Marks' the presence of the Honourable Artillery Company at Finsbury gained it the greater attention.
Originally marshy, uneven and largely wasteground, it was cleared and prepared for archery and general use in the early 1500's, offering open grassland and fields bounded by hedges and accessed by stiles, with paths offering pleasant 'country' walks.
Use was made of these fields for archery related 'spectacle'. On the 27th of August 1559 'there was a tent set up at Fynsbere for my lord Mare (sic) and the embassadurs and the masters the althermen (aldermen) and maney commenars and there was the shutyng of the standard (arrow). After the wyche there was to be wrastelyng.'
With the bow still a primary weapon, archers were tested for performance; and formally arranged distance shooting was held in the presence of the Lord Mayor, city Aldermen and other dignitaries.
Archers used the 'standard arrow' – taken to be a basic sheaf shaft – the 'flight arrow' – perhaps low fletched with a breasted profile – and the 'bearing arrow'. This last described a shaft notable for consistent excellence of performance; suggesting a barrelled, or even a 'saddled' or 'doubly-barrelled' profile.
Beside the kudos of victory, monetary rewards were on offer for distances achieved, each less than 20 shillings – a week's wages to an ordinary 16th century working man.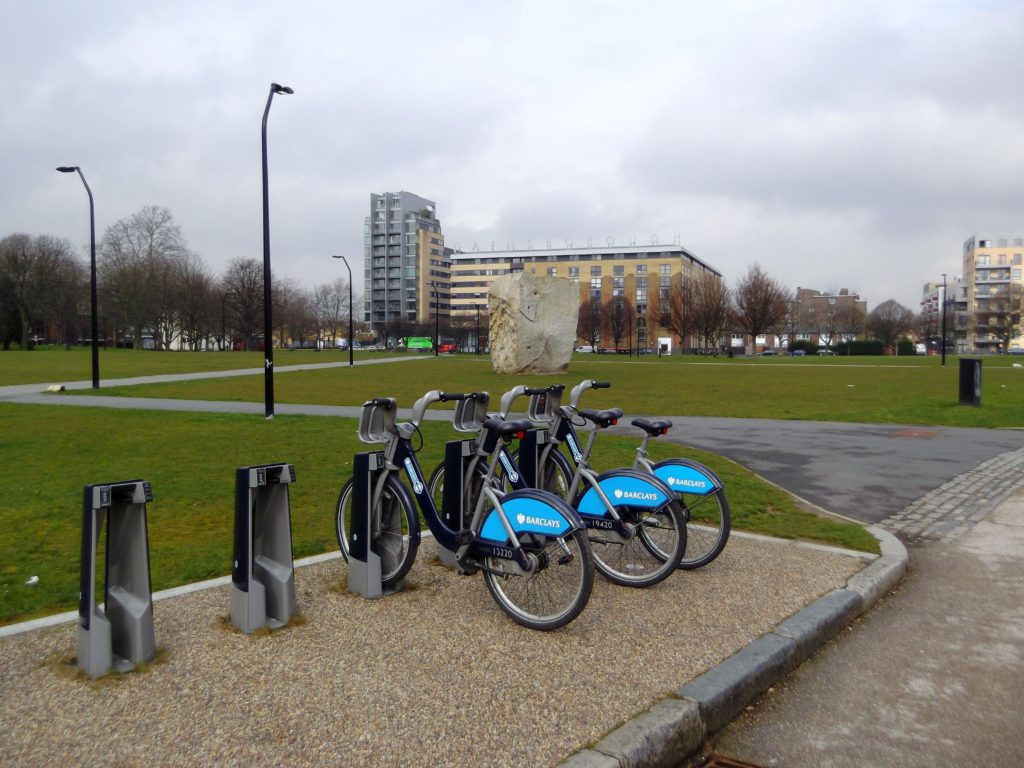 On these formal occasions, the public also arrived in considerable force, giving rise to formal arrangements for their safety:
'My Lord Maier and my Maisters the Aldremen on behalfe of oure Sovereign Lord the Kyng charge and command that everye man repayring to this Gayme of Shutying kepe the Kyngs Peace – upon the paine of imprisonment … and also that noe person approche or cume so nere that he shall stand in daunger for hys owne care or others, and for good and due ordering of the same, no person shall be so foolhardy to stande within twenty yards of any of the Stakes appoynterd for a Marke'…. And there shall be a Trumpet blown at evry shot'.
These fields had a more practical purpose as the ideal ground for 'shooting the Marks'. As the century progressed, marks were set up for formal and informal distance shooting. From small beginnings, by its end over one hundred had appeared and shooting the marks had become established as a regular and disciplined activity.
With their continued use for leisurely recreational strolling, as shooting activity increased so did danger for the casual stroller who deviated from the path, and it quickly became evident that disciplined shooting was both necessary and desirable.
Accordingly, booklets were prepared listing the Marks, their positions, and their distances apart, – originally rudimentary and lacking accuracy, these slowly improved, until in 1601 the first to provide measured distances between each Mark 'by line' was printed together with a list of Rules.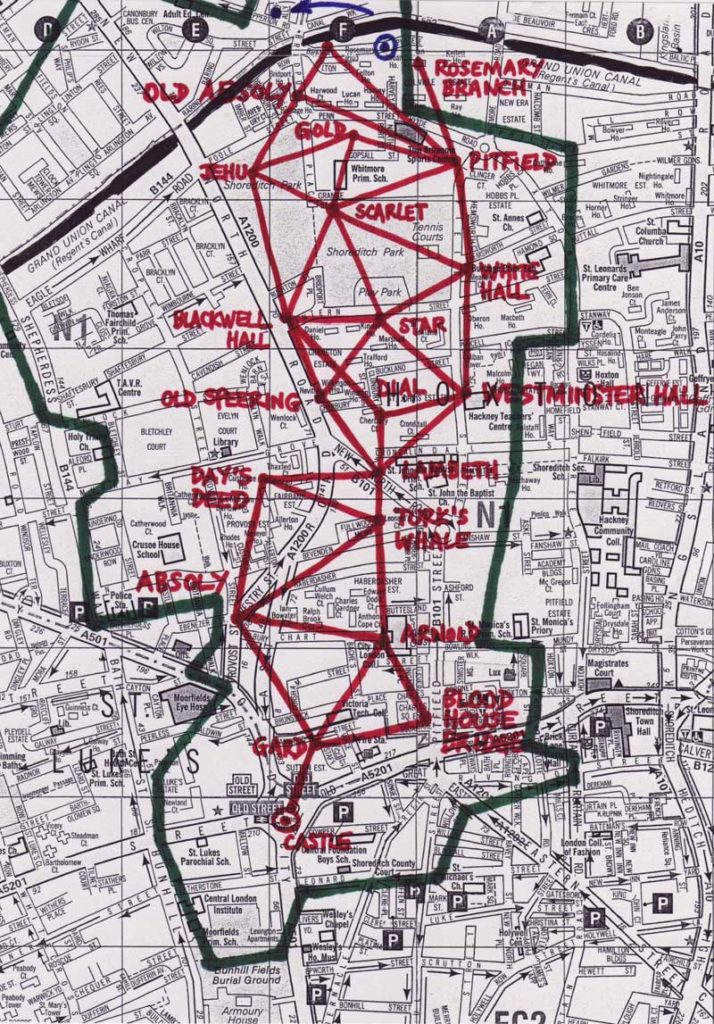 It was titled 'AYME for FINSBURY ARCHERS' – Or an Alphabetical Table of the names of everie Mark within the Same fields with their true distances both by the Map (qv) and dimensuration by the line. Corrected and amended of diverse errours with addition of those Markes which wanted (had been omitted) in the former printed Bookes.'
These books continued to be updated and produced during the century. Although there seems not to have been a formally created Society of Finsbury Mark Shooters, similar to the Butt and Target shooting Society of Finsbury Archers, there is little doubt that those using the Fields conformed to the standard rules of shooting.
Inevitably however, despite the cries of 'stand fast!' (still in use as 'fast!' today on many ranges) there were unintentional casualties, and the occasional wanderer met his or her maker bearing an arrow wound. Some gravestones in the area carried the notation "killed by an arrow".
The rules governing shooting covered both procedure and process:
First, you must note, that sundrie Markes have two or three wordes for their names, looke for the Marke alwaies in the first worde.
And it is further to be noted, that the first number showeth the scores (multiples of twenty yards), the second the yards; you must shoote long ayme because this is set downe by measure of the line.
Againe you must note, that wee have set downe the markes to be taken all going into the fields, and if you be coming homeward, looke for the marke you shoote at, and not for the marke you stande at. And we have placed from every marke all the marks from the left hand to the right; leaving out none from 9 score to 18. or 19 score. And when a marke is found along a banke, you must alwayes looke for the marke from the West to the East.
Also for the aide of yong shooters wee have set downe in the ende of the booke a Table of the names of all the Marks, for the ease of those that are unacquainhted with the names of the markes.
Further rules followed for 'those not acquainted with the game and custome of the field, whereof often arise controversie, and diverse times grow rash and unadvised othes (oaths) to the derogation of Gods glory we have thought it good to set downe such orders as are fittest to be observed in this exercise. '
A total of 196 Marks were listed, with each entry indicating distances between a number of suitable targets. These distances varied, from a readily achievable nine score yards (164.6m, the present traditional longbow Clout Round) to the barely attainable nineteen score. Each entry included one 'preferred' Mark.
With the profusion of targets, inevitably there was occasional confusion and argument. The rules were explicit here. Of importance was ability. 'First, for finding of your Marke it must be within every man's reach. Although the precise naming (choosing) of your marke presenteth much cavill'. (literally scoffing and/or mockery)
This suggests gatherings of parties of individuals with known ability. The nineteen-score tyro would be unwelcome within a group bent on shooting at the less formidable distances. Technical improvements would have been bows with improved cast, created especially for enhanced performance, and carefully selected 'bearing' shafts.
'If you name one Marke and shoote at another you are to lose your shoote, and they (your fellows) are to follow at the mark named.'
The Marks are quite close together in places and mistakes could easily be made. The message is clear: take care when aiming. A misplaced shot could confuse the rightful shooters.
Each Mark was sponsored, some by the City, but most by individuals, and/or corporate bodies. The London livery Companies were responsible for a number, thus the 'Bricklayers Finiall', 'Clothmakers Handle', 'Coopers Slide', 'Goldsmiths Stake', 'Tinkers Budget' 'Plasterers Stake', 'Mercers Maid', 'Brewers Apron', and so on. Inns and other hospitality venues were represented, as were London churches – thus 'All Hallows', 'St. Botolphs', St Giles' and 'St Martins'.
Some attracted interest by their curious or evocative names, which included Sea Griphon, Egpie, Black Nan, Cat and Fiddle, Robin Hood, Frier Tucke, Sheaffe of Arrowes (perhaps the Fletchers Company contribution),Thiefe in the Hedge and more.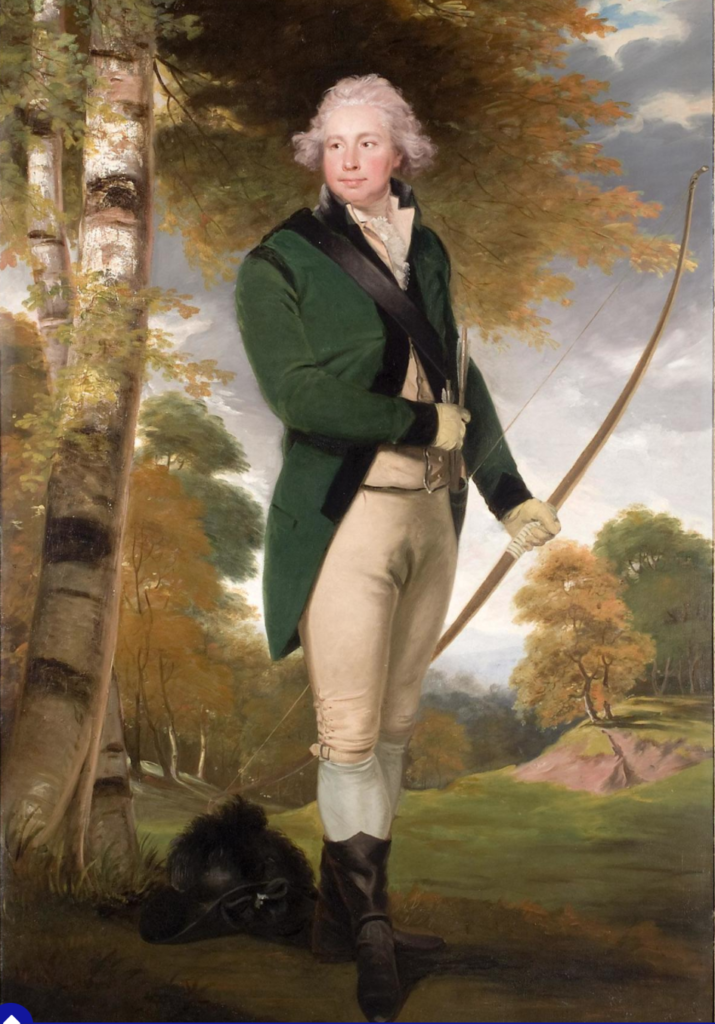 The 'Rosemary Branch' mark, named after a stretch of river later turned into a canal in the 19th century, was an inn at the time and refreshment point, and a contemporary pub nearby continues under the same name.
Many marks were simple posts surmounted perhaps by a carving, others were more elaborate, and some were landscape features, bushes and trees. Names were perpetuated, some for many years, with two: 'Diall', and 'Dayes Deede', surviving into the early eighteenth century. Latterly, with the dual use of Marks for musket practice, stone replaced wood, offering an unwelcome hazard for the unlucky shot.
From beginnings in the sixteenth century through its seventeenth century heyday into the eighteenth, when the City authorities handed over responsibility for shooting the marks on Finsbury Fields to the Honourable Artillery Company, distance shooting continued, until development and commercial activity reduced available space and inevitably the number of marks available. These were shared by arrangement with the Company who used them for practice.
Shooting lingered on sporadically toward the middle of the eighteenth century when, in 1745 just thirteen marks remained, it then gradually petered out entirely.
In theory it might have been possible for some continuation, but this would have been dangerous and fraught with obstacles. The old marks of stone lingered on in position however, one or two remaining into the early 19th century, while some ended their days employed for other purposes such as contributing to a bridge parapet.
The author recollects being told by a groundsman at the HAC that many of the old Marks had been broken up and buried within a ditch at one end of the Company's Ground, – perhaps a subject for archaeological research one day.
The last remaining mark, 'Scarlet' now resides within the HAC premises as a reminder of the ancient practice. The area is now obscured by generations of later development; WW2 bombing and slum clearances have changed the landscape north of Finsbury Square even further in the last century.
Finally, a few words concerning distance shooting of the Marks elsewhere, on Southwark's St. Georges Fields. These became associated with the Guild, or Fraternity of Saint George, an Archery Society for Gentlemen sponsored by Henry VIII in 1537 who designated them 'overseers of the science of artillery, that is to wit longe bowes, crosse bowes, and handgonnes'. From this Guild developed the Honourable Artillery Company, with its subsequent removal to Finsbury Fields.
Prior to 1664, when St. Georges Fields became unusable, examination of mark stakes there has shown a substantial interest by members of the embryonic Honorable Artillery Company. Of the 120 stakes, 50 bore personal names, and of these 33 are of those borne by HAC members. Comparison of personal names of the Finsbury Stakes from the 1628 muster show just three to be present.
In its heyday, shooting the Finsbury Marks was an activity enjoyed by gentlemen archers with leisure. Today, clout at ancient Forest Hall, Meriden and occasionally 'roving the Marks' where an area permits, are similarly enjoyed in traditional fashion by longbow enthusiasts.
Scoring rules set down, in many cases, over three centuries ago settle prospective disputes, whilst the occasional 'rash and unadvised othe' may still be heard. And so are the ancient archery traditions enjoyed and maintained.
---