An all-British final in the Ladies Compound class was the ultimate in sporting tension for the home crowd at the Royal Artillery Barracks in London, especially when it all came down to the last arrow. After getting the bronze in Beijing four years ago, Mel Clarke went one better to get the silver, after losing out on the gold by the smallest of margins to Danielle Brown.
SG: Congratulations on your silver medal. Are you pleased with what you have achieved this summer?
MC: Very much so; to get a second medal at a second Paralympics was awesome. The finals match was incredible – I'm still really excited now.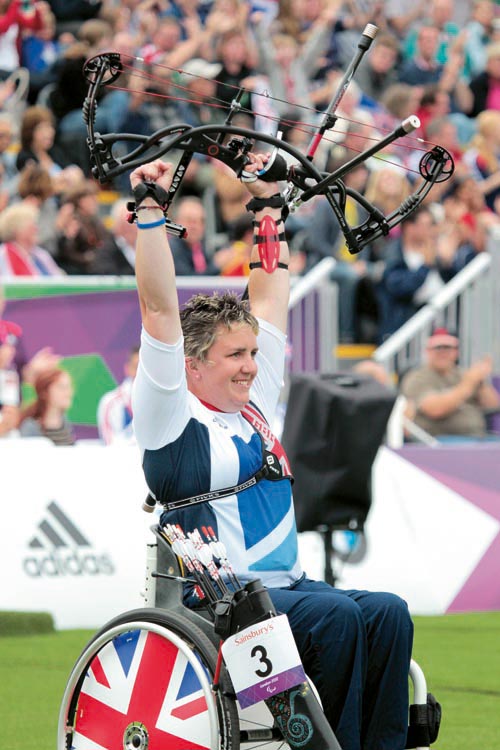 SG: Did it genuinely feel like you'd won silver, rather than lost gold?
MC: To me, any one of the finals matches was going to be hard – it was always going to be a battle between the four of us left in – myself, Dani and the two Russian girls – to see who was going to claim a medal. To shoot against Dani in the final, with all of the achievements she's had in the last few years, and to take her to the last arrow, was brilliant.
SG: Was it harder facing Danielle in the final than it would have been to face Lyzhnikova?
MC: It's not something we haven't come across before. I shot against Dani at Stoke Mandeville earlier in the year and won, so it wasn't a new experience. But having the two Brits in the final guaranteed us both gold and silver, so it was the best possible outcome that we could have had.
SG: Did the event live up to expectations?
MC: Yes, and more. There was so much talk beforehand about 'was it going to be ready?' but watching the Olympics on TV, and then to be a part of it, was incredible. The gamesmakers and people running the facilities were outstanding, you couldn't fault them, and the way the archery was run at the Barracks was incredible.
It was a very different experience to Beijing, but for me being able to shoot and compete in front of the home crowd was very special. When any GB archer went out onto the field, the crowd roared. You could feel the support there, which was great. It was the same in the opening ceremony; when the GB team appeared it was deafening, it really was. We had so much positive publicity and the country really got behind the games and the victory parade, and really made the most of it.
SG: You also appeared in the Sainsbury's ad, as part of their sponsorship of Channel 4's coverage – did that get a good response?
MC: It was all good to be a part of, and anything that raises the profile of ParalympicsGB and Paralympic archery has got to be a good thing. The amount of people who came up to me and said, 'oh, we saw you doing this,' was great.
SG: Have you been happy with your 2012 form? How was taking two gold medals at Stoke Mandeville ahead of the Paralympics?
MC: To have that boost just before an event definitely helped my confidence. I've put in a lot of work to get where I am. I hit all of the goals that I was expecting to hit. To have a year of coasting at a consistently high level was fantastic. It set me up to go to the Games in a good place, knowing that I'd ticked all the boxes and done everything that I could. From there on, it was just what happened on the day. It was never going to be an easy run, but it was good to go into it with a bit more fight.
SG: Did you feel part of something much bigger than 'just' the Paralympics GB archery squad?
MC: Very much so, we were competing early on, but we got to see the other athletes, and we had meetings in the Village. Of those you speak to, some you know and some you don't, but instead of there being 13 people wearing the same kit there's 300 of you. As I said, at the opening ceremony we were a big force and that is quite a powerful thing to see.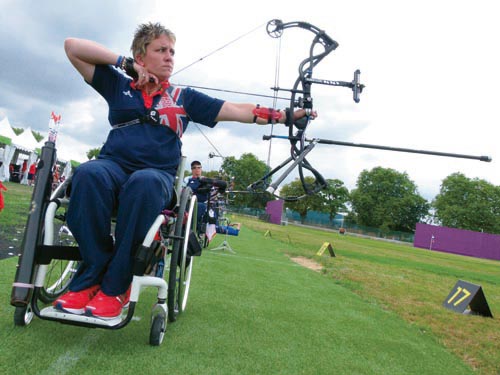 SG: Did the bad weather during the ranking round affect you? Can you train for such adverse conditions?
MC: It was the same for everybody, and everyone in Ladies Compound was disappointed with their scores. In practice, everyone's scores had been so much higher. You can train for it, and we did work before the competition. I shot in all the conditions I possibly could, and made sure I had the right kit with me, but ultimately you can't control where the arrow flies when it gets caught in the wind. I just shot the best I could, and in the ranking round I shot some really nice arrows but they just didn't hit where I was hoping for. I think that was the same for a lot of people.
SG: Did you ever think that you may have lost the quarter-final against Nagano, when you had to shoot five consecutive 10s with your final five arrows to win the match 6-4?
MC: I did, yes. I did all my preparation, and thought 'Okay, this is how I'm going to feel and this is how I'm going to react.' I did all my practice knowing that the first arrow would be hard, and I thought I'd pick up from there, but I went to watch the match before my quarter-final and sat in the stand and thought, 'ooh, this is actually quite scary.' I needed all that preparation, and I think it was the first time I'd shot in front of that big a crowd.
There were times when I thought I was going to lose, but I scraped through. Some of the arrows weren't ideal but I finished with those five consecutive 10s, which was a good way to finish, and a good way to go through to the semi-finals. It was a hard match and, to be honest, I didn't enjoy it.
SG: Did the nerves you felt during the quarter-final subside in the semi-final?
MC: I loved the semi-final against Stepanida; I giggled my way through the whole match. In the two days between quarter-final and semi- final, I worked with our squad psychologist and with my coach Greig, and said, 'I didn't enjoy it.'
The main thing I wanted to take away from the Paralympics was to think, 'that was great, I loved it.' Instead of thinking 'there's a big crowd, I've got to perform well', I worked on thinking 'I can do this, there's a big crowd so why shouldn't I perform well?' I changed my thinking and it worked.
SG: Did competing on your birthday feel extra special?
MC: It's certainly going to be a memorable one. It was a bit of a different one, but to compete on my 30th was brilliant. As I left the arena, a couple of people started singing 'Happy Birthday' and suddenly the crowd was singing to me as well. That was an unbelievable moment in my career: very memorable and very cool.
SG: Both yourself and Dani recorded the same combined score over 15 arrows, which shows the tight margins by which medals are decided.
MC: That was a good thing. In previous years you've had clear-cut winners and matches where you think, 'this is going to be easy', but if you look at the ranking scores there was such a close group of five or six people. That shows the level of competition, to be that close throughout, and in an even field everybody is working hard to achieve the same thing.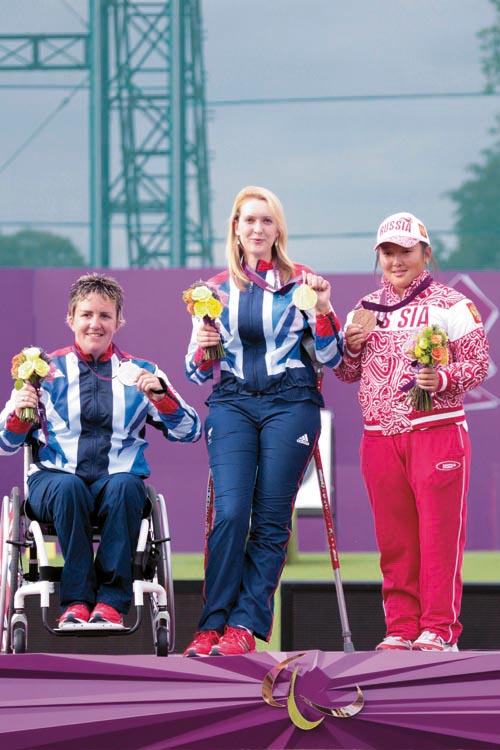 SG: How frustrating was it to lose on the final arrow of the final?
MC: The shot I made was okay, I just made a bit of a ropey judgment on where I pointed it, and even if I'd known I needed a 10 I don't think it would have changed the outcome. Every arrow is trying to be a 10 – I didn't deliberately not shoot a 10 on that last arrow. I didn't know what I needed, because I was focused on what I was doing and hadn't worked it out.
SG: Was there a little tinge of regret, after you said that you only produced your best form in patches in the final?
MC: A little bit. Initially I was gutted, because everybody goes out to win a gold medal. A silver is a fantastic thing but when you go out for one thing and get another it's a bit different. I was really happy with it, but I found it difficult a couple of days later.
I'd had so many interviews and the first thing that everybody said was, 'are you disappointed to come second?' I wasn't, but after 30 people had asked me I was starting to wonder if I should be. I'm really proud that I won the silver medal and Dani earned the gold. We've got Rio in four years' time and I've got the silver and bronze, so the only way to go now is the gold. Now that's the next progression and it's a cool thing to aim for.
SG: Was the Paralympics a good showcase for promoting the sport and inspiring people to have a go?
MC: It's got to be good for promoting sport. We've had so much positive publicity. In our village newsagents, literally every paper we picked up had photographs and articles about us and about archery. When I've gone into schools recently a lot of people have said that they saw me on TV.
There's more of an awareness now, with things like the different disabilities in sport. Some of my friends who were new to archery came down to watch, and they'd never seen a guy with one arm shoot, let alone a man with no arms shoot a bow. It's brought the awareness of para-archery up hugely. I think there's definitely an opportunity to really promote the sport and have an incredible team for the Games in 2016 and 2020.
SG: Is the sport in good health in this country? Having a Paralympic squad of 13 suggests that a lot of archers are competing at a high level.
MC: It's the biggest Paralympic team that we've ever had, I believe, and we've got a huge development team waiting in the wings. I think it's going to be a challenge, and it's great that everybody is pushing each other to keep performing better.
SG: Your ambassadorial and advocacy work in schools is a vital part of that process – is it something you enjoy?
MC: I really love it. The opportunity arose through Sky Sports' Living For Sport programme and the Youth Sport Trust, and it allowed us to go into schools and speak to different kids and get them interested in any sport, not necessarily even archery. Some kids don't get a chance to compete, or aren't interested in running round and playing football, and if we can say, 'what about having a go at archery, or trying this sport?' It's simply got to be good for general health and for getting the next generation of young people into sport or volunteering.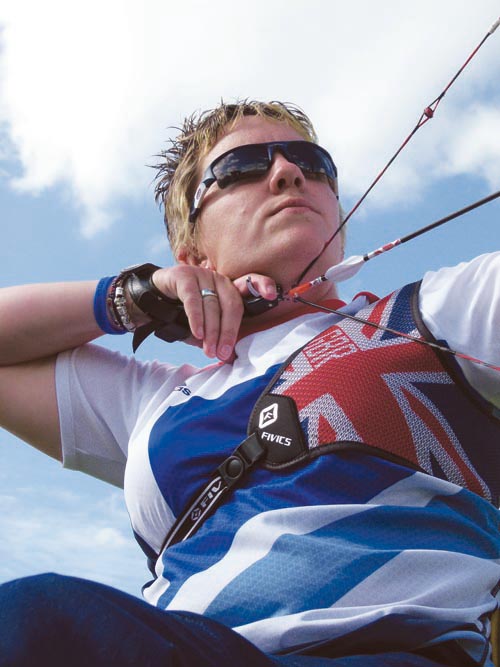 SG: Both your work in schools, and watching the Paralympics on television, can help to break down the barriers disabled people feel, and change the misconceptions of others.
MC: That's powerful for parents as well. Parents or carers can see this and it can help push them forward, particularly if they've got a young kid who is recently disabled. They can say, 'this isn't it, you can do more.'
We're now being represented as athletes. It's not 'look at that person with no legs'. It's now, 'look at that athlete and look at what they can do.' The perceptions are changing and that's got to be a good thing.
SG: With the mental side of the sport so vital, how has sports psychologist Katherine Bond helped you?
MC: We did a lot of work before the Games to help me prepare going into it, with having all my key phrases and points of affirmation, and really specific goals of what I wanted to get out of each day and the event.
We also did a lot of work on planning my 'after-Games' experience, because very often after a big trip I've found that when you come home you hit a real low. So I've done a lot of work on what I can do after, to keep me coasting through, and it's been really effective. I've got great friends who have kept me busy. I knew in those first few evenings that it would be tough suddenly being in a house on your own, when you're used to living with nine people. We'd planned for it, and it's been really good.
I've had a couple of moments where I've thought, 'oh, the Paralympics are over now,' doing silly things like putting the kit away. It kind of hits you, but I've got so many incredible memories and photos to look back on that I can 'think that was a great year.'
SG: I think a lot of people, not just the athletes, felt those withdrawal symptoms Having had to re-model your game when you contracted Lyme disease, are you still improving as an archer?
MC: There are always things to work on, whether it be technique, physical fitness or psychology. My coach and I have already talked about things that I want to look at, in changes to my equipment and wheelchair, and there's always things to do. I know I haven't hit the pinnacle of my game in any of it yet. I'm looking forward to the next four years and what I can achieve. There are big tournaments and someone needs to win those as well.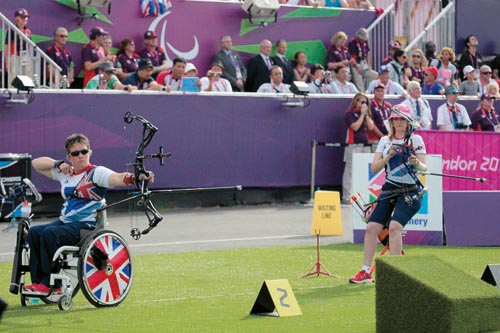 SG: Do you feel that you always need to keep improving to keep pace with your main rivals?
MC: There's so much progress being made, and people have moved on so much since Beijing, that the day that I go 'oh, I've trained enough, I can't get any better' is the day I'm going to get beaten a lot quicker than I'd like to.
It is a four-year cycle and there are lots of things that can happen in that time, but at the moment Rio is definitely on the cards. I'm not saying yes or no at the moment, but the whole experience of the Paralympics is incredible. There are ups and downs in it, but the actual event is awesome, and I won't miss it if I can help it.
SG: Are you taking more time off after the Paralympics, or going straight back into full- time training?
MC: I'm taking some time off to see my family, because I haven't seen them since I won my silver medal. Then it's a bit of downtime to catch up on things and reflect. November is the time to get the new kit out, do the evaluations and get back into full-time training before Christmas.
It's a time to test the equipment, evaluate everything that I've learned over the summer, and say, 'right, this is what I want to change' or 'I don't like this piece of equipment'. It's the perfect opportunity to do these things before the World Championships next year, so I've got four months of the winter season to get everything perfected, and I can hopefully go into the outdoor season and rediscover the consistency that I had this year, because it was a great place to be.