With a combined prize fund of over $60,000 it's easy to see why The Vegas Shoot attracted 1,800 archers to Sin City. After playing host to the finale of the Indoor World Cup, Vegas was again lit up as Brady Ellison completed a memorable weekend with victory in the men's recurve. Another double occurred in the women's recurve as Jeon Sung Eun added the Vegas Shoot title to her World Cup gold medal.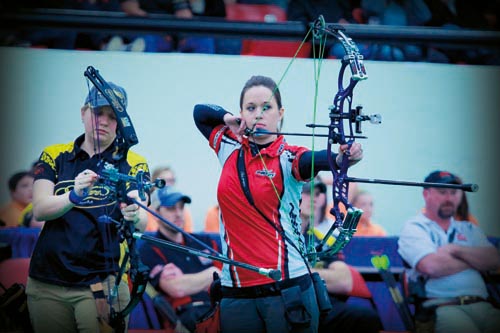 Reo Wilde turned in a flawless display in the men's freestyle unlimited championship category. He fought off competition from compatriot Jesse Broadwater to walk away with a cool $25,000. The Americans again dominated the women's compound with Erika Jones overcoming Holly Larson in a nerve-shredding shoot- out. It completed a hat-trick of Vegas Shoot victories for Jones, who must be looking forward to next year's event already.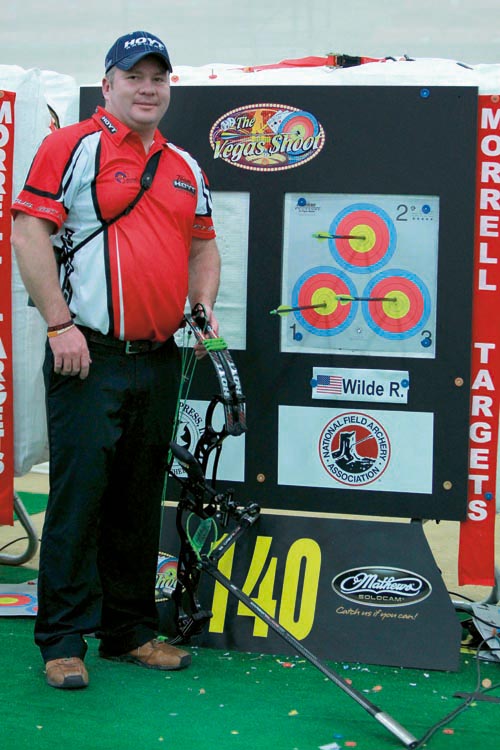 Reo Wilde eventually overcame fierce competition in the men's compound, which saw eleven archers come through clean with scores of 900. Chance Beauboeuf led the x count with 86, closely followed by Jesse Broadwater with 84 and Levi Morgan's 83. Norway's Njaal Aamaas secured his spot in the final as 'lucky dog' after shooting 899, which pitted him against 24 other archers who had shot the same score. However, Aamaas was the last man standing, scoring 59 after six arrows, despite facing tough competition all the way from Shane Wills.
After two rounds of traditional scoring the contest progressed to x-only elimination rounds; the first of which accounted for all but three archers. Among those eliminated was the USA's Kevin Wilkey, competing on crutches after suffering a broken femur. The Netherlands' Peter Elzinga joined Wilde and Broadwater in the final three but his hopes were dashed after shooting a 29 in the final end. The American pair, both seeking a third Vegas Shoot title, embraced before the final end but it was Reo who held his nerve. Broadwater, also suffering through injury courtesy of a bad back, missed the x with his last two arrows. This left Wilde with the chance to secure the title and he did just that with an imperious 10-10-10.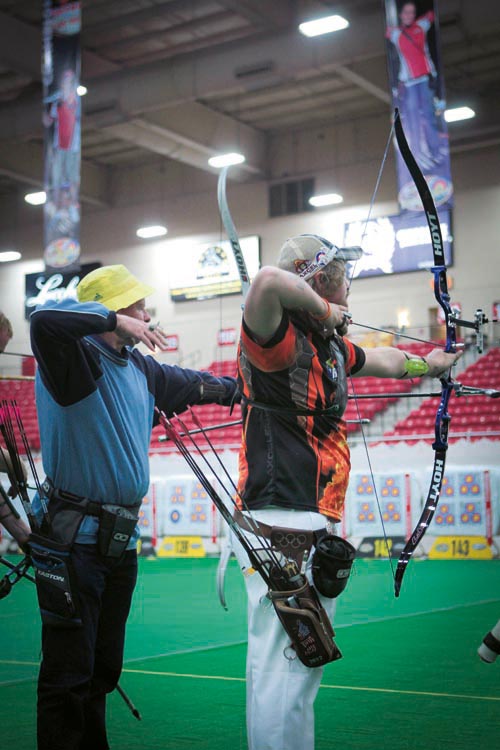 Brady Ellison got better and better as the weekend progressed, winning the recurve title with a total score of 885. It was fellow countryman Jake Kaminski who led the way on day one, shooting 296, closely followed by Italy's Frangilli Michele (295) while Ellison shot 293. Canada's Crispin Duenas was the stand-out archer on Saturday with a 297 while Rene Serrano of Mexico (295) and Japan's Hideki Kikuchi (294) also impressed.
The final day saw Ellison complete his victory by eight points, matching the 296 he shot on the second day, adding to $7,000 prize to his World Cup gold medal. The battle for second place went to a shoot-out between Duenas and France's Jean-Charles Valladont. After both competitors scored 30 in the first end, Valladont managed to repeat the feat in what proved to be the decisive end, meaning Duenas had to settle for third place after shooting 26.
In the women's recurve Jeon Sung Eun shot a brilliant 298 on the final day to take the Vegas title back to South Korea. The Mexican pair of Mariana Avitia and Alejandra Valencia proved tough competition for Jeon and it was Valencia who led after day two following an impressive 296 to back up her 291 from Friday. An equally impressive 294 on Saturday from home favourite Miranda Leek saw her tied with Jeon going into the last day, with Great Britain's Naomi Folkard also in the running. However, it was the South Korean who held her nerve with a winning total of 879, which included 32x. Leek finished second after a final day 292 left her six points behind the winner, while Avitia was rewarded for her consistency throughout the weekend, sealing third place after scoring 290-290- 289. Overnight leader Valencia will have been disappointed she couldn't continue her momentum as a final day 281 saw her drop down to fourth overall.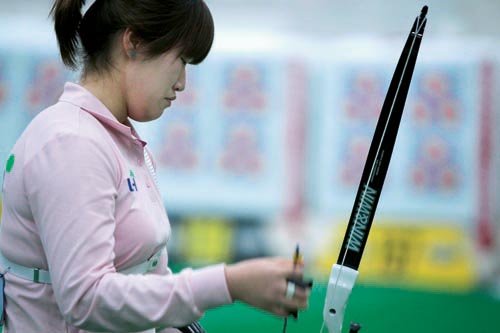 In the women's compound, Erika Jones showed admirable nerve to hold off the challenge of fellow American Holly Larson. Over three days of intense competition, dominated by archers from the United States, Russia's Albina Loginova came closest to matching the top two with an overall score of 897. Jones clawed back Larson's two-point lead from day one with perfect shoots on Saturday and Sunday to force a shoot-out, tying it up on 898 overall. They still couldn't be separated after the first end of the shoot-out, both scoring perfect 30s. They looked relaxed as they chatted between ends but it was Larson who blinked first, with her first arrow of the second shoot-out end slipping into the nine. Jones had no hesitation in taking advantage and shot yet another perfect end to seal victory and a third successive Vegas Shoot title. With an x count of 72, she was fully deserving of the $6,000 prize money she will take home to Nebraska.