How does the new intermediate riser measure up? Amy Skogen finds out.
At this year's Archery Trade Association show, Win & Win unveiled yet another new carbon option in their recurve riser line, the WIAWIS CX7, billed as a high-end intermediate range riser.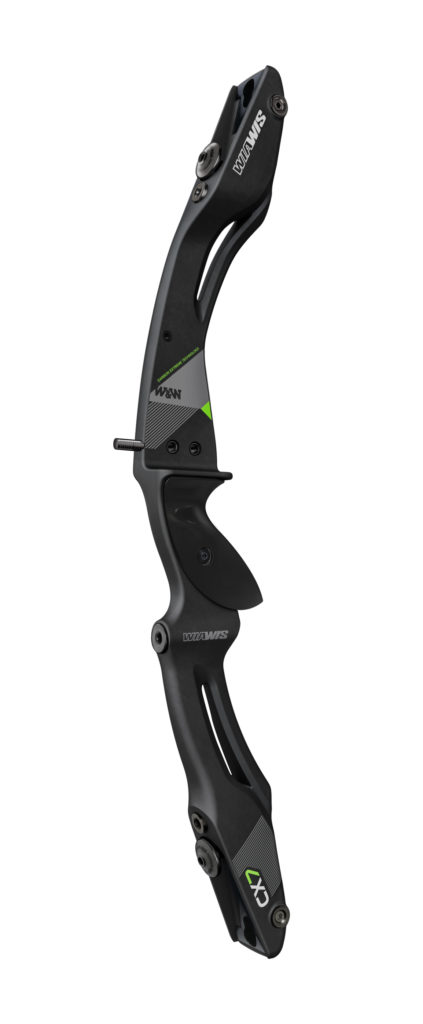 Science
One of the things I really appreciate about Win & Win is their commitment to push new scientific advances into their designs. The CX7 boasts a high strength prepreg carbon: crafted with carbon fibre reinforced in a random direction, then moulded at an extremely high temperature and pressure.
While I can't confirm how Win & Win actually manufactures these, prepreg typically refers to a process where a bonding material, such as epoxy or resin, is pre-impregnated into the carbon fibres, then allowed to partially cure in a cooler environment.
This gives the fabric some flexibility for shaping into a mould and being fully cured later, in much higher temperatures. It's a very smart and efficient way to produce carbon fibre products, and it makes materials that are lightweight, high-strength, durable, and yet somehow also flexible.
I will always have a soft spot in my heart for my old Hoyt GMX, but having shot a carbon bow for a while I don't think I'd switch back to aluminium.
Structure
I tested this riser against a Win & Win Nano-TFT and a Hoyt GMX, shooting with the same WIAWIS limbs.
Right away I noticed the CX7 is a nicely balanced riser; it's also a bit lighter than both my TFT and GMX. As someone who struggles with a weak front shoulder, I'm very conscious of overall mass weight. If my bow is going to be heavy, I'd prefer that the bulk of the weight is out at the end of my stabiliser and not sitting in my hand.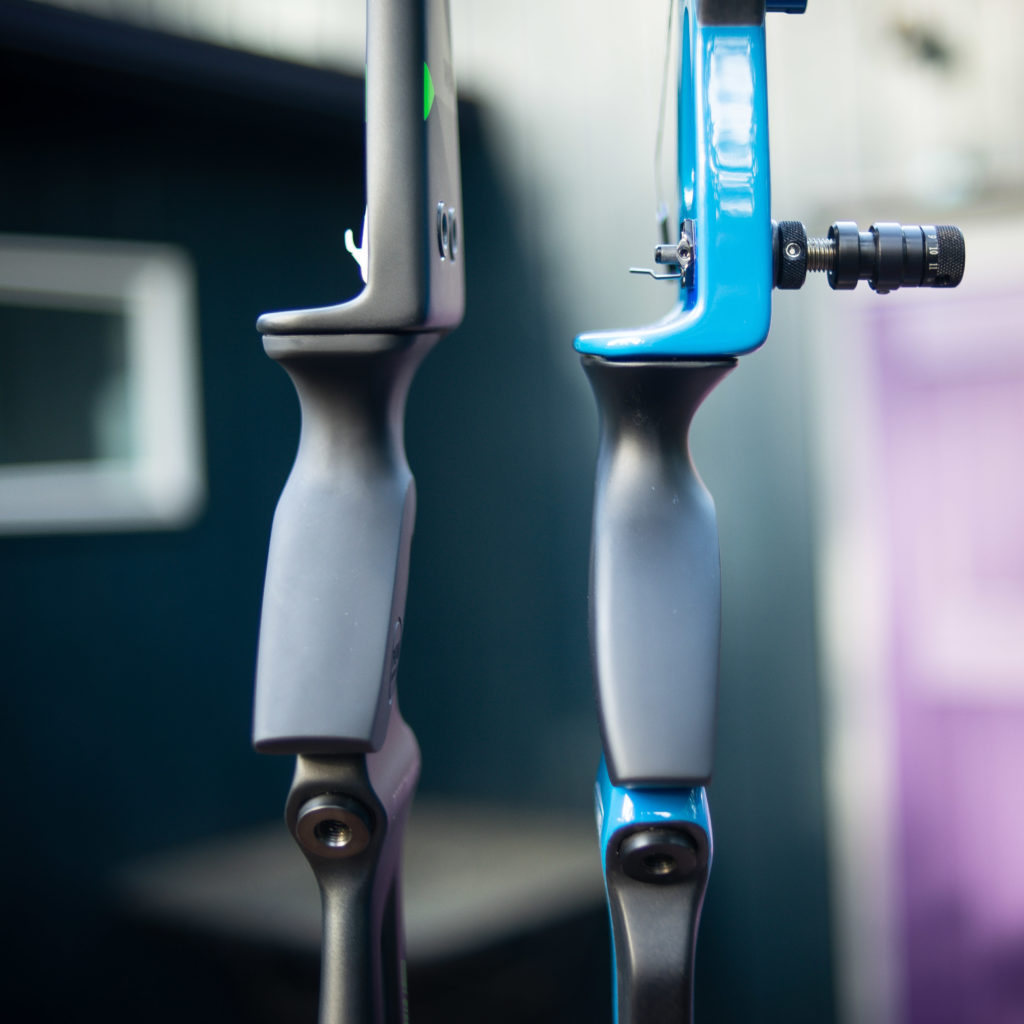 Looking at the geometry, I'm not exactly sure how they've managed to lighten it up. According to Danny Kim, W&W's rep at the ATA show, there's "something inside this riser that is redistributing the weight." They're keeping that trade secret secure for now.
The CX7 definitely has a thinner profile through the solid middle portion of the riser, and they've opened up the design at the top and bottom with cutouts similar to the INNO CXT, but not as extreme. The limb bolts and the ILF limb pocket look identical to the TFT.
On the down side, the CX7 currently only comes in one colour. Like Henry Ford with the Model-T, it's only available in black. If previous experience is anything to go by, you might only need to wait a year to see more exciting variations.
Grip
For the grip they've gone with the WIAWIS stock plastic composite, which I really like. It has a smooth satin finish, but it's not too slippery. On my TFT, I've found that I don't need sport tape, or chalk to keep my hand in place – I'm able to set my grip and feel like it will hold through my shot all summer long, no matter how hot it gets.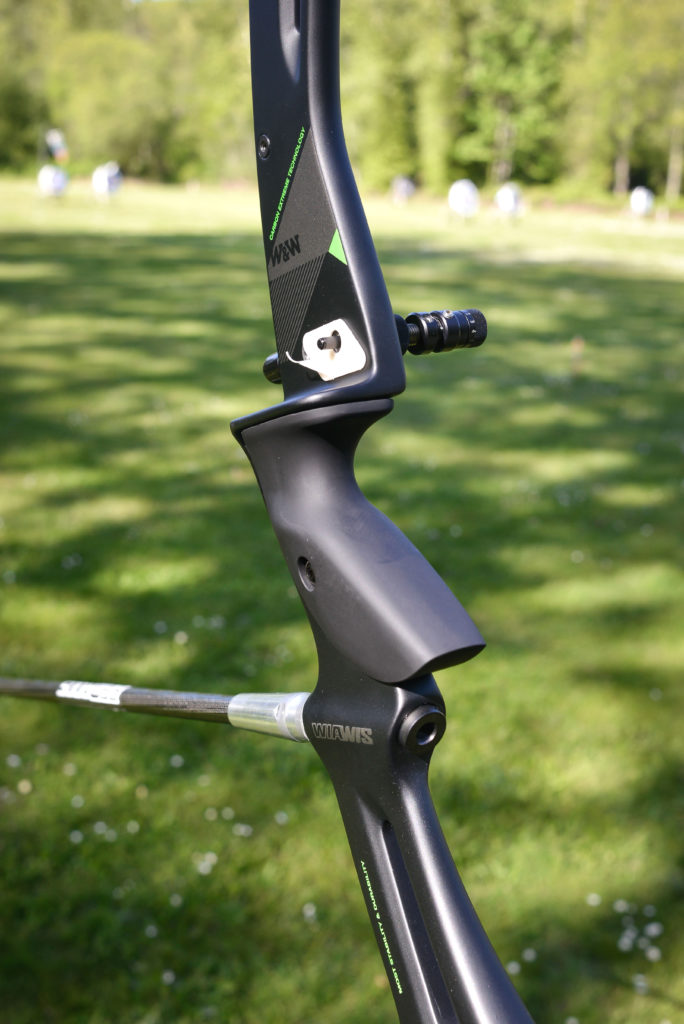 The CX7's grip is more like the TFT in texture, but with a profile closer to the Hoyt's high-wrist grip. The CX7 grip is left-right symmetrical, where the TFT stock grip is asymmetrical for left or right-handed shooters.
My TFT grip is also a bit more narrow at the throat, which fits smaller hands better. I was very happy to discover that the grips are swappable – that's the first and possibly only real modification I'd do on the CX7.
Vibration
This is the most impressive aspect of the CX7 – its ability to dampen vibration makes it feel very user-friendly right out of the box. The CX7's shock absorption is nearly the polar opposite of my TFT, which is so rigid I had to add rubber dampeners all over just to keep the sight from vibrating loose after a couple ends.
Where the TFT transfers vibration to every other part of the bow, the CX7 takes it in stride. If it was mine, I wouldn't put any extra dampening on it at all.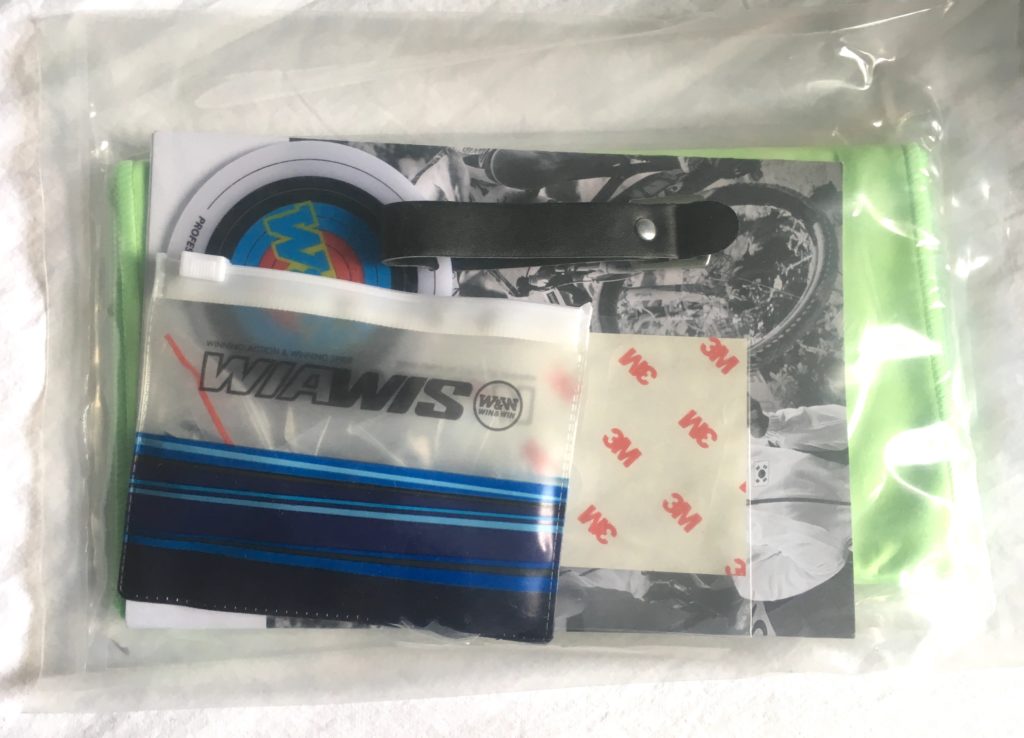 The CX7's shot actually felt closer to my older Hoyt GMX. The CX7 felt familiar, like the GMX's aluminium, in that it gives you a bit of feedback in your shot, while still providing strength. You don't get that "dead" feeling like some other carbon risers.
And then there's the tone. My GMX had such a lovely tone on each shot, sort of clean and deep. It was downright jarring to switch to the TFT, which is okay outdoors, but indoors is very loud and snappy, like a cracked whip. The CX7 on the other hand, even without a full proper tune, produced a very pleasant tone.
The business end
At around $600/£500 retail, this isn't what I'd call a beginner's riser. It does however seem priced to ease shooters into the carbon family. If you're already prepared to pay premium prices for a high-end aluminium bow, you might consider this slightly-less-expensive carbon one.
The accompanying CX7 limbs are also priced slightly lower than top range, so altogether the full package would definitely be a bit more affordable than the premium offerings.
Among all manufacturers, there seems to be a price gap between a starter recurve bow, and a pro-level competition one. While this is still on the expensive side, it's good to see a bit more variation in the middle range.
Summary
Overall I was pleasantly surprised by the CX7. It's well balanced and seemed easy to tune. It immediately felt comfortable in my hand, and it didn't hurt that my shots were grouping right away. It's a bow I'd be happy to shoot – in fact, I might even like it a bit better than my TFT.
Comparisons for this review based on a 68" bow, with a 38lb draw weight and 27.5" draw length.