Rcherz.com represents one of the newest, and perhaps one of the most comprehensive websites for archers available today. Offering more than any other online archery community, this platform provides a wide variety of functions from equipment profiles, practice and competition results, to more sophisticated characteristics like sight tape printing, all of which can easily be shared with your friends and teammates.
The site allows members to build an archery profile (which they can choose to link to Facebook) and create detailed profiles of their various bow setups and equipment. With all the information you can select how public you want to make it, meaning you have absolute control over what content you want made accessible to other members, but you can still record the information for yourself and use it with the other multitude of functions.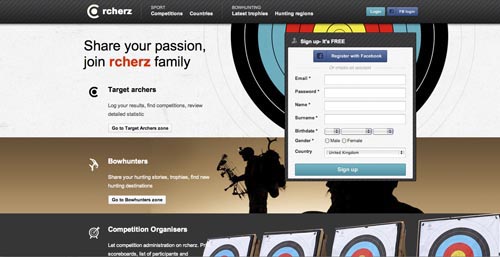 Rather than just simply being a database, the site offers a variety of tools for analysing your results, allowing you to see graphs of round- specific performances, and practice and competition results in a variety of combinations. The developers are working on turning the site into one of the largest archery resources available, having secured access to historic results from other sources, including ianseo.net, with a view to providing a centralised, searchable database of competition results.
Similarly, the platform should offer another appeal for tournament organisers, as any archer on the site can access entry and tournament information from a centralised place, and see which of their friends have entered There are already exciting tools in the pipeline for tournament organisers, and the site hopes to offer a centralised payment facility with a tool to automatically build lists of entrants.
One of the first of the extra resources available is a powerful and functional sight tape producing software. This is also linked to several other resources to do with arrow and bow ballistics and performance. Further resources will be added to the site as they are developed in order to give a 'one-stop' arena for all archery needs.
The site is still being developed with many more new and exciting features in the pipeline, with kit reviews, an increased results database, and more functions and information for field archers. It is the designers' motive to produce a site which caters to every aspect of archery, and to this end has already drawn the attention of the major international governing bodies who see its value. However, the rapidly growing membership base shows that the site is already offering much to those on the archery circuit as it grows into what could be one of the most useful and comprehensive online world archery communities.