Archery is a bit of an anti-sport in that many non-traditional athletes can find themselves becoming athletes, often for the first time. However, I think it's fair to say that many archers are not the first to sign up for wind-sprints, or possess an exemplary ability to catch or dribble a ball. While my comments below are not an outright plea for archers to try and embrace their inner athlete, I do want to raise the collective awareness that in order to be a fantastic archer, a great deal of strength and flexibility is a tremendous asset untouched and unexplored by most.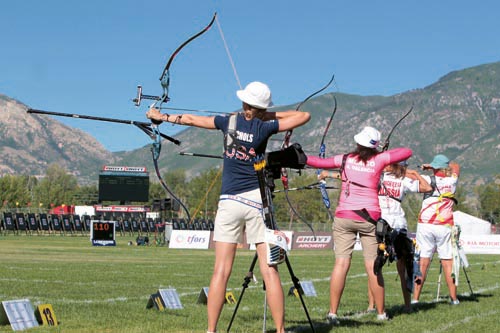 All other things remaining the same, such as head-game, execution ability, strength, and practice regime, flexibility is the most ignored concept in archery. I'll premise the argument by saying that achieving correct alignment, where the point of the elbow is truly behind the arrow, is the desired goal for proper holding technique. Biomechanical limitations then impose a basic framework for what the body must look like when in proper alignment. No matter what you do
with your hips, there is a forceful twist in the thoracic spine caused by the shoulder and scapula unit rotating to bring the elbow point into alignment with the arrow.
There are two lines
involved here: the line the arrow makes pointing at the target – the target line – and the line made by
an arrow placed
on the shoulders
of the archer – the shoulder line. The
target line cannot be the same line as the
shoulder line, at least with
standard physiology. Instead,
shoulder line points 10 or 20 degrees past the target line. The flexibility required to achieve this shoulder line is near impossible
to achieve without continual and determined stretching. It doesn't matter if you can touch your toes or not, but you definitely need a
lot of shoulder and neck rotation. I'll back up my thoughts with some examples from other sports. The power of pitching a baseball comes from twisting the torso to generate torque; the larger the angle between
space and power you have to generate torque. Great pitchers who throw extremely hard have atypical shoulder and hip rotation. For proof, check out this video of Aroldis Chapman throwing 105mph. Pay close attention to the rotation during the slow-motion segments. As a batter, you
would see the numbers on the back of the pitcher's jersey while he winds up to deliver. Golf works on similar principles – look at a video of Tiger Woods in slow motion and observe his shoulder to hip rotation. At the top of his swing, his hips and shoulders are almost at a 90 degree angle.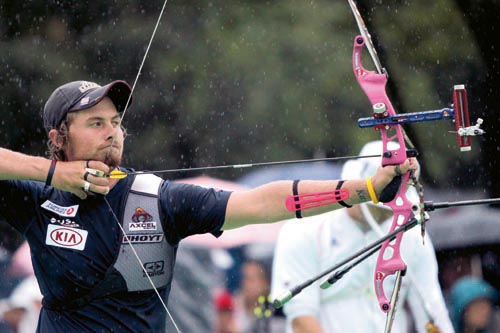 Archery requires similar feats of flexibility to achieve proper alignment where the point of the elbow comes into the plane of the target line. The task is harder still if you shoot an open stance, because the hip and shoulder twist is exaggerated. Equally difficult is the proper amount of head rotation, back against the shoulder twist. The twists between the hips and shoulders, and between the shoulders and the head are all in opposition to one another, exacerbating the difficulty.
Most archers, instead of trying to directly increase their flexibility with a stretching regime, compromise their technique in the near-term goal of comfort. Because it's true – in the near term, trying to twist more sometimes hurts, feels like a strain, or is simply difficult or disorienting. But the effort will pay off as your body changes and adapts and you achieve better and better alignment. As an aside, world number one Brady Ellison
spine. The results may surprise you – without increasing draw length, your alignment will improve, you will be able to shoot longer because the muscles do not have to work as hard to achieve alignment, and you will be less susceptible to injury. Expanding through the clicker will become easier because you will feel like you can expand significantly further without running out of room in your rotational capability – this will give you greater control and execution ability. Another good drill to work on flexibility is to expand through the clicker; do not release the string, and continue to expand as far as possible without changing technique, such as changing your anchor, or sliding the string on your face. An archer with good flexibility will be able to expand an additional two cm past their clicker without breaking technique.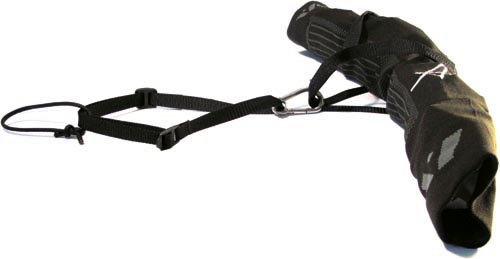 Don't forget about your hands, wrists, and fingers. I've met archers who struggled to completely straighten their fingers, let alone get them to curve back slightly. Imagine what your release is like with all that force pushing sideways on the string.
My comments on strength will be shorter because this point has been made before, but proper strength is similarly ignored by many archers while attempting to refine their technique. Even if you can't afford to train six to eight hours a day like the professionals, a significant portion of your training should be spent building and maintaining your strength. If you have two to three hours to spend shooting, spend 50 per cent of that time working on your strength, and your results will be substantially better.
Fatigue and lack of strength are major factors while attempting to expand through the clicker in a controlled, precise manner. When you are so strong you feel like you can dominate your bow like it is a child's bow, this is when you are strong enough to shoot it. Whenever possible, train using drills developed by Kisik Lee, called Specific Physical Training. These are a set of drills to increase your strength, but which have other benefits.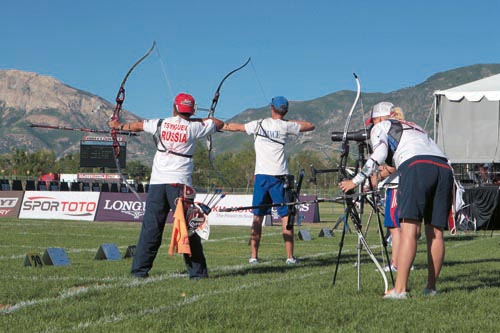 The best one for increasing strength, the dreaded pumping SPT, will produce incredible returns on the pain and effort investment. As you get stronger, do the same drills with a bow that draws a few pounds more than your regular bow; shooting your own bow will have never been so easy. Once you can complete 60-90 minutes of rigorous SPT on a regular basis, you can then classify yourself as strong enough to properly shoot your bow. Until you get to that level, archery is all work. If you really want to reach your peak and be the best you can be, this is the reality of the situation.