Pierre-Julien Deloche claimed his first indoor individual title in Poland in the men's compound division, after a first-place finish in Nîmes was denied him by Reo Wilde. Naomi Jones came close to making a fourth indoor win in women's compound this season, but Ivana Buden of Croatia had the edge in this final, making her the European Indoor Champion with Naomi coming second ahead of Jelena Babinina. Rick Van der Ven became double European champion for the second time after winning gold in both individual men's recurve and the recurve team event, repeating his achievement of the European Outdoor Championships in 2012 and giving him all four possible European titles. Natalyia Erdynieva came out on top in women's recurve, making this her first international win since taking the 2010 European Championships title.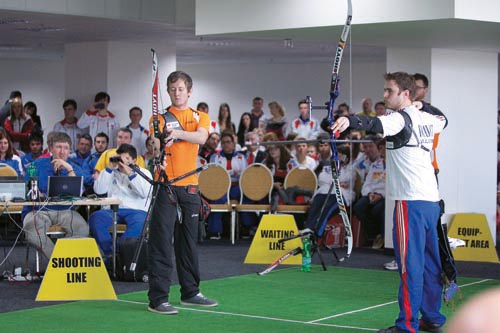 Mike Schloesser started the final elimination rounds as the one to watch, having come from a first-place qualifying position with an overall score of 597. Pierre- Julien Deloche, having qualified in ninth with 587, managed to squeeze past Schloesser by dint of scoring one more 10 overall during their match – tied at four-all, a 30 from Deloche beat a 29 from Schloesser in the final set to allow the Frenchman to advance. In the semi-finals, he met Martin Damsbo of Denmark, who had just missed out on the bronze medal at the finals of the Indoor World Cup the previous month. It was an incredible semi-final match, as only one point was dropped over all 30 arrows. Martin Damsbo opened with a 29 to Deloche's 30, and despite both archers scoring 30 in the remaining four sets, that critical first set victory would allow Pierre-Julien Deloche to progress 6-4.
In the other semi, Peter Elzinga, who placed second at the World Cup finals and third in the Vegas shoot, took on Stephan Hansen from Denmark. Elzinga took an early 4-0 lead, but a couple of wobbly shots allowed Hansen to pull it back to 5-3. A last- set draw of 30 points apiece meant Elzinga had done enough early on to ensure his passage to the gold medal match.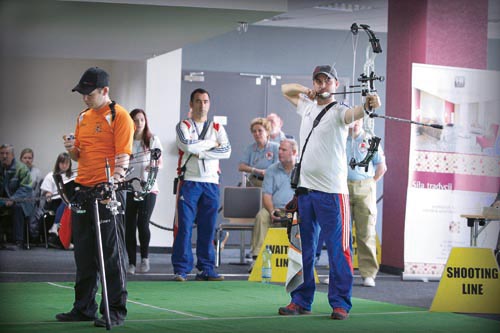 The gold medal final was Deloche's from the off – he never put a foot wrong and put arrow after arrow into the 10 ring. Elzinga matched him 30-all on two sets, but two sets of 29 put him in second place as it finished 6-2 in Pierre-Julien Deloche's favour. An all-Danish battle for bronze ensued between Martin Damsbo and Stephan Hansen, but a 30-30-30- from Hansen beat a 28-29-28 from Damsbo, giving him the last medal.
World Field Champion Ivana Buden looked equally at home on the indoor range, as she opened her march on the finals with a calm shoot-off victory against second-seed Laura Longo of Italy. Jelena Babinina of Lithuania had come from a 22nd qualifying position to take out third-ranked Anastasia Anastasio, but couldn't keep up the consistency required to get past Buden in the first of the semi-finals and dropped out to compete for the bronze medal. Naomi Jones continued her run of impressive head-to-head form as she beat two-time World Champion Albina Loginova in the quarter-finals to progress to meet Ireland's Melanie Lawther in the semis. A straight-set 6-0 victory for Jones put her through to meet Ivana Buden in the final. Naomi Jones initially went 4-0 ahead, only for the Croatian competitor to hit back with a string of perfect 30s in the last three sets to win her first European target title 6-4. Despite both archers scoring the same number of points overall, the set system meant that although it was Ivana Buden that dropped the most points in any set, winning the remaining sets by a point margin ensured her the overall victory. Melanie Lawther and Jelena Baninina traded sets in the bronze medal match, taking it to a four-all tie into the final end. Babinina just had the edge, putting in a 29 to Lawther's 28, ensuring her last podium spot with a final score of 6-4.
Rick Van der Ven qualified second behind Jean-Charles Valladont, and they both continued their strong form through the matches as both made it all the way to the final. Valladont got past eighth-seed Luca Palazzi thanks to a shoot-off 10 that beat Palazzi's nine, then came up against Sjef Van den Berg. Valladont never dropped outside the 10, meaning the best Van den Berg could do was match him for a single set point – not enough to stop Valladont advancing to the final 7-1. Van der Ven progressed from the other side of the ranking list, past Anton Prilepau, before meeting Italy's Matteo Fissore in the semi-final round. They traded sets and drew the third to make it five-all to force a shoot-off to finish. A 10 from Van der Ven beat a nine from Fissore, so he was through to try for the chance to become a double European champion. He managed it, but Jean-Charles Valladont didn't make it easy. Level at three-all after three sets, Van der Ven took the fourth to inch ahead for 5-3. A 10-10-10 from Valladont and a 10-10 from Van der Ven left the Dutch competitor needing a 10 with his final arrow to draw the set and win the match, or risk a shoot-off. He did it though, adding the European Indoor champion title to his European Outdoor one. Sjef Van den Berg took on Matteo Fissore, and came from behind to win 7-3 overall for the bronze.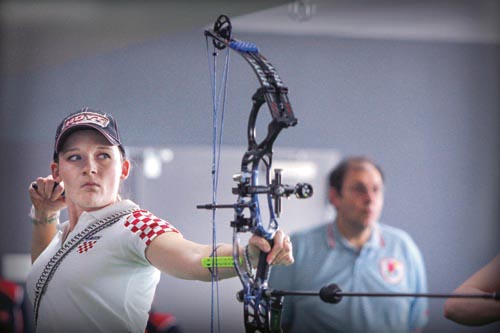 Natalia Erdynieva took the top spot in the qualifying with 587, and progressed through the head-to-heads relatively untroubled. She knocked out Ukraine's comeback kid Victoryia Koval in the final eight, before progressing to meet compatriot Anna Bomboeva in the semi-finals. Despite on dropping two points over all five sets, Erdynieva was held to a draw on three of the five rounds. She nevertheless won the other two sets to progress 7-3. One semi- final was an all-Russian affair and the other an all-Italian, as Natalia Valeeva met Claudia Mandia. Valeeva won the first, they drew the next two, and Valeeva won the last of the sets to progress 6-2 to the final. Erdynieva and Valeeva drew the first set with 30 points apiece, then won one each to make it 3-3. Natalia Erdynieva was the one that managed to keep it up in the final two sets however, taking the victory with a final score of 7-3 to leave Natalia Valeeva with the silver. Anna Bomboeva appeared to have run out of steam in the bronze medal match, managing to draw just one match against Claudia Mandia to hand the Italian the last podium place 7-1.
Peter Elzinga got one back on Pierre-Julien Deloche in the team rounds, as alongside Mike Schloesser and Ruben Bleyendaal the Netherlands beat France's team of Deloche, Sebastien Brasseur and Sebastien Peineau 237-233 to the gold medal. Denmark's men's compound team of Martin Damsbo, Stephan Hansen and Jan Bang beat Norway to third place. On the women's side, the Italian team of Laura Longo, Anastasia Anastasio and Marcella Tonioli were taken to a shoot-off by Russia's Albina Loginova, Kira Andreeva and Elena Novikova, but Italy had the edge for the gold. Nichola Simpson, Naomi Jones and Claudine Jennings picked up the bronze for Great Britain after beating Poland 232-220.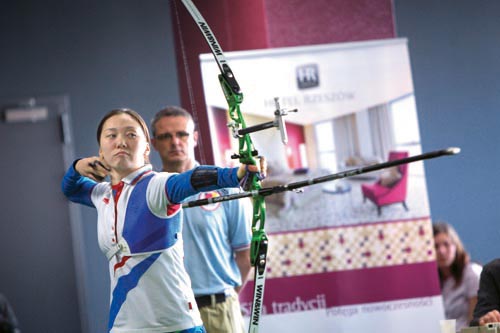 The recurve team events made more double-medallists, with Rick Van der Ven and Sjef Van den Berg picking up gold, alongside Rick Van den Oever, after they beat a Russian team of Alexander Kozhin, Baljinima Tsyrempilov and Bair Tsybekdorzhiev 234- 231. Alberto Zagami, Luca Palazzi and Matteo Fissore picked up the bronze for Italy. Ukraine came out on top in women's recurve, with Lidia Sichenikova, Kateryna Palekha and Victoryia Koval picking up gold ahead of the Italian team of Claudia Mandia, Natalia Valeeva and Pia Lionetti. Tied at 230-all, the shoot-off resulted in another tied set, but the Ukraine team's was closer to the centre. The Russian team of Natalia Erdynieva, Inna Stepanova and Anna Bomboeva claimed the bronze after a one-point victory over Poland.
Netherlands (Mike Schloesser, Peter Elzinga, Ruben Bleyendaal)

France (Sebastien Peineau, Sebastien Brasseur, Pierre-Julien Deloche)

Denmark (Stephan Hansen, Martin Damsbo, Jan Bang)

Italy (Laura Longo, Anastasia Anastasio, Marcella Tonioli)

Russia (Albina Loginova, Kira Andreeva, Elena Novikova)

GBR (Naomi Jones, Nichola Simpson, Claudine Jennings)

Netherlands (Rick Van der Ven, Sjef Van den Berg, Rick Van den Oever)

Russia (Alexander Kozhin, Baljinima Tsyrempilov, Bair Tsybekdorzhiev)

Italy (Alberto Zagami, Luca Palazzi, Matteo Fissore)

Ukraine (Lidia Sichenikova, Kateryna Palekha, Victoriya Koval)

Italy (Pia Lionetti, Claudia Mandia, Natalia Valeeva)

Russia (Natalia Erdynieva, Inna Stepanova, Anna Bomboeva)
Pierre-Julien Deloche (France)

Peter Elzinga (Netherlands)

Jelena Babinina (Lithuania)

Rick Van der Ven (Netherlands)

Jean-Charles Valladont (France)

Sjef Van den Berg (Netherlands)

Natalia Erdynieva (Russia)