For many archers, the atmosphere and pressures surrounding indoor shooting can be intimidating. There is no doubt the close confines and the higher scores can be a tough hurdle to get over, and can easily hinder any motivation to shoot indoor archery. If you are reading this and saying, "yes that's true" then I would really urge you to keep reading so I can help you change that mentality. Like many things in life, you can approach indoor shooting from more than one direction and if you choose the right one the end result will a much better you. You will grow to appreciate, like I did, that indoors really is the place that you learn to make better shots, build confidence and change your scores.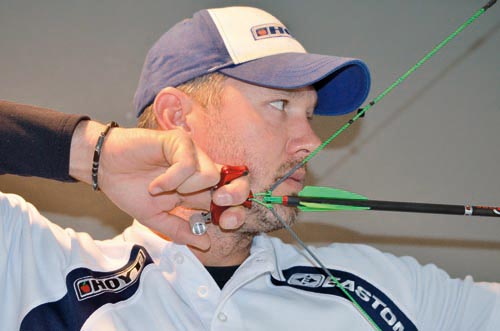 A better approach for better results
I'll be honest and say indoor shooting wasn't always positive for me, and learning to appreciate indoor shooting took some time. I have always enjoyed the openness of the outdoors, and the variety in shots and types of outdoor shooting. I felt more freedom and less restricted in target, 3D and field archery and could easily find fun in them. Indoor season was what I used to consider my off-season. My first views on indoor archery were that I quickly got bored and found it really hard to enjoy shooting for very long. But with a mentality like that I was certainly set up to fail and that is exactly what I did for a long time.
One year I had finally had it with my struggles with target panic and made a commitment to learning a surprise shot with a back tension release. I used the indoor season simply because it wasn't the outdoor season, so I saw it as my down time to learn something new. I kept a strong focus and was determined to find out what a perfect archery shot actually felt like. One day while shooting indoors I found that perfect shot. I like to say that "it was indoors where I found my shot and it changed my archery for each day since." The following outdoor season I had a great year and shot the best I ever had. However, once the outdoor season came to a close I could see my shot quality beginning to decline.
It was then that I came around to seeing the positive aspects of shooting indoors. To start, you don't have to worry about the wind blowing your pin around on the target or about the distractions of rain and wet gear. Your feet can be in a comfortable position and on solid ground. The targets are closer and at a fixed distance so you don't have to worry about setting your sight for different distances. It is the best place to focus on your shots and having quality form without being broken down by mother nature. It is important that you draw your attention to these positives instead of the negatives that you may feel. Positive thinking will bring you positive results.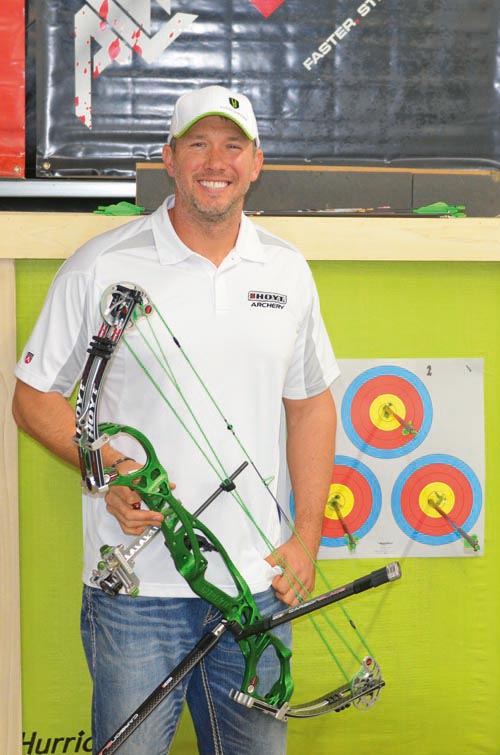 My mentality now is that as outdoor archery draws to an end I look forward to getting back inside so that I can really hone my skills and shot execution. The reality is that there are negative elements to outdoor shooting that can take their toll on your form, foul weather and longer distances being the main ones. I know countless numbers of archers that abandon their back tension release in the outdoors as soon as the weather isn't co-operating. They give in to a release that they have more control over and end up anticipating the shot. I can promise that when you make that decision you are opening a big door for a serious problem. Also, shots a longer distances tend to magnify your flaws, so for some people their poor groups at longer distances can weight on their self-image. Now that the indoor season is here you have the perfect opportunity to was those problems away and start off clean.
Set some rules
With all of these things said I want to give you a few clear rules you should focus on and commit to for this indoor season. The importance of these is gong to be that you reach your full potential this indoor season by eliminating some very common distractions. These are the small details that will make you better and thus build your confidence.
Rule 1: Pick a release aid and stick with it. Now is the time to make a decision on the type of release aid you are going to use this season. Make a commitment and don't sway from it regardless of the weather, the scores you have or the importance of the shoot you're at. Most archers struggle with learning to shoot a release without firing the trigger in anticipation. If you know that I am talking to you right now, then make the commitment and decide that now is the time to use the indoor season to figure out how to make a better shot.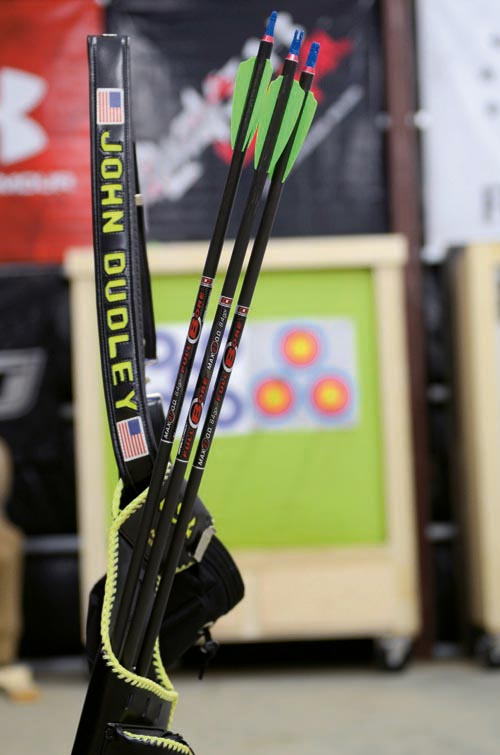 Rule 2: Forget the scores on paper. One of the frustrating parts of indoor shooting is that some people are just so darn good at it. Some are even perfect, which leaves little room to make mistakes. This was a big problem of mine, and I fell into a "can't miss" mentality. If you think too much on this it will certainly hinder you. Eventually, I learned that when I only focused on my own shooting the scores seemed to go in the right direction, but when I thought about the scores they seem to go in the wrong direction. Forget the scores on paper and judge yourself on execution.
Rule 3: Shoot more and talk less. One of the big problems with indoor archery is you are in an easier position to lose focus and talk to everyone on the range. Since people are closer together and you have time between ends its natural to want to socialise. However, try reducing your talk time in half by shooting more per night this year than you have before. After your three shots on the paper, try to get another three on the edge of your paper. This not only helps you stay focused on quality practice, it also lets you get in more repetition. More reps will give you more stamina, and will help you in the final ends of a tournament.
These rules are important because they are very common mistakes that people make. By sticking to them you are going to see your scores go up, which is one of the best ways possible to build up confidence.
Confifidence is a common thing to all the top-level competitors. Confidence is what carries us from shot to shot and is an important factor in unlocking scores that you didn't think were possible. The good shooters out there take their indoor shooting seriously, and use it as a time to look at a solid sight picture again and really solidify a flawless muscle memory of good shooting form.
Learning from the past
A few years back I set a goal to do well in indoor competition. I knew it would take a lot of commitment since there are several of the most accurate archers in the world at indoor tournaments. I saw it as a challenge and at first thought that maybe I would end up getting a little burned out from shooting too much. I also honestly had some doubts about what I was capable of, so I set rules for practice and for competition. I practiced in my lunch hour every day of the week, and I shot a tournament every weekend. It was a big commitment. I did OK at some of the first tournaments, and had an occasional poor performance. I tried to take them in my stride and find one thing each week that I did better than the last.
After that first month I remember feeling like a switch had tripped. My shots started going with less effort and I could go through my shot routine easily – just settle the scope and then bang. It was an effortless stroke and I didn't have to really work for it. It took about six weeks to happen, but it did happen. Once it did, I went from shooting scores in the 580s to shooting in the 590s. It honestly felt easy. By the time it got to the Nationals, I had practised so much that the tournament didn't feel like anything other than an average day. I shot a 597 and didn't really remember much about it. I realised that the day-to-day practice was responsible for making that happen. I had so much stamina and so much muscle memory that shooting was effortless, which is exactly what the top archers are using to shoot these
As I started off that next indoor season I thought to myself "how in the world did you shoot like that last year?" It seemed impossible to do it again because I just wasn't as steady or as crisp. After about six weeks of commitment, setting rules and setting goals, I found that stroke again. It is there for any of you to achieve, you just need to lock it in your sights and work towards it. Your scores will most certainly improve and you will find days when you feel like you are a shooting machine capable of putting the arrow in the middle every time you pull back.
Indoor is the key to the outdoor
Ever since I started focusing on my indoor season and taking advantage of that shooting time I have realised several things. First off, the outdoor season does take its toll on our shooting rhythm, and standing in a controlled environment and being able to focus solely on execution brings the good out in us again. I also learned that the indoor season isn't a time for boredom – it's actually a great time to set new goals and unlock new aspects of your shooting. It's a perfect time to increase stamina or break in a new piece of your archery gear. If outdoor shooting is your favourite style of archery, then be sure to commit yourself 100 per cent to shooting your best indoor season ever and just wait and see what happens once you step outside.