Liam Grimwood explains how what you do with your feet impacts the rest of your shot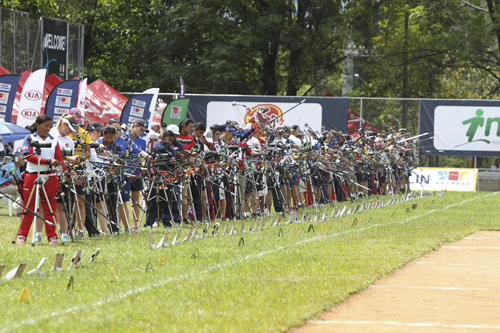 Good shooting form requires a stable platform to work from. No matter how good your shot execution and form are, if you don't have the correct stance to begin with you can really struggle. Stance is an extremely important part of your shot, but most people often give it little or no thought. When I ask people, "why do you stand like that?" most just answer with, "That's how I've always done it!"
Proper balance is vital to holding well and maintaining rhythm through your execution. A common flaw in compound shooters is a tendency to sway back and forth, and this stems from incorrect stance as it can create improper balance. Balance is even more critical in the wind and on a field course, where more factors like slopes come into consideration to further imbalance you.
I break stance down into three key points:
1. Stance direction
2. Balance point
3. Stance width
Stance direction dictates how you align your body to the target. It is common for most beginners to stand square on to the target as shown in the first image. In theory, this gives your body the straightest alignment to the target. This stance ensures that your bow is in direct line with your body and your rear elbow directly is also in line. In an ideal world this would work well, but it has two flaws. The first is that, by bringing everything dead in line to the target, it brings the string in very close to your chest and the path of the string very close to your arm. This can be detrimental because it makes it very easy for the string to contact a number of body parts. A string on compound will generally have less than 20lbs of holding weight on it, so when this touches something it is sent off course very easily. If you think of it in terms of a recurve, at 20lbs a poor release may see you miss the target, whereas at 50lbs that same poor release has a much smaller effect as it's travelling with so much more force it's more difficult to send off course.
I also believe that by standing square on you make your shot very two-dimensional. Should you get side wind you are open to being pushed around. My suggestion is that you open your body up to the target more as shown in the second image. By opening your body up more to the target you can bring your bow arm across to meet the target, this creates a much bigger gap between your body and the string. It also adds width to you shot; by having one foot further forward it is making your shot more three-dimensional and less susceptible to swaying in the wind.
The balance point is also critical when setting up your stance. Balance point is altered by pivoting on your heels and adjusting the position of your toes. A common stance, where a shooter's toes point out, would look like the third image. Having your toes pointed out like this moves the balance point further back towards your heels. The further you point your toes inwards moves the balance point more towards your toes. This element of form is all to do with the way your weight is distributed in your body, so it will be different for all shapes and sizes of people. I stand with my feet perfectly parallel to each other, as shown in the second image. For me, this balances my weight perfectly. If you find yourself swaying backwards and forwards, even in calm weather, chances are your feet are set incorrectly. Most people tend to point their toes too far out and imbalance themselves, so I would always recommend trying a parallel stance like mine if you suffer with this, to see if that helps your stability.
Stance width is the final factor which makes up an archer's stance, and for this I would recommend having your feet shoulder width apart. This will be wide enough to give you a solid base, but not so wide that it puts undue pressure on your legs. This is probably the least important aspect of the three features of stance, so if your stance is something you are working on, I would focus on the other two factors I have spoken about before working on stance width.
When shooting field archery however, sometimes it's just not possible to get that perfect stance due to the terrain. In those situations I prioritise body direction first and foremost. If your body is out of alignment, you will struggle with execution or end up catching your string on your chest and arm, which makes it impossible to shoot good groups. So I would always prioritise direction in this kind of situation.