If there is ever a bit of downtime in the archery year, it's as archers adjust between seasons. Bow International took the opportunity to catch up with Andrea Gales after a great indoor season, as she prepares for a World Championship year outdoors.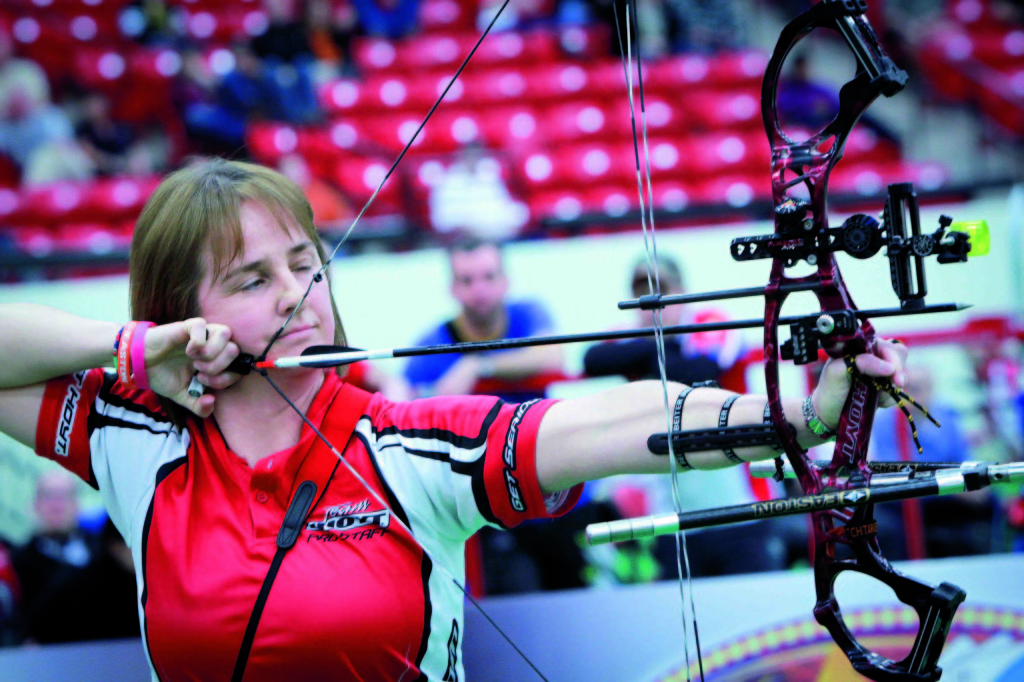 SG: Has the achievement, of winning in Las Vegas, sunk in yet?
AG: It's sunk in now but at the time, it was probably the biggest win of my career, so it took a while. It's great to be back home, I get a lot of support from my club (Woking AC) and my friends.
SG: Did you believe that you could win through, or is it just that cliché of taking every match as it comes?
AG: I came up against Naomi Jones in the first round, and she's having the indoor season of her life, so you just have to concentrate on each match and, to be honest, my route to the final was not easy. Every competitor that I shot against was world-class, and it was just one of those nights where everything clicked. Whenever I needed a ten, it seemed to just happen.
SG: Still, though, the final was only sealed in the first arrow of the fifth set, when Sandrine timed out…
AG: I was 5-3 up at the time, and going into that I knew I just needed to tie that set to win. But also, in the back of my mind, was maybe my third shoot-off of the night. It's tricky. I felt for Sandrine, because you'd never want to win a match like that, but you have to take your opportunities.
SG: In the pressure of a final, is that something that's easy to do? Did you think, 'there but for the grace of God'?
AG: I had a good person in the box for me, who had instructions on what I wanted. His job was to concentrate on the clock and nothing else. The arrow call was going to be made by the announcer, so his sole job was to give me a countdown. I trusted him implicitly, he's done it before for me, so I never thought I'd time out.
SG: It still took two of the tightest shoot-offs in both the quarter and semi-finals, against Joanna Cheese and Inge van Caspel, to reach the final!
AG: It was a matter of millimetres! Both matches were tricky, none of us shot brilliantly but I had the luck on my side.
I didn't actually know, or it didn't cross my mind until afterwards, when everything sinks in and you realise who you've beaten. I don't step on the line thinking, 'they're the defending champion'. I just take every match as it comes and it wasn't until afterwards that I realised. You've got to concentrate on shooting your three arrows and if, at the end of it, you've won the set, that's great. You can't influence anyone else.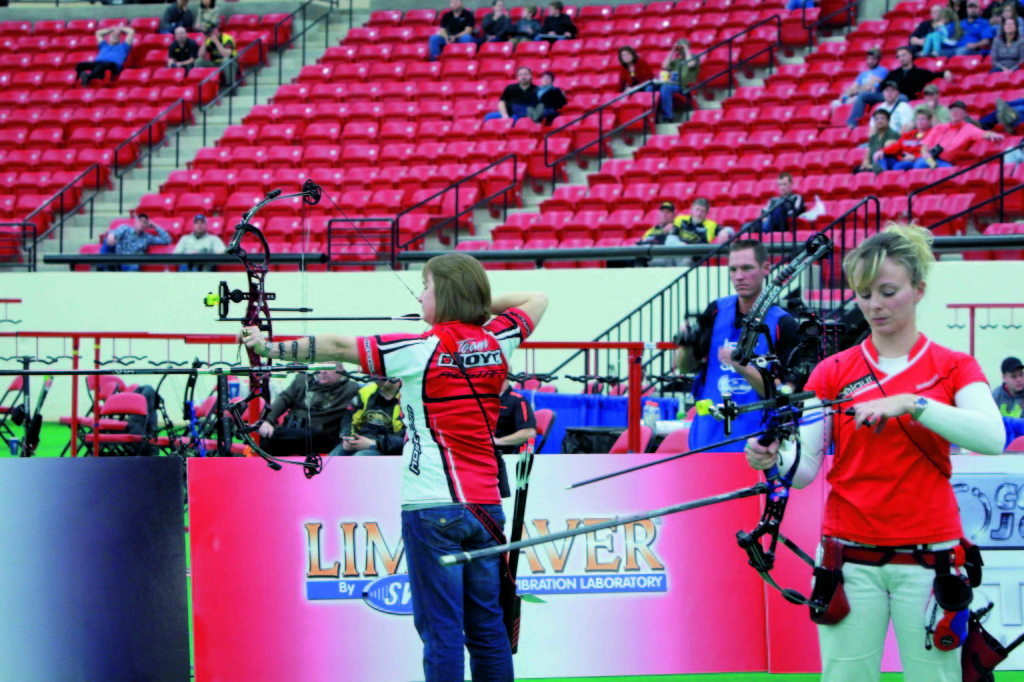 SG: Both Sandrine and Naomi had beaten you, in last year's Indoor World Cup Final and December's BACK2BACK respectively – was a little bit of revenge on your mind? Or do these wins represent a degree of progress for you?
AG: I don't know, really. I didn't shoot great in Coventry and I was pleased that in Vegas I stood on the line and shot good against Naomi. Last year I shot really well against Sandrine, in five really good sets, and she beat me. There is a little bit of pleasure in beating someone that has beaten you in the past. I wanted to win. Regardless of who it is.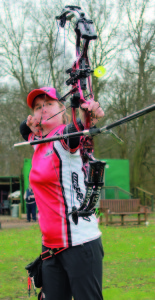 SG: Has the win made a difference to your life?
AG: My club treat me great, and they gave me a fantastic welcome back from Vegas, but I also like being here because nobody treats me any different. It's quite a nice comfortable atmosphere for me to train in. I have had a few more followers on Facebook and Twitter though.
SG: Was winning the Indoor World Cup Final the highlight of your career so far?
AG: It's the biggest win, I'd say. I've medalled at some World Cups but I would say that this is probably the biggest win, and probably the calmest that I've been under pressure. That was pleasing as well, that I managed to keep my nerve. TWFG, as Amy Oliver might say.
SG: You certainly looked the more relaxed of the two finalists, did it feel that way?
AG: Not to start with. The first couple of sets were ropey, but then I think I just relaxed down a little bit. Once you get your nose in front, it's a more comfortable position to be in. Sandrine had all the work to do, but she's a great archer so you can never discount somebody. Most of the compound matches are now going to shoot-offs, so there is a little bit of luck involved as well.
SG: Is it luck, or do you think you can practice enough to create your own good fortune in competition?
AG: I do practice incredibly hard and put a lot of hours behind the string, however, when it comes to a shoot-off… In my match against Inge we both shot tens and mine was closer. You're aiming at something so small from 18 metres, it's only a matter of millimetres that are deciding it. She couldn't have done any more.
SG: After having a good 2012, did it feel like this kind of breakthrough was on the horizon for you?
AG: I didn't feel like I was shooting great going into Vegas, so maybe the pressure was off a little bit. I still can't get my head around how it all worked out that night, because I didn't shoot great that afternoon, and then I just suddenly maybe relaxed a little and thing started to click.
SG: Did you change anything in between afternoon and evening sessions? Did you do anything to help you relax?
AG: I listened to my favourite playlist and had a laugh with some of my friends.
SG: What was the best moment – winning, or being ID'd at the bar?
AG: I did get asked for ID at the bar, which did amuse me! It made me chuckle a little bit, but the win was maybe slightly more enjoyable!
SG: Is it difficult to combine a day job with winning tournaments like Vegas? Working a nine-and-a-half hour day, and then still going out onto the range to practice, seems like quite a punishing schedule.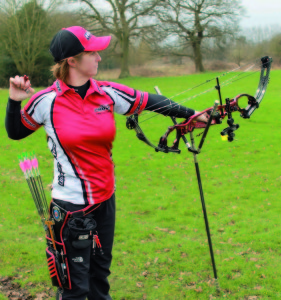 AG: It is a punishing schedule. The amount of leave I had to take last year for GB trips meant that I had no leave for Vegas, so I'm actually working extra hours at the moment to make the time up.
I put a lot of hours in. I work 8-5 and then in the summer I'll hit the field straight after work until it's dark. I'll do that four or five nights a week, depending on whether I've got to travel to a competition on the Friday. Then I'll come home and it all starts again on a Monday. It's a lot of sacrifice but it's something I choose to do, and I enjoy it.
I'm working a 47-and-a-half hour week and training on top of that, but I want to be ready for the World Cups this year. I haven't produced my best outdoors yet, so I'm looking forward to this season to see what I can do.
SG: Can this victory be the catalyst for a successful 2013?
AG: I hope so. It's all about getting to these finals, and the more finals you get to the more relaxed you're going to be once you get there. Just chatting to the other archers about how they cope with it all – I'm learning all the time.
SG: You're currently UK number 2, but have long been UK number 1 – is the main aim for 2013 to establish yourself as world class?
AG: Yeah, I haven't quite produced what I need to on the international stage yet, but it's tough. You've got 30 or 40 great archers when you step out on the field, and I would like to improve where I am in the world. I believe that I have got some big wins inside me, so I've just got to work hard to build up the momentum.
SG: Is archery slowly making inroads into the nation's consciousness?
AG: Definitely. We've seen a huge improvement in the beginner's courses at our club – in fact, we're fully subscribed. I think that's reflected nationwide, so hopefully the next young archers are going to come through, because we need that in this country.
SG: Is GB archery in good shape?
AG: Yeah, I think so. Especially compound-wise, over the last three or four years we've certainly got a bigger core of people that are pushing each other higher and higher. Compounds have been bringing the medals home – we brought medals home from the European Indoors. Compound archery is in great shape at the moment.
SG: You were still surprised by a fan's request for a signed photo – why?
AG: That's all a little bit odd to me. That side of winning stuff still doesn't compute for me. I do it all because I enjoy shooting. I like winning, and I suppose that side comes with it. It's something that I've got to learn to deal with, but it's all about winning the matches for me, and shooting the perfect shot.
SG: Is that the primary goal, achieving the fabled 'perfect shot', and any subsequent wins are merely the end product of that?
AG: Yes. I love shooting my bow. I work hard to get myself into a position where I can medal, but I just love shooting.
SG: You've visited Muslim Archery Club, to pass on a few tips to its members – can archery play a cultural role in a racially diverse town like Woking?
AG: In the Muslim culture, archery is one of the sports that they are encouraged to do. They've got a great club there and wanted somebody to pop down and give them some pointers. I was more than happy to do that. I've been down there a couple of times, to look at their kit and hopefully we're looking to build a relationship between my club, Woking, and the club at the Mosque. It'll be a good relationship all round.
SG: The mental side of archery is so vital, and I believe you're currently reading 'The Chimp Paradox' by Steve Peters, who has had huge success with the GB cycling team. Are the principles also applicable for archery?
AG: Archery is a mental game – everybody has the same kit, and everybody can shoot. It's whoever can repeat that action. I get a lot of support from my friends and family too, I'm always amazed by the messages that go up on Facebook and Twitter before I've even finished shooting, which is nice, to have that support network.
It's always nice if you're having a rough day, or things haven't quite gone your way, there's always someone to pick you up and get you back on track. Then, when you win, it's not just down to me but everybody who supports me. It's nice when you can do something and everybody enjoys it. The club and the kids get excited, it's good to see because it encourages them. I hope it inspires them, because they're the next generation of archers – I know I haven't finished yet, but I can't go on forever.
SG: Did it feel strange to have so many people mention your age, in terribly ungentlemanly style, after your win in Las Vegas?
AG: Yes, thank you World Archery for quoting that I was 40! I don't think age matters in archery, there are a lot of archers in the world who come to their peak at that age. I think experience is a big thing in archery. We've got some great youngsters but experience is important. I don't know how long I'll go on for, but as I said I don't think I've reached my peak yet, so…
SG: You're nicknamed the Diva from Dover – are you able to explain how you came to acquire it in a family publication?
AG: The name was given to me by George Tekmitchov (Senior recurve engineer and international staff manager) from Hoyt and Easton. I had a little dance at the World Cup in Dover and at my first ever international he just announced me as that. It's kind of stuck and I like it. It's quite quirky to have a nickname, and I don't think anybody calls me by my (real) name on an archery field.
SG: Do you have any specific goals for 2013? What is your schedule?
AG: I've been selected for the first two World Cups, in Shanghai and Turkey, and we'll see how I do there. Obviously the National Series and two selection shoots for the World Championships. My aim is to get on that team, first and foremost, but we'll see how it goes in the first two World Cups.
SG: What is your current set-up?
AG: I shoot a Hoyt Pro-Comp Elite at 59 pounds, Easton X10 520 Protour Arrows, Easton X10 rods and an Axcel sight with a Beiter scope and a Beiter launcher. Greg Hill makes my strings out of BCY 8190. The Pro-Comp was the new bow out by Hoyt this winter, and I'm loving it. I think it's the most stable bow they have produced. It'll be interesting to see how it performs over the outdoor season, but indoors it has performed well. Easton rods, I just like the feel – I'm very lucky to be sponsored. I find X10 Pro-Tours the best arrow to shoot at every distance as I get less wind drift.