A sold-out return to the woods. By Alex Tyler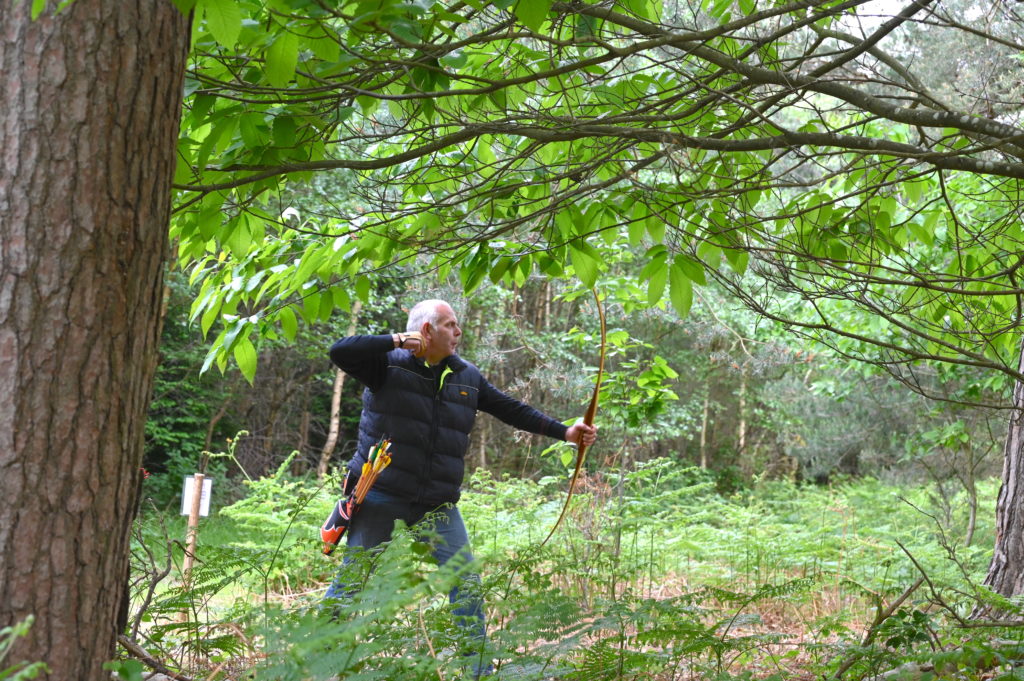 Two weeks. That was all the time it took for all four hundred places for the 2022 National Field Archery Society (NFAS) 3D Championships to fill up.
There had been a certain amount of caution because of Covid and the movement of the usual bank holiday on the final weekend of May. There was also the memory of the last time the 3Ds coincided with a royal event when the Diamond Jubilee river pageant in 2012 brought all-day rain. Thankfully, there was no repeat and archers enjoyed good conditions throughout the weekend with a mix of sunshine and patchy cloud and winds remaining light.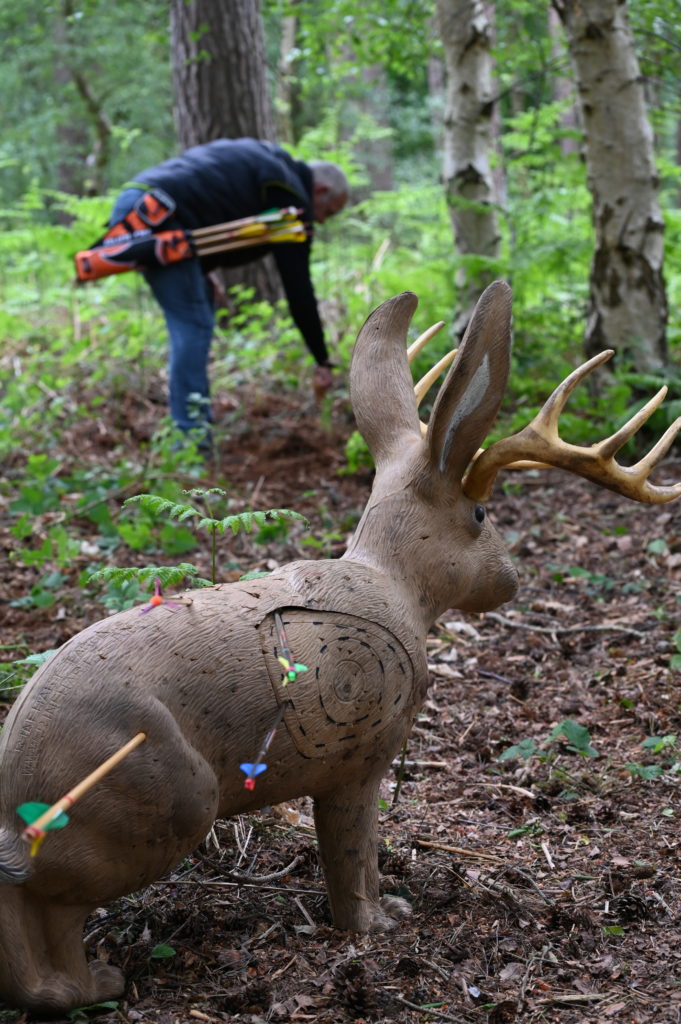 The setting was Thoresby Park, on the edge of Sherwood Forest in Nottinghamshire with courses laid by local clubs. The woods were in full leaf, a mix of old oaks, beeches and plantations. 'A' course, laid by Pines Park, course took advantage of the avenues between trees to lay longer shots, including a bedded stag at sixty-five yards. Challenge for closer shots was provided by framing targets behind dead trees or in the blooming rhododendron bushes. On 'B', Phoenix Archers and Spirit of Sherwood set the course to dip in and out of the wood, using light and shade to confuse distance judging. Greater ground cover meant targets could be set amongst ferns, to break up outlines.
This championship was the first to feature the new class of thumb draw (one piece bow, no stabilisers or sights, thumb draw only) which had been voted in at the AGM in November. The result was a clean sweep for Company of Sixty archery club: Zaghard Takal led overnight, with Sarfraz Aslam and Christopher Barker tied twenty points behind but Barker's 708 on Sunday was enough for him to win by fourteen points, with Aslam taking second.
The previous new class to be added, Traditional Bowhunter (non-compound bow, no sight, non-wooden arrows) was the joint most popular for entries, with Hunting Tackle (non-compound bow, no sight, wooden arrows). On Saturday, Julie Hodgson (Viper Archers) put in 638, which gave her a lead of eight points. Hodgson raised her game on Sunday with 654 but had to settle for second behind Andrea Ternent (Spirit of Sherwood) whose 712 lifted her from joint sixth overnight to win by two points. Samuel Ward Tucker (Spirit of Sherwood) made winning the class look rather easier, shooting 808 both days to win by a convincing 86 points.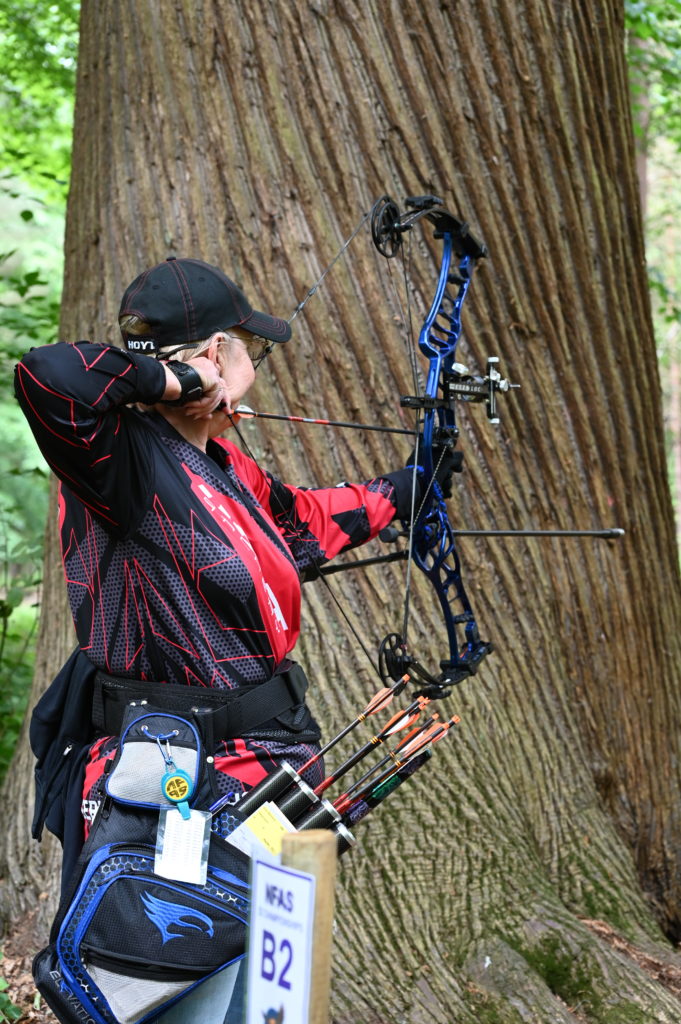 Only fourteen points separated the top four archers in Hunting Tackle. The overnight leaders, Anthony Wildon (Cheshire Oak Bowmen) on 724 and Nicholas White (Black Arrow Field Archery Club) on 716, both dipped on Sunday. For Wildon, his 654 was enough to win by two points in front of Ed Kovac (Forest Bowmen) who hit 688 both days. White was pushed into fourth by Steve Hipgrave (Independent) with 686 and 684. In the ladies' competition, a similar story saw similar dips from leaders on Sunday but scores of 602 from Jill Haines (Pride Park Archers) and 592 from Alison Macrory (Brockwood Bowmen) were enough to move them from fourth and third to first and second, separated by four points.
The third most popular class was Barebow (non-compound bow, no sight, no arrow restriction, one stabiliser). Both winners did so convincingly: Sarah Monteith (Regent Archers) finished thirty-six points ahead, adding to her win at the Nationals in September 2021. Jed Cullen's win was even more emphatic: forty-four points ahead overnight, he went on to win by one hundred and ten points.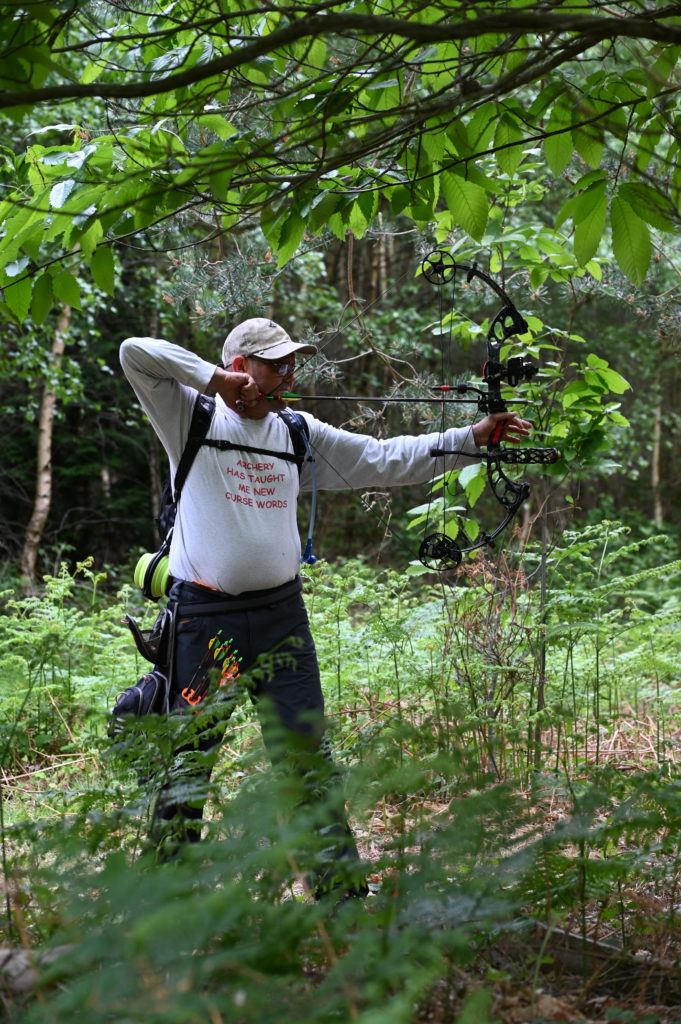 Anthony Commander (Foxhill Bowmen)
Ladies longbow saw a battle between multiple former champions. 2018 winner Kay-Leona Hodgkinson's (Artemis Archers) score of 586 put her two points ahead of Sue Fenyn (Albion) after shooting 'A' course. However, Carol Edwards-Pearce (Longbow Heritage), who last won in 2009, showed the value of experience. Her incredible Sunday score of 626 on 'B' course, second only to the winner of the men's class, David Wylde (Pines Park Archers), moved her from eighth overnight to third. Monique Purdy (Company of Sixty) moved from third to take second, with Fenyn winning by two points, her first since 2013.
Looking at the faces handing in scorecards, the overall verdict was positive: two challenging but fair courses and the joy of getting together with archers from across the country. There was a nod to the Society's heritage with Pat Ward, an original founder member, acting as Lady Paramount, looking forward to NFAS celebrating its fiftieth anniversary in 2023. Exactly what is being planned is still under wraps but, next to come are the National Championships, using paper face targets, which will take place on 17 and 18 September 2022, with the location to be confirmed.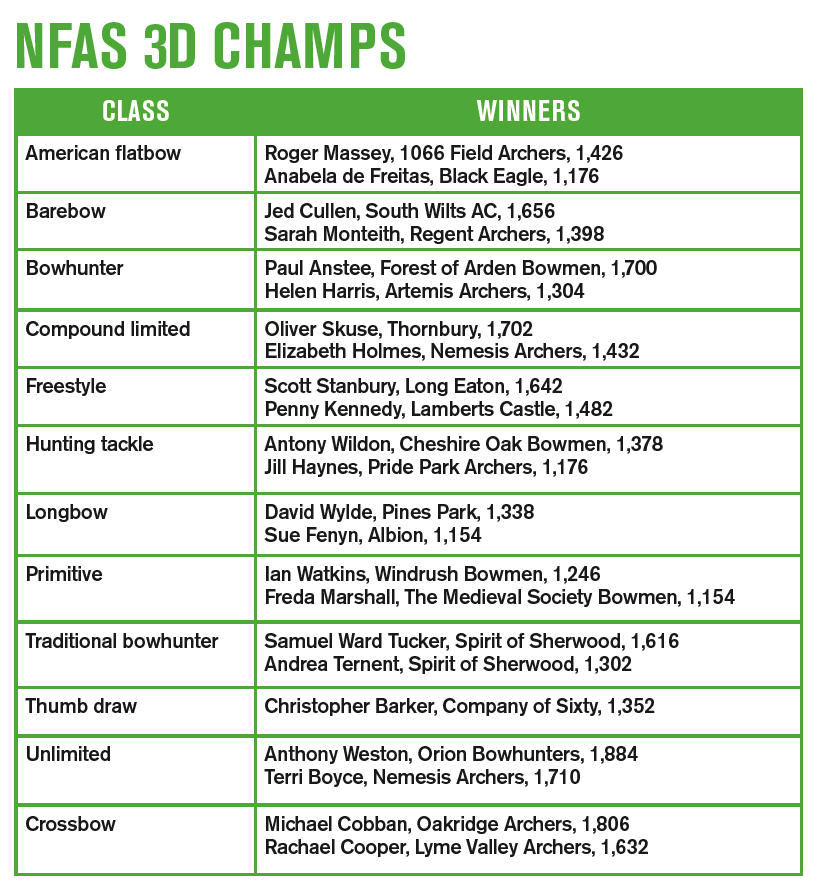 INTERVIEW: Lynn Harrison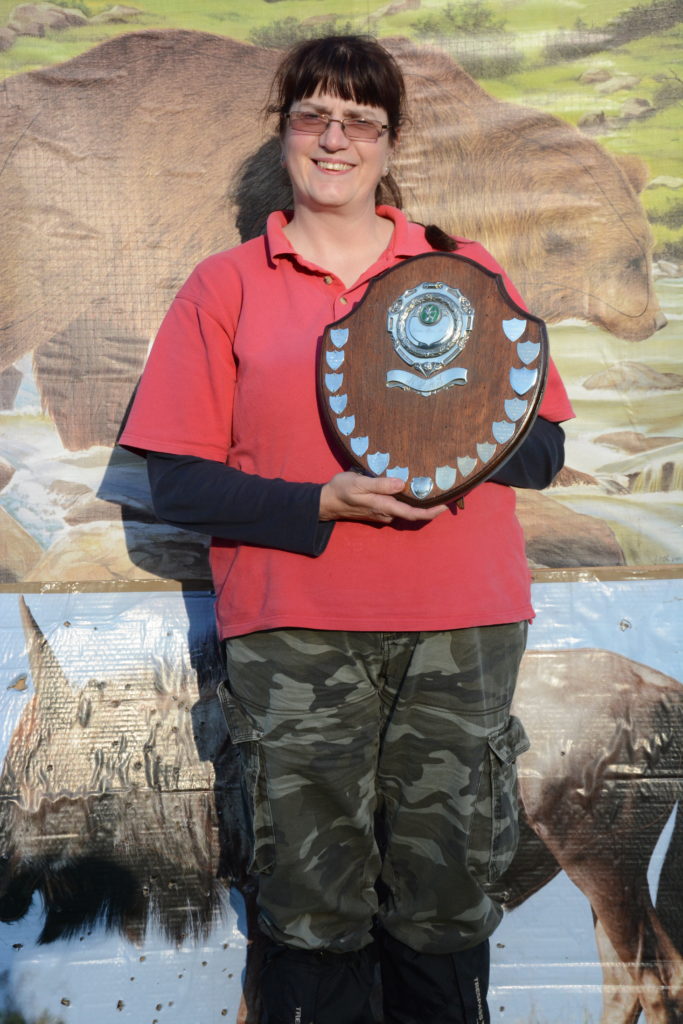 'Never give up.' These are Lynne Harrison's words when I ask her for any tips and this sums up her attitude when dealing with both success and personal challenges. I caught up with Lynne in a rare quiet moment at the National Field Archery Society's (NFAS) 3D championships where she was running the competition's administration, making sure four hundred archers had a smooth experience.
How are the championships going?
We deliberately kept the champs smaller this time as it's the first 3Ds since 2019 but we were fully booked after only two weeks because everyone is so pleased to be back out shooting.
You shoot and volunteer – how do you find being on both sides?
They complement each other. I'm also the Membership Secretary for NFAS and the Treasurer of my local club, Centaura Field Bowmen. Yes, it's time-consuming but in the short time I've been shooting, I've got so much out of archery, I wanted to give something back. When you see how much people are enjoying themselves, hearing laughter in the woods and archers saying 'thank you', it makes it all worthwhile.
Tell me about your shooting style
Always instinctive – I've never shot with sights because they frighten me. It doesn't matter what round I'm shooting, everything is based around my shot cycle and I practice each step until this is exactly the same.
I came to archery quite late in life and started with Barebow (non-compound bow, no sight, single stabiliser). Things were going well (Lynne won two NFAS national titles and two Welsh championships between 2016 and 2018) then I decided it was time for a new challenge. In 2018, NFAS brought in a new bow class, Traditional Bowhunter (non-compound bow, no sight, no stabiliser, metal arrows) and I was delighted to win the first women's trophy awarded for this class at the Nationals in 2018.
In 2021, I decided to give Archery GB a go, shooting Instinctive style (now renamed Traditional). I shot three competitions and, achieving a qualifying scores at each, I was selected by Archery GB to shoot at the European 3D Field Archery championships in Slovenia. As well as the honour of being selected to represent my country, I was really looking forward to getting a shirt with my name on it! But, four days after the team was announced, I was involved in a motorbike accident and smashed my collar bone.
That must have been very painful. How are you recovering?
It was a rough patch and I didn't even get my shirt! I'm now 12 months into an 18 month recovery plan and recently, I got the go-ahead to shoot again. I use a KG Phantom and have dropped from 36lb to 30lb – I want to give KG Archery and Eagle Archery a huge thank you because they have really been fantastic in lending me equipment to get me back out shooting. I'm starting with NFAS archery because the shots are spaced out over a longer time period so I can build up my strength. I'm aiming to be back competing for an Archery GB team place next year.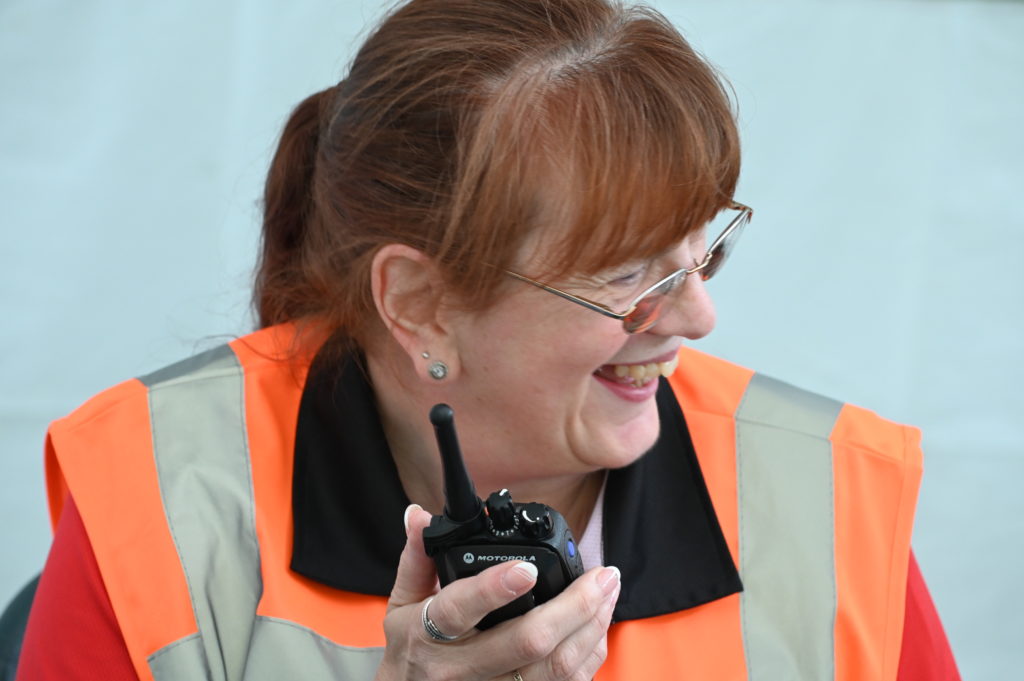 Can you share any tips?
Listen to medical professionals and don't rush back from injury. However much you want to get back to being on a course, it's better to take it slowly and there are lots of other ways to feel involved in archery without shooting. Rather than always looking for a new piece of kit which will improve your scores, make sure you really know your equipment and how to get the best from it – you can't buy success.
To improve, I've found working with coaches has been very helpful and I've had the privilege of working with some very good NFAS coaches, so thank you to Rob Jones and Wayne Furniss, thank you for pushing me and helping me develop my shot sequence. And, of course, never give up – follow your dreams!